David Ellison's Skydance Said in Talks for $500 Million in Debt
by
`Terminator,' `Mission Impossible' maker also raising equity

Financing deal will replace existing $250 million credit line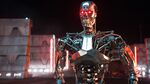 David Ellison's Skydance Productions, a co-producer of "Terminator" and "Mission Impossible" films, is in talks to raise a new credit line of around $500 million, and additional equity, according to people with knowledge of the discussions.
The production company, founded and led by the son of Oracle Corp. co-founder Larry Ellison, is seeking to about double an existing $250 million revolving credit facility, said the people, who asked not to be named because the talks are private. The financing would come alongside new cash from existing shareholders that the company will use to fund growth, said the people, who declined to specify the amount of new equity.
The deal is expected to close by the end of the month, one of the people said. A spokeswoman for the company declined to comment.
Skydance, based in Santa Monica, California, raised $350 million in 2010, the year of its founding, to co-finance movies with Viacom Inc.'s Paramount Pictures, which distributes its movies. The company's $250 million loan due 2019 was led by JPMorgan Chase & Co., according to Bloomberg data. Larry Ellison was one of the company's investors, the Los Angeles Times reported at the time.
The Paramount agreement was extended in 2013. With the extension through 2018, Skydance kept an option to co-finance and co-produce certain Paramount films, and Paramount had first rights to join Skydance projects.
Last year Skydance had a hit with "Mission: Impossible - Rogue Nation," which cost $150 million to make and grossed $682 million in worldwide ticket sales, according to Box Office Mojo.
This year, Skydance plans a new "Jack Reacher" movie, also starring Tom Cruise, and the sequel "Star Trek Beyond," according to Imdb.com. The company has been expanding into TV and produced the Emmy-nominated "Grace and Frankie" for Netflix Inc.
It will compete this weekend at the Golden Globe awards, where star Lily Tomlin is nominated for her role.
Before it's here, it's on the Bloomberg Terminal.
LEARN MORE