Hyundai Starts Sales of Fuel-Efficient Hybrid to Rival Prius
by
Carmaker showcases Ioniq hybrid vehicle in South Korea

Hyundai needs more electrified vehicles to meet economy rules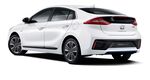 Hyundai Motor Co. began sales of its most fuel-efficient gasoline-electric hybrid as part of efforts by the South Korean automaker to meet increasingly stringent global standards.
The Ioniq compact starts from 22.9 million won ($19,130) in South Korea and will be as much as 40 percent more efficient than its existing hybrids with a local fuel-economy rating of 22.4 kilometers/liter. Hyundai said the car will go on sale in the U.S. in October and boast better mileage than Toyota Motor Corp.'s new Prius.
The Ioniq is the first hybrid model that Hyundai developed from scratch, ensuring a more tailor-made fit that enhances fuel economy. Before this, Hyundai's hybrids were converted from gasoline models, meaning engineers had to find room for components by ripping out redundant parts, according to Lee Sang Hyun, an autos analyst at IBK Securities Co.

"A dedicated eco-friendly model allows the company to focus on what's important for buyers of such cars, leading to better design and selection of materials," Lee said. "There's also something symbolic about having a dedicated model that can be used in marketing and improving brand perception overseas."
Chairman Chung Mong Koo is pushing the carmaker to develop more efficient models to lower the average fuel consumption across its lineup and allow it to continue selling more profitable vehicles such as SUVs and big luxury sedans. Hyundai and affiliate Kia Motors Corp. this week forecast their weakest annual sales increase in a decade.
The two companies have said they plan to have 22 electrified vehicle models in their portfolios by 2020. Hyundai plans to begin release a plug-in version of the Ioniq at the end of this year.
Before it's here, it's on the Bloomberg Terminal.
LEARN MORE