Top Anglo Investor Tells CEO to Resist Calls to Sell Shares
by and
Anglo fell the most in FTSE 100 last year, plunging 75 percent

Schroders wrote to Anglo CEO Mark Cutifani in December letter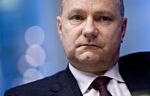 Schroders Plc, one of Anglo American Plc's biggest investors, urged the board of the mining company to resist mounting pressure to tap shareholders for cash as commodity prices tumble.
"Anglo American is not in acute financial difficulty," Schroders wrote to Mark Cutifani, the chief executive officer of Anglo, in a Dec. 15 letter obtained by Bloomberg News. "Issuing new equity because this is what is demanded by sell side analysts or media commentary, however intense, is unlikely to be in the best interests of long-term shareholders."
Anglo was the worst stock in the FTSE 100 Index last year, plunging 75 percent as commodity prices collapsed from waning Chinese demand for copper to iron ore. Last month, in an effort to turn around the business, the company said it would scrap its dividend, cut the number of mines it owns by more than half and reduce staff to 50,000 from 135,000. Chief Financial Officer Rene Medori said last month that the company had no plans to tap investors for money.
Rival Glencore Plc has already raised $2.5 billion from shareholders. Bank of America Corp. said Wednesday that BHP Billiton Ltd. and Rio Tinto Group, the world's biggest mining companies, could sell as much as $21 billion of shares to help them buy assets from distressed industry rivals. That would cut the amount of cash available for other companies including Anglo, according to the bank.
'Limited Pool'
"Our discussions with investors suggest that there may be a limited pool of equity available for recapitalizations," Bank of America analysts led by Jason Fairclough wrote. "If 'blue chips' were to move early, it might make it more difficult for other lower quality, more leveraged companies to access equity markets," allowing the stronger miners to buy assets or competitors, they said.
Analysts at Bank of America and Jefferies Group LLC are among those that have asked Anglo why it hasn't asked shareholders for cash. HSBC Holdings Plc has said the cutbacks may still be insufficient should weak commodity prices persist.
"We believe in Anglo American," said Andrew Lyddon, Nicholas Kirrage and Kevin Murphy at Schroders Global Value Team. "We believe it to have a core of high quality assets with attractive long-term futures, even in a more challenged commodity price environment."
Anglo's Investors
Schroders owns 3.6 percent of Anglo and is Europe's largest publicly traded fund manager. A spokesman at Anglo declined to comment.
U.K. firm Silchester International Investors LLP increased its stake to more than 5 percent, a Jan. 4 filing showed. The Public Investment Corp., Africa's biggest money manager, is Anglo's largest shareholder with a 9 percent stake, data compiled by Bloomberg show.
Schroders said should it become necessary for Anglo to raise funds in the future it would appraise this in an "open-minded and objective way."
Share Slump
Anglo closed down 4.5 percent in London amid a global market selloff on Wednesday, with the FTSE 350 Mining index falling 3.7 percent. The company is the world's biggest diamond and platinum miner. It also produces copper in South America and coal in countries from Australia to South Africa.
Before it's here, it's on the Bloomberg Terminal.
LEARN MORE