Morgan Stanley's Gorman Extends Tenure as Kelleher Moves Up
By and
In senior-level shakeup, Gorman names Colm Kelleher president

Gorman said to tell colleagues he'll stay five to seven years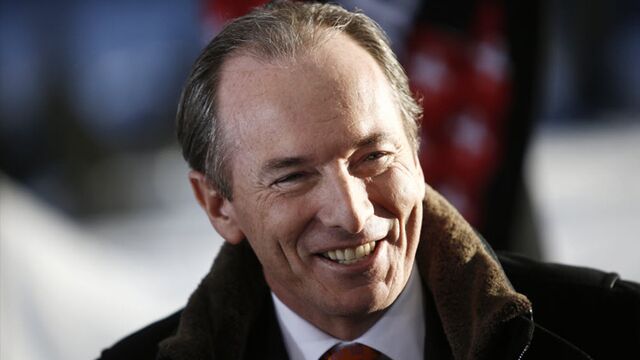 James Gorman, after deciding to stay atop Morgan Stanley for at least another five years, elevated one of his two main deputies and prompted the younger to leave rather than wait for a chance to take the helm.
Colm Kelleher, 58, was promoted to president, gaining responsibility for the retail brokerage in addition to his role overseeing investment banking and trading, Morgan Stanley announced Wednesday. Greg Fleming, 52, who led the brokerage, is leaving after six years at the New York-based company.
Gorman, 57, has spent more than half a decade turning the investment bank around in the wake of the financial crisis and intends to stay as chairman and chief executive officer for five to seven more years, according to two people familiar with the matter who asked not to be identified discussing his plans. Morgan Stanley has struggled to reach Gorman's goal of a 10 percent return on equity and last month cut 1,200 jobs in its fixed-income trading division in an attempt to boost profitability.
"It appears rather strange that Gorman is appointing someone who is older than he is to be next in line to succeed him, which implies that Gorman is planning to stay," said David Kass, a professor at the University of Maryland's Robert H. Smith School of Business.
The changes mark the biggest senior-level shakeup of Gorman's tenure, establishing Kelleher as the most likely to take charge of the company if the CEO leaves earlier than planned. Fleming decided to step down after the promotion was put in motion, though he could've stayed in his current role with Kelleher as his superior, the people said. He had previously offered to resign in October after a management shuffle at that time removed some of his duties, one of the people said.
Quoting Aristotle
"The new year always brings change and new challenges and, for me, those challenges will be on the horizon beyond Morgan Stanley," Fleming wrote in a memo to wealth-management staff, which includes about 15,800 brokers. He praised the division's accomplishments in recent years, quoting Aristotle on the pursuit of excellence.
Fleming, who previously worked with Gorman at Merrill Lynch & Co., joined Morgan Stanley in 2009 and took charge of the brokerage unit a year later as the firm was taking over Smith Barney from Citigroup Inc. Fleming has no alternate role as a financial executive currently lined up, one of the people said. He is teaching a course on financial markets and corporate law at Yale Law School this semester, and has held classes there in previous years, according to the school's website.
Gorman told Kelleher of his promotion at a dinner in New York this week, according to a person briefed on the discussions. The move provides a counterweight to Gorman's brokerage background at the top of the firm, and may free the CEO to focus on long-term strategic goals. That includes helping to develop digital offerings in wealth management and charting the firm's course in asset management, a unit that's significantly smaller than those run by rivals such as Goldman Sachs Group Inc. The appointment of a president also was desired by the board as it supported Gorman's plans to remain CEO for longer than he previously indicated to other executives, the people said.
Golf, Cigars
Kelleher has spent more than 25 years at Morgan Stanley, rising through the trading and capital markets ranks. One of nine children who grew up in Ireland's County Cork and an Oxford University graduate, he served as chief financial officer during the financial crisis, even conducting business lying down on his office floor after suffering a back injury in a car accident. A lively and outgoing former salesman, he's fond of golf, cigars and modern British art.
He was awarded $18 million in cash and equity awards for 2014, while Fleming got $16 million. For both, that was an increase from $14.5 million for 2013. Fleming holds about 600,000 shares of Morgan Stanley valued at $18.4 million, according to a filing.
Fleming has unvested option awards worth $1.11 million if reaped at Wednesday's closing price. The firm's most recent proxy statement shows he also had a package of restricted stock at the end of 2014 with a target value of $12.5 million, based on the close, though the ultimate size of the award hinges on hitting financial targets. Morgan Stanley can cancel those awards for engaging in competitive activity following a voluntary exit, according to the proxy. 
Morgan Stanley shares are down 7.3 percent this week, after an 18 percent drop last year. The stock more than doubled in the three years ended in 2014.
"While the departure of a capable executive should not be celebrated, it is understandable, and it is also reassuring that Mr. Gorman intends to remain CEO for many more years," Brennan Hawken, a UBS Group AG analyst, wrote in a note Wednesday.
Two Winners
Even though bankers like to divide the world into winners and losers, Kelleher's latest promotion shows how both sides of a once-prominent Morgan Stanley rivalry have managed to thrive. His clash with Paul J. Taubman when they co-led the firm's investment-banking and trading unit was so well known that it was a punchline among colleagues.
As Kelleher was elevated in 2012, Taubman left and started a boutique mergers firm, PJT Partners, and advised Verizon Communications Inc.'s $130 billion takeover of a stake in Verizon Wireless. Last year, his venture combined with Blackstone Group LP's spun-off merger-advisory business and went public.
The choice of a Morgan Stanley veteran, Kelleher, over a longtime colleague in Fleming shows Gorman may be valuing the firm's history over his own, said Douglas Ciocca, partner at Leawood, Kansas-based Kavar Capital Partners, which manages about $425 million and invests in financial companies. "It's that element of consistency, of the firm's culture."
Kelleher has helped lead Morgan Stanley's equities business, run by Ted Pick, to the top spot globally while trying to turn around the fixed-income trading unit. Kelleher, who has been based in London, will return to New York for his new role, which will include more travel within the U.S. as he takes on a brokerage operation with more than 600 locations. Fleming boosted that division's pretax profit margin to 23 percent in the first nine months of the year, up from 10 percent in 2011.
Future Candidates
Shelley O'Connor and Andy Saperstein were named co-heads of wealth management, according to a memo to staff. That business is seeking to boost lending to its clients to take advantage of deposits gained from the Smith Barney purchase.
In October, Gorman promoted two younger executives to new roles, naming Pick, 47, global head of sales and trading, and Dan Simkowitz, 50, to succeed Fleming as chief of the asset-management division. They're among a class of younger managers being watched as potential long-term CEO candidates, which colleagues say also includes finance chief Jon Pruzan, investment banking co-head Franck Petitgas, Asia co-CEO Gokul Laroia and Saperstein.
"Investors should be comforted that Morgan Stanley has a very deep bench," said Devin Ryan, an analyst with JMP Securities. "They'll get to know the executives moving into bigger roles."