Brazilian Real Recovers From Three-Month Low as China Stems Rout
by and
China moves to support stocks after plunge halted trading

Brazilian January 2017 swap rates fall to five-week low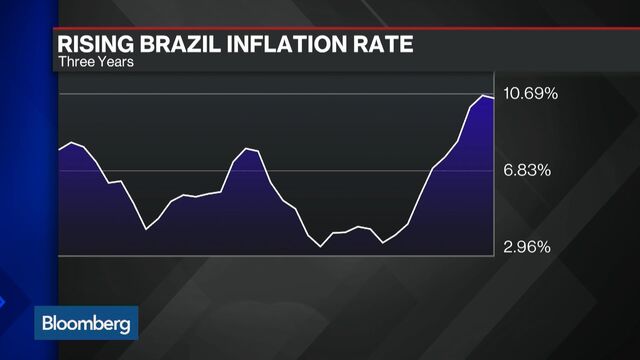 Brazil's real recovered from a three-month low and advanced as China increased efforts to stabilize markets a day after a rout in developing-nation assets.
The real rose 0.8 percent to 4.0078 per dollar in Sao Paulo. The real dropped 2 percent to a three-month low on Monday, the worst performance among 16 major currencies tracked by Bloomberg.
China, Brazil's top trading partner, moved to support its stock market with state-controlled funds buying equities and regulators signaling a selling ban on major investors will remain beyond this week's expiration date, according to people familiar with the matter. A manufacturing slump in China triggered a global selloff on Monday that halted equity trading in Shanghai.
"The real declined sharply in past sessions, which called for profit taking and a technical correction today," said Joao Paulo de Gracia Correa, a foreign-exchange director at SLW Corretora de Valores in Curitiba, Brazil. "Still, the currency should remain pressured and volatile in the short term."
Chinese policy makers, who also propped up stock prices during a summer rout, are trying to prevent financial-market volatility from weighing on an already-slowing economy. An index composed of 20 emerging-market currencies declined for the third straight day.
Brazil's economy will shrink 2.95 percent this year, according to the central bank's weekly economists survey published on Monday, more than the prior estimate of a 2.81 percent contraction. Analysts have lowered their 2016 growth forecast for 13 straight weeks and estimate that gross domestic product contracted 3.71 percent last year.
"Stimulus announced in China is insufficient to revert all this global pessimism, which is making the Brazilian currency even more volatile," said Camila Abdelmalack, an economist at CM Capital Markets in Sao Paulo. "Amid a very thin local agenda, some profit taking could be expected after recent declines and the real could rise a bit, even in a risk-off environment."
The real's one-month implied volatility in the currency declined to 21.25 percent after reaching the highest level since October on Monday.
Swap rates on the contract maturing in January 2017, a gauge of expectations on interest-rate moves, dropped 0.16 percentage point to a five-week low of 15.6 percent.
Before it's here, it's on the Bloomberg Terminal.
LEARN MORE