Fortress Scandinavia Sinks Into Blame Game Over Refugee Crisis
By and
Commuters caught at Oeresund Bridge as border tensions mount

Danish businesses warn that travel barriers will harm economy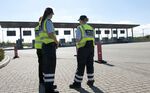 Gliding high above the Baltic Sea under pylons that stretch 669-feet into the air, the daily commute across Europe's longest rail and road link was once a symbol of integration in the region.
QuickTake Europe's Refugee Crisis
But for many of the 15,000 people who commute daily across the Oeresund Bridge between Malmoe, Sweden's third-largest city, and Copenhagen, the trip to work and back just became a lot more difficult. On Monday, Sweden imposed identification checks on people seeking to enter by road, rail or ferry after the country was overwhelmed by a record influx of refugees.
The development "doesn't fit with anyone's vision for the Oeresund region," Ole Stavad, a former Social Democrat minister once in charge of Nordic cooperation, said in an interview. "This isn't just about Oeresund, Copenhagen, Malmoe or Scania. It's about all of Sweden and Denmark." He predicts economic pain for both countries "unless this issue is resolved."
If not even Sweden and Denmark can get along, that doesn't bode well for the rest of Europe, which is now grappling with the ever-present threat of terrorism, a groundswell in nationalism and sclerotic economic growth.
And the ripple effects are already starting. Twelve hours after the Swedish controls came into force, Denmark introduced spot checks on its border with Germany, threatening the passport-free travel zone known as Schengen. Despite not pleasing Berlin, the move has received the go-ahead by Schengen's guardian in Brussels, the European Union.

Mutual recriminations are flying in Scandinavia. The Danes say they were forced to impose their measures after Sweden enforced its controls. The Swedes blame the Danes for not sharing the burden of absorbing refugees. Sweden received around 163,000 asylum applications in 2015, compared with Denmark's 18,500.
The controls are placing an unexpected burden on workers who had bought into the idea of an international business area of 3.7 million inhabitants. The Malmoe-based Oeresund Institute, a think-tank, estimates the daily cost of checks on commuters alone are 1.3 million kroner ($190,000). Denmark's DSB railway says it costs it 1 million kroner in lost ticket sales and expenses for travel across a stretch made famous by the popular Scandinavian crime series "The Bridge."
"It's difficult to say now" what the border controls will mean for Schengen, Swedish Justice Minister Morgan Johansson said in an interview on Monday. But with refugees still on the move and after the terrorist attacks in Paris, "it's important that we gain control over how people move around in the Schengen area," he said.
Old Friends
While the idea of linking Denmark's capital with Malmoe is centuries old, the Oeresund bridge was only agreed on in 1991. Inaugurated nine years later, the 30 billion-krone project received EU funding and soon became a poster child of Nordic and European cooperation.
That was a time when dialogue between Nordic neighbors would always trump "personal feuds," Stavad said.
"The Oeresund project has been a success so far," he said. "Unless this border issue is solved it will unwind all that's been achieved, or at a minimum halt integration in the region."
For Denmark, its response to the refugee crisis has also forced some soul-searching, as its strict immigration and asylum rules draw criticism. A country that prides itself for saving its Jews during World War II is now being likened to Nazi Germany over a proposal to confiscate jewelry, cash and other valuables from asylum seekers.
Danish Prime Minister Lars Loekke Rasmussen has also suggested changes to one of the pillars of post-war cooperation: the United Nations 1951 Refugee Convention.
In the meantime, the army is to help out as police units are pulled from across the country to patrol the German border, according to state broadcaster DR.
Many Danes will say the change in attitudes toward foreigners started soon after the Oeresund Bridge was inaugurated, when Anders Fogh Rasmussen, the former prime minister who went on to become NATO's leader, broke decades of Social Democratic hegemony by forming a government with the support of the Danish People's Party.
Twenty years after being founded with a declared goal of "preserving Danish heritage," the DPP became the biggest party in the country's ruling bloc after June 2015 elections. Loekke Rasmussen's Liberal Party is the second-biggest in the four-party bloc.
With xenophobic movements thriving across Europe, the DPP may serve as a model following its success in dictating an agenda without actually joining the government. Last year, it effectively forced the premier to backtrack on a promise to German Chancellor Angela Merkel to take more refugees by threatening to reconsider its support. The government has since tightened rules on asylum seekers and family reunifications.
The policies aren't popular with the corporate world and Danish business groups have argued that foreigners are needed to support economic growth. According to a recent study by the Confederation of Danish Industry, value creation rose by 34 billion kroner between 2010 and 2014, 24 billion kroner of which came from foreign workers.
"Foreigners are vital to Danish growth –- both now and in the future," said Kim Graugaard, the confederation's deputy director general. "Since 2010, foreigners have been responsible for two thirds of all the progress we have made in Denmark."