Photographer: Matthew Lloyd/Bloomberg
Beer
Still Ales: What You Need to Know About the Flat Beer Trend
Craft breweries have been producing high-alcohol, fizzless beers for years now. And when faced with the smooth, complex results, drinkers are beginning to convert.
By
It's been a while since beer has been simply a yellow, fizzy beverage—craft breweries have worked long and hard to add a whole artist's palette of colors to what we now think of as "beer."
But what about the "fizzy" part?
Some niche producers have been releasing beers absent of carbonation altogether, blurring stylistic boundaries in the process.
The recipes chosen for this style of flat beer are predominantly big and bold (often with alcohol contents rivaling wine or even spirits), and have generally been released in re-sealable containers. Since there are no bubbles to let out, there's no rush to imbibe an entire bottle in one sitting. It's beer you can drink and store pretty much like whiskey.
Here, some noteworthy examples of this palate-expanding approach to "beer." While some are currently unavailable, to understand the present it's helpful to learn about the past...
De Struise Brouwers - Cuvée Delphine on Steroids (C-DOS) a.k.a. Pablo Eiscobar

Belgium's De Struise Brouwers are experts in the art of eisbocking (a process of freeze-distilling beer, shedding water and thusly yielding higher alcohol and more concentrated flavor). De Struise's take on this 19th century German technique is decidedly postmodern—their 2010 cult classic Double Black had a whopping 26% alcohol by volume. For the newer, fizzless brew, C-DOS, the brewers started with Double Black's base beer Cuvée Delphine, which is a stout aged in Four Roses bourbon barrels. They double-eisbock the concoction to 41% ABV, and then mature it a second time in an Arran Lochranza Scotch barrel. The whisky-like final product pours black as midnight on a moonless night, with a smokey bouquet and chocolatey palate.
Hair of the Dog Brewing Company - Dave 
America's godfather of producing big beers in small batches, Alan Sprints of Portland, Oregon's Hair of the Dog Brewing Company, still works on a four barrel (120 gallon) system, yielding just 600 barrels annually. His 1994 masterpiece of eisbocking, Dave, has retained a long-held "white whale" status amongst craft beer traders. The beer began life as an early batch of the brewery's flagship barleywine Adam, which underwent freezing until only ⅓ of the batch remained, clocking in at 29% ABV. Every once in awhile, Mr. Sprints pulls bottles of Dave from the brewery's bunker to sell for charity (last time at $2,000 a bottle), with profligate Captain Ahabs snatching them up in short order. Underneath a tobacco-heavy aroma lie gracefully-aged sweet flavors of burnt caramel and vanilla bean.
BrewDog - The End of History

In 2009 the provocative Scottish duo BrewDog launched began freeze-distilling utterly monstrous, mind-roasting high alcohol beers, starting with one called Tactical Nuclear Penguin (32% ABV). They ended up in a testosterone-fueled competition with German brewers Schorschbräu to try and make the most alcoholic brew ever, and BrewDog's final effort was the aptly named The End of History at 55% ABV. (Schorschbräu fired back, stealing the dubious throne with a 57.5% ABV eisbock.) Yielding just 12 nearly $800 bottles outrageously packaged in taxidermy stoats and grey squirrels—reportedly roadkill, before you ask—the contents of The End of History have more in common with eau de vie than beer, with big notes of juniper, berries and caramel-apple. 
Le Baladin - Xyauyù Kentucky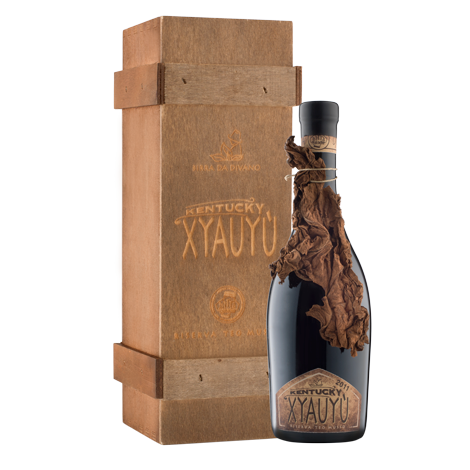 Teo Musso of Italy's Le Baladin is a dreamer. Roughly 10 years ago with a vision of what he idiosyncratically refers to as "couch beers," he created Xyauyù, an approximately 14% ABV barleywine that goes through a macro-oxidative aging process similar to port or sherry. There have been a number of Xyauyù variants produced over the years (the smokey Fumé for example, aged in Scotch barrels, or with Lapsang Suchong tea added), but the experiment perhaps reached its peak with Kentucky. This still brew is aged in bourbon barrels with tobacco steeped cold during the maturation. (Whole tobacco leaves were even hung ornamentally around the bottle-necks for the first batch.) The base beer's dark fruit profile melds terrifically with the bourbon backdrop and earthy tobacco undertones. Note: While Kentucky is available in Europe, ironically the United States' policy on alcoholic beverages containing tobacco is more…conservative.
Boston Beer Company - Samuel Adams Utopias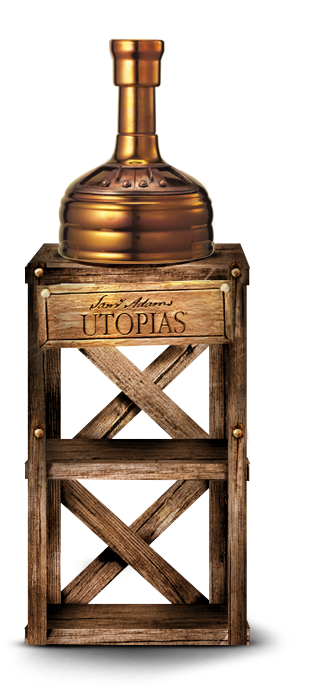 Samuel Adams' experimentation in the world of so-called "extreme brewing" began in 1994 with their Triple Bock, an early example of whiskey cask-aged beer (and at the time one of the booziest bottles available on market at 18% ABV). Next, they welcomed the turn of the century with a 3,000-bottle release of Millennium, which inched alcohol content even higher to 20% ABV. A couple years later the somewhat loftily-dubbed Utopias was born, their biggest beer to date—a blend of various barrel-aged beers to be released annually in bottles that resemble copper brew kettles. (The suggested retail price is roughly $200.) While each blend is unique with a fluctuating strength, as high as 28% ABV, there's a maple syrup sweetness that year after year manages to circumvent being cloying, garnering consistently high ratings.
Mystic Brewery - Entropy 
While Chelsea, Massachusetts' Mystic Brewery focuses mostly on rustic farmhouse-style ales, with Entropy their ambition is boldly rich. The result easily their most complex creation. Originally inspired by Utopias (though less interested in pushing the limits of alcohol content, settling for a comparatively modest wine-like strength just shy of 15% ABV), this sherry-like offering has a more youthful profile and less sticky body. Aged in both American and French oak barrels, the brewers have suggested further aging a bottle for up to 20 years if increased complexity is desired. As more of the brewery's wooden barrels house portions of Entropy for longer periods at their facility, each year's blend is bound to get more and more interesting, with the beer's vinous notes deepening atop its leathery texture.
Rapp Brewing Company - OMG

Each batch of Tampa, Florida's Rapp Brewing Company's OMG strong ale utilizes an entirely different recipe circling around the same idea — to create an exceedingly decadent brew that foregoes any supporting carbonation, letting the beer's flavors themselves shine. (Ostensibly causing the drinker to exclaim the titular acronym.) Another Utopias-influenced entry (in this case opting for stainless steel vessels to mature as opposed to oak), alcohol content hovers around 20% ABV from batch-to-batch. Previous installments have included a heavily-hopped take, a chocolate stout inspired version, and one with a European sensibility which ended up packing a maple-laden finish.
Before it's here, it's on the Bloomberg Terminal.
LEARN MORE