business
Swiss Oil Trader Vitol Biggest Buyer So Far for U.S. Shale Crude
By
Vitol captured first two shale oil cargoes post-export ban

40-year export prohibition was lifted this month by Congress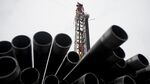 A Swiss trader of everything from gasoline to sugar is the first overseas buyer to export U.S. shale oil since a 40-year ban on most shipments was lifted less than two weeks ago.
Vitol Group, which owns stakes in refineries from Belgium to the Persian Gulf to Australia, has agreed to buy two cargoes of U.S.-sourced crude, the first of which will be ready to sail as soon as Thursday. ConocoPhillips will supply the first tanker-load, made up of crude and a type of ultra-light oil known as condensate from wells in the Eagle Ford Shale formation in south Texas, according to a statement by the Houston-based company.
The shipment was being loaded at NuStar Energy LP's Corpus Christi, Texas, terminal according to the statement. That follows on last week's deal by Vitol to buy a separate 600,000-barrel shipment of domestic crude that will load from Enterprise Products Partners LP's Houston terminal during the first week of January. The producer of the oil for the first cargo was not identified.
Vitol operates or holds interests in refineries with a combined processing capacity of 350,000 barrels a day, according to the Switzerland-based company's website. The light, low-sulfur type of crude abundant in U.S. shale fields is favored by many European refineries that aren't equipped to handle heavier grades of oil.

Until the export ban was lifted on Dec. 18, refiners this year had been willing to pay an average premium of about $5 a barrel for Brent crude, the international benchmark, over the price of West Texas Intermediate oil, according to data compiled by Bloomberg.
Since the prohibition ended, that premium has disappeared; West Texas Intermediate, the benchmark by which prices for other types of North American are set, commanded 14 cents more per barrel than Brent on Wednesday.
A voicemail left with Vitol's Houston office on Wednesday seeking details on the destination of the cargoes wasn't immediately returned. Phone calls to two spokeswomen in the company's London office outside of normal business hours weren't answered.
Overseas demand for U.S. crude is expected to remain muted because of a worldwide glut that has pushed oil prices to the lowest in more than a decade. A 64 percent surge in American oil production over the past five years driven by technological breakthroughs in shale drilling has compounded an oversupply from OPEC nations, Russia and other producers.
— With assistance by Sheela Tobben, and Dan Murtaugh
Before it's here, it's on the Bloomberg Terminal.
LEARN MORE