Fed's Asset-Bubble Focus Tries to Clear Path for Gradual Hikes
by and
Doves hope 'macro-pru' effort will spare Fed abrupt rate hikes

Skeptics doubt regulators can banish risky asset bubbles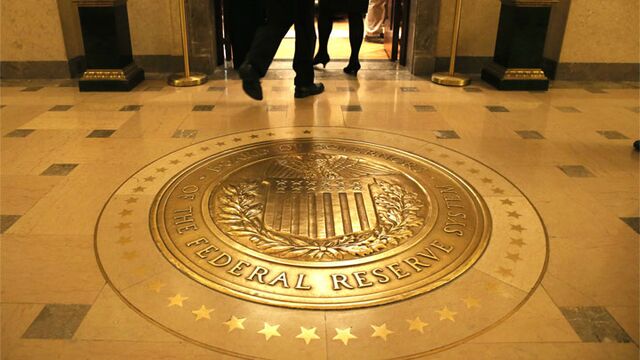 The Dec. 18 message from the Federal Reserve and two other government agencies seemed innocuous enough. It "reminded" financial institutions about "existing regulatory guidance on prudent risk management practices for commercial real estate lending."
Make no mistake, though, the joint statement from the Fed, the Federal Deposit Insurance Corp. and the Office of the Comptroller of the Currency sent an important warning to banks across the U.S. that federal regulators were on high alert for slack lending standards and unhealthy loan concentrations egged on by a property market that is heating up in cities from Boston to Dallas to Seattle. 
If effective, this tactic could also win latitude for policy makers inclined to move gradually with additional interest-rate increases in the wake of the Fed's first hike in almost a decade on Dec. 16. By containing potential bubbles, successful regulatory enforcement might keep officials from having to raise rates quickly and allow the economy to build enough momentum to drive inflation up toward their 2 percent target.
"They're erring on the side of stimulus, so there's always a risk to financial stability," said Angel Ubide, a senior fellow at the Peterson Institute for International Economics in Washington. In that case, he said, it makes sense to balance dovish monetary policy with aggressive regulatory measures.
Subprime Crisis
Haunted by the collapse of the subprime mortgage market, yet keen to keep their foot on the monetary policy gas pedal because inflation has been under their goal for more than three years, Fed officials are applying regulatory pressures earlier, more precisely and more aggressively in a bid to stamp out nascent asset bubbles.
"The Fed is clearly more sensitive than they were in the past," said Mark Mason, chief executive officer at HomeStreet Bank, a Seattle-based community lender. "They were reactive last time, and they need to be preemptive."
The aim is to stem threats to financial stability before they disrupt the overall economy without having to resort to the blunt tool of rapidly raising interest rates. An abrupt tightening could risk smothering the weak U.S. recovery and tipping the economy back into a recession.
There's just one problem with trying to regulate away the threat: There's no real proof it'll work.
War Game
In a war-game-like exercise in June that included staff from Washington and regional Fed banks, organizers at the Boston Fed rolled out a series of hypothetical scenarios that pointed to a potential crisis and asked officials how they might best respond with so-called macro-prudential tools. As opposed to company-specific regulations, macro-prudential measures seek to prevent excesses that build across the financial system.
Participants showed a preference for addressing problem areas first with supervisory guidance and "moral suasion," much as the Fed did last week in connection to commercial real estate. Beyond that, they ticked off a number of additional measures that regulators could unfurl, including bigger capital buffers and liquidity requirements.
Before the crisis, under former Chairman Alan Greenspan, the Fed took a more hands-off approach to regulation. Greenspan believed lenders would limit risk out of self-interest. In 2008 he admitted "shocked disbelief" over the failure of that approach after the subprime mortgage market collapsed, triggering the worst recession since the Great Depression.
Hands Off
Nor was Greenspan a fan of popping bubbles by raising interest rates, preferring instead to let them burst on their own and to address the resulting damage by cutting rates, a strategy that worked well with the technology boom of the early 2000s, but disastrously a few years later.
At today's Fed, while there's an effort to avoid complacency, there's also no rush to use interest rates to beat back any single potential bubble.
"A lot of Fed members realize that rates are only one tool in their arsenal, and a lot of times a more effective one would be macro-prudential," said Gennadiy Goldberg, U.S. strategist at TD Securities in New York.
Officials differ, however, over how far the central bank should push its luck in risking more widespread instability by keeping rates very low. After raising rates in December and moving off zero for the first time in seven years, most of the committee is intent on proceeding very slowly with additional rate hikes.
Policy Doves
For policy doves -- those who want to keep rates low in order to push unemployment even lower and spur inflation back to the Fed's goal -- that makes the success of targeted, preemptive regulatory efforts all the more important. If they can keep pockets of risk under control, as in the commercial real estate sector, that gives them a stronger argument for a gradual approach to tightening.
"The incentive exists even if they didn't want to run the economy hot," said Lewis Alexander, chief economist at Nomura Securities International Inc. in New York. "But to maintain that as we go forward, it's very helpful to have confidence that the regulatory and supervisory response is robust."
It's also possible the Fed is setting itself up for failure. Bubbles are notoriously hard to identify until they burst, and measures meant to head them off are often ineffective or come too late. Moreover, the U.S. regulatory landscape is fragmented among a number of agencies that may need to quickly cooperate to be truly effective.
Hard to Implement
"In theory, macro-prudential policy is a very good thing," said David Lafferty, chief market strategist at Natixis Global Asset Management, which oversees about $900 billion in client investments. "It's very hard to implement and get it right, other than simply being reactionary to what happened in the last crisis."
Fed Vice Chairman Stanley Fischer, who heads the bank's committee on financial stability issues, aired his own reservations in a June speech.
"It is not clear that there are sufficiently strong macro-prudential tools to deal with all financial instability problems, and it would make sense not to rule out the possible use of the interest rate for this purpose," he said.
It's too early to tell whether the Dec. 18 statement on commercial real estate will be enough to ease the trends that have the Fed worried. Between 2011 and 2015, loans for multi-family developments at insured depository institutions increased 45 percent and made up 17 percent of all commercial real estate loans held by financial institutions, according to the statement. As prices for multi-family properties rose, capitalization rates -- the expected return on real estate compared to its market value -- fell to record lows, the regulators noted.
'Quite Rapidly'
Separately, Boston Fed President Eric Rosengren, in a Nov. 9 speech, cast doubt on the sustainability of prices in commercial real estate "which have grown quite rapidly, despite the only modest growth in real GDP over the recovery," he said.
Officials might be looking for the same type of impact as the Fed appears to have made in the market for leveraged loans -- a category that includes credit extended to already indebted companies, as well as loans used to pay for company takeovers.
In March 2013, the Fed, the FDIC and the OCC responded to a then-rapid increase in leveraged finance with updated guidance, addressing risk-management, underwriting and valuation standards, among other topics.
Scrutiny from regulators was followed by a slump in the market for loans to below-investment grade companies as banks shunned deals that didn't meet the Fed's underwriting guidelines. A Fed report in November found there had been some improvement in underwriting, though problems remained in other areas.
"The regulatory environment post-crisis has been a lot better-geared toward getting ahead of a lot of the instability," said TD's Goldberg. Still, he thinks the Fed will have to keep its interest-rate hammer at the ready. "I think they're doing both."
Before it's here, it's on the Bloomberg Terminal.
LEARN MORE