Battle Plans
Mitch McConnell and the Coal Industry's Last Stand
Shale gas, solar, wind, new regulations and environmentalists have put relentless pressure on coal. But the Senate majority leader still believes he can stem the tide.
By and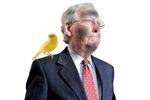 A ballad called "Coal Keeps the Lights On" took singer-songwriter Jimmy Rose of tiny Pineville, Ky., all the way to the finals of America's Got Talent in the summer of 2013. AGT judges Howard Stern, the radio shock jock, comedian Howie Mandel, and supermodel Heidi Klum cheered and clapped. "That was a damn good song," Stern declared. Rose, a 36-year-old former coal miner, says highlighting the industry's plight was a deliberate choice: "It's a song about a way of life that's in danger of disappearing."
Almost exactly a year later, the singer's minor celebrity took him to a less likely venue: the ornate main hearing room of the Environmental Protection Agency, where he testified at the invitation of Mitch McConnell as part of the Senate majority leader's defense of coal. The effusive Rose and the dour McConnell made an odd pair. When Rose stood to lead a spontaneous Pledge of Allegiance, an evidently surprised McConnell had to scramble awkwardly to his feet. Rose went on to outshine McConnell with a passionate condemnation of EPA regulations he said are turning eastern Kentucky into "a war zone." "You won't come to this poverty-stricken area," he lectured EPA officials. "You won't come and look my people in the eye."
Rarely dramatic, McConnell read his testimony in a characteristic drone. Even though he's from Kentucky, the lawmaker doesn't claim long-standing ties to coal. Before coming to the Senate, he says, "as a lawyer in Louisville, was I paying attention to coal? Not much." But since President Obama took office in 2009, vowing to combat climate change, McConnell has positioned himself as coal's bulwark—a central element of his across-the-board campaign to thwart the president politically.
Coal needs all the friends it can get. The industry is under siege from federal regulation, most recently Obama's Clean Power Plan, which went into effect on Oct. 23 and seeks to reduce carbon emissions by 32 percent by 2030. Consumers and activists, meanwhile, are persuading utilities to close aging coal-fired power plants. With funding from Bloomberg Philanthropies, the Sierra Club's Beyond Coal campaign has helped shut down more than 220 coal facilities over the past five years. (Bloomberg Philanthropies was created by Michael Bloomberg, founder and owner of Bloomberg LP, which publishes this website.)

Even more damaging than pressure from environmentalists has been competition from plentiful, inexpensive natural gas—a cleaner-burning source of electricity increasingly favored by utilities. Coal provides 39 percent of the nation's power, down from 50 percent a decade ago. Some 8,000 jobs have disappeared just from the coalfields of eastern Kentucky since 2010. Says Rose: "A lot of people are counting on Senator McConnell to figure something out."
The fight can seem quixotic, given the challenges facing coal. The recent Paris agreement among nations to reduce carbon dioxide emissions puts the industry under even more pressure, but McConnell welcomes the mission. He's executing it with broad gestures as well as obscure legislative maneuvers. He hopes the hybrid strategy keeps Democrats occupied until November 2016, when Republicans have a chance to retake the White House and reverse the Obama regulatory offensive.
"It's a last stand; the forces arrayed against coal are too powerful to resist," predicts David Doniger, director of the climate program at the Natural Resources Defense Council (NRDC). "The trouble with last stands, though, is that they can go on for a long time, and McConnell is a very determined fighter."
Addison Mitchell McConnell, 73, has built a three-decade Senate career on political savvy and procedural mastery. During an interview in his Capitol office, he avoids personalizing his relationship to the coal business. Asked about coal being woven into Kentucky's DNA, and what that means to him, he responds: "Yeah, I think we figured out that it was a big issue in our state beyond the coalfields starting in 2012, when Congressman Andy Barr defeated Ben Chandler in the central Kentucky district where there are no coal mines." Barr, a Lexington Republican, ousted the Democratic incumbent by linking Chandler to Obama's efforts to curb carbon dioxide emissions from coal-powered utilities. To McConnell, any attempt to arrest global warming requires a return to medieval destitution, especially for his constituents: "I mean, in what way is it helpful to have the planet have more and more people living in poverty, more and more people in the dark—literally in the dark—potentially?"
The Senate majority leader didn't begin his career as an archconservative. In a then-predominantly Democratic Kentucky, he rose through Republican Party ranks in the late 1960s and early '70s as a moderate. According to a recent biography by journalist Alec MacGillis, he named his cat Rocky after Nelson Rockefeller, the generally liberal Republican governor of New York. (An aide says the cat belonged to McConnell's ex-wife.) McConnell opposed Ronald Reagan's first two bids for the GOP presidential nomination, supporting President Ford in 1976 and George H.W. Bush in 1980.
He began changing direction in 1984, when, under the tutelage of consultant Roger Ailes, now the head of Fox News, McConnell won election to the U.S. Senate. He rode the Reagan revolution, supporting arms for the right-wing Contra guerrillas in Nicaragua, "tort reform" that restricted consumer lawsuits, and conservative judicial appointments.
Backing coal went without saying for a member of Kentucky's congressional delegation, but it wasn't an issue to which McConnell devoted disproportionate attention. "He was there for coal but didn't have to worry about it much during the [George W.] Bush years, when federal policy was friendly," says Bill Bissett, president of the Kentucky Coal Association since 2010 and, before that, a public-relations professional in neighboring West Virginia. Utilities faced no organized national opposition in the early 2000s, when they proposed building scores of coal-fired plants to replace a generation of aging facilities.
But then the market for coal shifted—and so did the politics. Natural gas made available by hydraulic "fracking" and horizontal-drilling techniques, combined with the 2008 financial crisis, scuttled plans for expanding coal. Today, the cost of natural gas electricity, including power plant construction, is about $73 per megawatt hour, according to Charles Patton, president of Appalachian Power, West Virginia's largest utility. For a conventional coal plant, it's $95.

Annual U.S. coal consumption peaked in 2007 at 1.1 billion tons and declined to 919 million tons in 2014, the least since 1992. Kentucky production topped out earlier, in 1990, at 173 million tons. The state was displaced as the nation's No. 1 producer in 1988 by Wyoming, home to the resource-rich Powder River Basin, which has cleaner-burning coal than Appalachia. "The deterioration in Kentucky has been pretty steady, but people always hoped things would turn around," Bissett says.
As its fortunes eroded, coal became an issue in the 2008 presidential campaign. In January of that year, candidate Obama told the San Francisco Chronicle about his support for legislation penalizing carbon emitters: "If someone wants to build a new coal-fired power plant they can, but it will bankrupt them because they will be charged a huge sum for all the greenhouse gas that's being emitted."
After taking office the following year, Obama pushed a cap-and-trade bill that would have imposed a limit on power plant CO2, requiring heavy emitters to buy pollution credits from cleaner rivals. The House of Representatives, then controlled by Democrats, narrowly passed the legislation in June 2009. In the Senate, also dominated by Democrats, the bill faced a threatened Republican filibuster organized by McConnell.
For McConnell, coal was one battle in a much larger political war. Then the Republican minority leader, he had been fighting almost all of Obama's initiatives. "The single most important thing we want to achieve," McConnell told National Journal in 2010, "is for President Obama to be a one-term president."
He swung into action, branding cap-and-trade a "new national energy tax," after which he and fellow Republicans lobbied moderate Democrats leery about supporting anything framed as a tax. McConnell even tried in a roundabout way to take advantage of the BP oil spill that summer, which had begun in April with the explosion of the Deepwater Horizon rig in the Gulf of Mexico. In a floor speech, he asserted the "inconvenient fact" that BP had "helped write" the cap-and-trade legislation. BP, like Shell and other major oil companies, had commented on drafts of cap-and-trade. Tarring the bill by association with BP seems desperate, but at the time it appeared to help. Democrats wavered. Then-Senate Majority Leader Harry Reid never brought cap-and-trade to the floor. "The reason Reid didn't want to schedule that vote is because he had too many red-state Democrats who weren't going to vote for it," McConnell says with an air of satisfaction.
After the defeat of cap-and-trade and Democratic setbacks in the 2010 midterm elections, Obama looked for ways he could move forward on climate change using his executive authority, a process that culminated in the Clean Power Plan. "It's really arrogant," McConnell says. "This is not the result of any law that's been passed, and so you've got unelected bureaucrats doing things that have a dramatic, depressing effect on the economy." That's a perspective widely shared in Kentucky, where, McConnell says, repeated invites for visits from EPA officials have been rebuffed. "They don't want to see the face of this," he says of the EPA.
"McConnell is the one person nationally who's been saying for years that this is a war on coal, and he's right," says Kentucky state Senator Brandon Smith, a Republican. "We've lost thousands of jobs, and we have nothing to replace them." He's having breakfast at France's Diner in Hazard, the seat of Perry County. As waitress Shelly Napier pours coffee, she notes that business is way down at the restaurant (it's almost empty). Six of her male relatives have lost mining jobs in the past 18 months. "This is a nice town," she says, "but you're seeing the worst of it—shut-down stores, empty buildings."
John Combs runs a chrome-plating shop 90 minutes away in Pikeville that refurbishes hydraulic parts for bulldozers and other surface-mining equipment. In 2011 he employed 72 people; today, 38. In 2014, Combs hosted a fundraiser for McConnell (Jimmy Rose performed). "I give Senator McConnell all the credit in the world," Combs says, "but I don't know if he can stop this onslaught from Obama and the Democrats."
Brian Patton is president of Mountainside Coal, a company in Williamsburg, Ky., that mines high-grade coal used in the manufacturing of computer chips and solar panels. In the past year, with demand from China eroding, he's let go 40 of 140 workers. Before this gig, Patton worked for James River Coal, a larger company that filed for bankruptcy protection for a second time in April 2014. More than three-dozen U.S. coal operations have been forced into bankruptcy in the past three years, according to research firm SNL Energy. Many are small, but in addition to James River, the insolvencies include prominent names such as Alpha Natural Resources and Patriot Coal.
"This is more than a bad cycle; the shrinkage in thermal [coal used for electricity] is structural, and it's not coming back," says Jesse Parrish, vice president at Lexington, Ky.-based Blackhawk Mining, founded in 2010 to buy and combine the assets of failing coal companies. Blackhawk has trimmed payrolls and reduced benefits to retirees. Once a powerful protector of miners' rights, the atrophied United Mine Workers of America no longer represents any active employees in Kentucky's coalfields. "The politics has evolved from management versus labor to a unified front of owners and workers trying to survive," Parrish says.
In his 2014 reelection campaign, McConnell won four eastern coal counties with predominantly Democratic electorates that he'd never won in five prior tries. And like Kentucky voters, the coal industry, though financially crippled, has expressed its gratitude. According to the Center for Responsive Politics, a Washington research nonprofit, McConnell's campaign committee received $425,600 from mining interests from 2009 through 2014—an unimpressive amount that ranked only No. 15 among the senator's contributors (securities and investment firms ranked No. 1, with $2.3 million). But what mining could muster for McConnell, the center's data show, made him coal's top Senate recipient.
Once reelected, McConnell became Senate majority leader, a career-long aspiration. The day after he won, he told the Lexington Herald-Leader that one of his top priorities would be "to do whatever I can to get the EPA reined in." His main target, he said, was the Clean Power Plan, then in preliminary form. Under the plan, the EPA sets individual state carbon-reduction goals that collectively achieve the 32 percent cut by 2030. States may propose their own tailored programs, including such steps as boosting use of wind, solar, and other renewables; imposing pecuniary penalties on carbon emissions, possibly in combination with a cap-and-trade system; and switching electricity generation from coal to natural gas. If a state fails to develop a plan by 2018, the EPA will draft one for it.
The EPA maintains that it doesn't need congressional approval to implement the plan. McConnell disagrees. He's designated his top energy aide, Neil Chatterjee, to coordinate a multifaceted lobbying-and-litigation drive to stop the agency. "It's unusual to see a Senate majority leader play this role," says Bissett of the Kentucky Coal Association. "But there's really no one else there to do it, so Leader McConnell stepped up."
In March, McConnell sent letters to all 50 governors urging them to defy the EPA by simply refusing to comply with the Clean Power Plan. Simultaneously, his office served as a clearinghouse for state lawsuits seeking to stop the EPA in court. Twenty-seven attorneys general have filed suit so far, as have numerous utilities and coal companies. Roughly at the same time as his letter-writing campaign, McConnell's office helped orchestrate a House hearing chaired by Representative Ed Whitfield, a fellow Kentucky Republican. Whitfield's star witness was the well-known law professor Laurence Tribe of Harvard, who's been retained by Peabody Energy, the nation's largest coal company, to advocate against the EPA proposal. Arguing that the Obama administration was infringing on state authority, Tribe compared the Clean Power Plan to "burning the Constitution." "If I thought the case was a close one, I wouldn't have taken it on," Tribe says. "If I'm proven right on the law, then lots of time, money, and jobs will have been lost pursuing an important goal in an unlawful way." His hiring was a PR coup, given Tribe's pedigree and long relationship with the president. McConnell misses no opportunity to note the connection. "You know who Laurence Tribe is, right?" he asks during an interview. "He's the most prominent liberal constitutional law professor in the country."
Numerous other scholars have disputed Tribe's arguments for Peabody, but the lawsuits over the power plan are a serious matter and will almost certainly end up before the U.S. Supreme Court, possibly in 2017. In the meantime, it's unclear how many states will volunteer carbon-reduction plans, as opposed to waiting to see how the justices rule.
By contrast, some of McConnell's other swipes at the EPA are more symbol than substance. In March he offered a successful amendment to a nonbinding budget resolution that barred the EPA from denying states federal highway funds for noncompliance with the Clean Power Plan. "Washington bureaucrats shouldn't be allowed to punish innocent Americans by threatening the roads and bridges they use," McConnell said in a statement. This was peculiar, because the EPA lacks authority to block federal highway funds in this manner—and the agency immediately said so.
In another move, McConnell appointed himself to a Senate Appropriations subcommittee with jurisdiction over the EPA. At a panel hearing in April, he castigated EPA Administrator Gina McCarthy: "My constituents want their dignity restored. They want to be able to work."
McCarthy responded: "I believe the EPA has designed this plan in a way that we are respecting the current situation in states and their energy mixes, designing our standards to accommodate the reasonable benefits in terms of reducing carbon pollution, and what those states can do." She added: "We are acting under the authority that Congress gave us under the Clean Air Act, and we are going to be producing a rule that is going to withstand the test of time in the courts."
McConnell pushed through a Senate resolution disapproving of the Clean Power Plan in November, a token vote with no practical effect, but one he intended as a signal to foreign diplomats gathering in Paris in December to negotiate with the U.S. over the global climate pact. His message, as expressed in an op-ed that appeared under his byline in the Washington Post on Nov. 27, was that "commitments the president makes [in Paris] would rest on a house of cards of his own making."
On Dec. 12, the Paris climate conference approved an agreement favored by the Obama administration that seeks to limit global warming to less than 2 degrees Celsius (3.6 degrees Fahrenheit), using preindustrial temperatures as a baseline. In a statement, McConnell warned against celebration: "Before [Obama's] international partners pop the Champagne, they should remember that this is an unattainable deal based on a domestic energy plan that is likely illegal, that half the states have sued to halt, and that Congress has already voted to reject."
Doniger, the NRDC climate expert, says McConnell is waging a cynical—and ultimately losing—battle. "The only question he's asking himself is, 'How can I work this issue for partisan advantage?' " Doniger points to a speech in October delivered by Patton of Appalachian Power in which the utility executive, a foe of the Clean Power Plan, conceded that in the long run coal can't bounce back: "The debate largely at this point in time has been lost."
"I suspect that in his heart, McConnell knows that, too," Doniger says.
If the senator does know that the war over coal is unwinnable, he's keeping it to himself. He insists that in the 2016 presidential election, the Republican candidate could eke out victories in coal-reliant swing states by promising to kill the Clean Power Plan and rescue the industry. "It is an issue in southeastern Ohio and in western Pennsylvania," he says, "and if you're running for president, you've got to carry those two states." The Senate majority leader, in other words, is not yet raising a white flag.
Before it's here, it's on the Bloomberg Terminal.
LEARN MORE