Norfolk Rebuff Leaves Canadian Pacific to Decide on Fight
by
CP Rail is unlikely to increase bid for Norfolk, analyst says

Turn-down is a formality after public criticism of proposal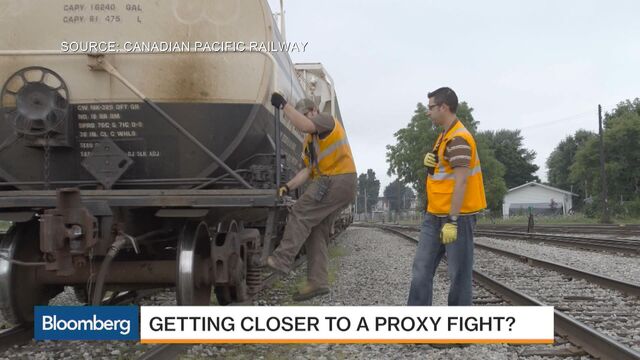 Norfolk Southern Corp. rejected a sweetened bid from Canadian Pacific Railway Ltd., moving the cross-border railroad takeover effort a step closer to a proxy fight.
The decision, a formality after Norfolk Southern's public coolness to the plan, leaves Canadian Pacific Chief Executive Officer Hunter Harrison with a choice: abandon his quest to create a transcontinental carrier or go directly to the U.S. railroad's investors, as he has said he may do. Canadian Pacific said it will weigh "strategic alternatives" without giving details.
"We're at the stage of CP having to try to round up the Norfolk shareholders," Canaccord Genuity analyst David Tyerman, said in a telephone interview. "It doesn't seem like there will be an increased offer. CP is kind of using a carrot-and-stick approach. The stick is, 'We'll leave."'

Echoing language used in previous rebuffs, Norfolk Southern told Canadian Pacific by letter that the revised offer was "grossly inadequate." The board's decision was unanimous, the U.S. carrier said.
Canadian Pacific said last week that its latest proposal adds an additional payout of as much as $3.4 billion to its bid. The rest of the new offer was similar to a revised plan for $32.86 in cash and 0.451 share in the combined company. The Calgary-based railroad said it was disappointed in Norfolk Southern's response.
"It is apparent that neither the executive leadership at NS nor its board of directors are willing to sit down in an open and constructive dialogue," Canadian Pacific said in a statement responding to Norfolk Southern.
Norfolk Southern rose 0.9 percent to close at $86.85 in New York. The shares have gained 8.7 percent from Nov. 6, the last trading day before Bloomberg News reported Canadian Pacific's interest in a deal, valuing the company at $25.9 billion. Canadian Pacific increased 1 percent to C$177.96 in Toronto.
Harrison, 71, has said he believes a proxy fight is likely if Norfolk Southern's management and board continue to refuse to discuss a takeover. The pursuit of Norfolk Southern was the result of investors urging Canadian Pacific to pursue a merger and apply its efficiency gains to another railroad, Harrison has said.

Norfolk Southern has now turned aside Canadian Pacific three times. The Norfolk, Virginia-based railway reiterated Wednesday it believes the merger and the voting trust proposed by Canadian Pacific won't be approved by U.S. regulators. Norfolk Southern is the second-largest railroad in the eastern U.S., and Canadian Pacific is No. 2 in its home country.
The latest bid included a contingent-value right, which would entitle holders to receive a cash payment from Canadian Pacific equal to the difference between the combined company's average share price during the six-month period ending Oct. 20, 2017, and $175 a share, up to a maximum of $25, assuming the merger was approved.
That offer is inadequate even if the right's value were at the high end, Norfolk Southern said Wednesday.
"Our financial advisers believe that the CVR would trade at a significant discount," the railroad said in its letter to Harrison and Canadian Pacific Chairman Andrew Reardon.
"You continue to publicly declare that we are not 'engaging' or 'meeting' with you," Norfolk Southern CEO Jim Squires and Lead Director Steven Leer said in the letter. "There is no basis to meet until you both make a compelling offer and address the regulatory issues."
Before it's here, it's on the Bloomberg Terminal.
LEARN MORE