Ted Cruz Ends 2015 with 'Country Christmas' Southern Tour
The Iowa front-runner tacks South to try and build support ahead of the all important Super Tuesday primaries.
By and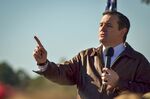 The Iowa caucuses are just six weeks away, and Ted Cruz knows a first-place finish—an entirely possible outcome according to the latest polls—could give him momentum against top rivals Donald Trump and Marco Rubio in the states that follow. 
But if you're looking for Cruz this week, you won't find him in Des Moines, Cedar Rapids or Davenport. Instead, he's be barnstorming the South in what his campaign has dubbed the "Take-Off With Ted Cruz Country Christmas Tour" in a bid to secure a swath of the country that may be key to his post-Iowa prospects.
Cruz and his advisers determined the smart play is to invest a chunk of time and emotion now in the Southern states that are among the 12 that vote on March 1, the day known as Super Tuesday. It's also nicknamed the SEC Primary, a reference to the southeastern collegiate sports conference; the frontloading of Southern states on the calendar is designed to give conservatives a stronger voice in selecting the party nominee. And this year, states that vote before March 15 in the Republican contests award their delegates proportionately, rather than winner-take-all, thereby raising the incentive for everyone to compete.
"It starts off as it always does with the same four states, Iowa, New Hampshire, South Carolina, Nevada," Cruz explained to a crowd on Sunday at a rally in Trussville, Alabama, a suburb of Birmingham, that drew more than 1,500 people. "But then, 10 days after, South Carolina: Boom! It's Super Tuesday."

Alabama and Texas agree on just about everything, except football, Cruz laughed. "And I'll tell you, the role that Alabama is going to play is ensuring that the next Republican nominee for president and the next president of the United States is going to be a strong conservative."
Since late last week, Cruz has met voters in Virginia, Georgia and Alabama. He'll hit Tennessee, Arkansas and Oklahoma before his tour ends on Wednesday. The seventh Southern state that votes on Super Tuesday is Cruz's home state.
Cruz's early focus on these states takes into account several dynamics of the race at this moment: His own strongest support comes from evangelicals and Tea Party self-identifiers in the South. Trump already has done lots of legwork across the region—with massive rallies in Macon, Georgia, Birmingham, Alabama, and Manassas and Richmond, Virginia—and it would be risky to cede that. And while Rubio may lock down Florida, he hasn't invested as much and may not be as natural a fit in deep-South states. Cruz also can draw from the failures and successes of candidates in both parties in elections past, like Mike Huckabee's near singular attention on Iowa in 2008, or the way Rudy Giuliani staked too much down the road on Florida that same year, not to mention how Bill Clinton solidified his comeback in the Super Tuesday states in 1992.
"You have to have a plan to win early and then win a bit down the road," says Larry Sabato, director of the University of Virginia's Center for Politics, who says the March contests may be pivotal if results are divided through South Carolina. "You have a slew of primaries on the 1st. And we're going to start to look at which candidates are building up a delegate lead. Somebody's going to have a lead and we're going to start paying attention to that."
Other Southern states follow soon after, with Kentucky and Louisiana voting March 5, Mississippi on March 8 and Florida and North Carolina on March 15.
"It's impossible to see a route for Cruz to the nomination without doing well in these Southern states," says Merle Black, an Emory University political scientist. "Obviously his big problem is Trump. The question is how well he would run among those groups if Trump remains strong."
Cruz is a "tremendous grassroots politician" who can connect with rural crowds effectively, Black said. "We don't know what's gonna happen in Iowa, if Trump's still gonna be there, but Trump is a much bigger problem for Cruz right now than Rubio. If he leaves it to Trump in the South, where else would he win?"
At the same time, Cruz's rhetoric suggests he may be preparing for a longer-term challenge from Rubio, and he's positioning himself somewhere in between the two rivals—someone who's served in Washington, unlike Trump, but with an outsider's willingness to take on the establishment including Rubio.
"My position is very simple," Cruz says about immigration policy, suggesting Rubio is harder to pin down. "I oppose amnesty. I oppose citizenship. I oppose legalization, today, tomorrow, forever."
"I'm glad Donald is running," Cruz, who wore jeans, a leather jacket and cowboy boots, said of Trump at a Friday stop in Cobb County, Georgia. "He has attracted a lot of energy and a lot of excitement and I want every one of those folks who have been excited by Donald Trump's campaign to show up and vote in November 2016. That's how we're going to win the general election and beat Hillary Clinton."
Flanked by his wife, Heidi, and their two daughters, who wore antler headbands to look like little reindeer, the holiday atmosphere was hard to miss. Santa has been spotted in costume in the crowds. And when an attendee at one rally in Georgia fantasizes aloud about sending Hillary Clinton to jail, Cruz feigned benevolence, promising if that happens he'll bake the Democratic front-runner a cake. But Cruz also kept Trump in his sights. 
"I do not believe that Donald is going to be the nominee, and I do not believe that he is going to be the president," Cruz says. "This primary has come down to who will stand up to Washington. If that's the question, the natural follow-up question is who has stood up to Washington? Not just Democrats but to leaders in our own party. And in that regard my record is markedly different from every other man and woman standing on that stage."
Beyond the stump speeches, Cruz has been building infrastructure in the Southern states. The Republican Texas senator and presidential candidate also has arranged for appearances by some recognizable figures in each state who might not help quite so much in a general election but are beloved by segments of the base: former Virginia Attorney General Ken Cuccinelli, Alabama Senator Jeff Sessions, Georgia's own Herman Cain of 9-9-9 fame, who also introduced Trump at his rally in Macon. 
By contrast, in recent months Cruz's visits to New Hampshire, which votes on Feb. 9, have been few and far between. He last visited the state on November 11 for a town hall in Kingston and to file for the primary in Concord. Despite this, recent polls place the Texan in the top three or top two there.
New England, which comprises a relatively moderate Republican primary electorate, is ill-suited to Cruz's evangelical emphasis and tea party firebrand style. It doesn't factor into what his advisers view as his likely path to the Republican nomination, which begins with a victory in Iowa, a strong finish if not a victory in South Carolina and wins in the March 1 southern states. To show Iowans he isn't forsaking them, Cruz aired an ad in the state over the weekend in which he reads parody Christmas stories about Clinton, Obama and the IRS to his family with a fire crackling in the background.
Meanwhile, at a Saturday rally in Daphne, Alabama, that drew another audience estimated at 1,500, Jan Patterson concluded she prefers Cruz's demeanor to Trump. "Trump lacks a little bit of finesse," she said. "He's just down and dirty. I like that to a certain extent, but it may be not as presidential as it should be."
Georgia Insurance Commissioner Ralph Hudgens, Cruz's state campaign chairman, said that while the polls suggest Trump will win his state, "I think Ted will come in a respectable second." If Trump falters between now and then, Hudgens says, "It will go to Ted. I like Donald Trump fine. If Ted doesn't get it and Trump gets it, I'll be behind Donald Trump 100 percent. But I believe Ted is better prepared. Donald Trump is a tremendous businessman. But I don't see that he has any political expertise."
Kerwin Swint, chairman of the political science department at Kennesaw State University in Georgia, said while Cruz's investment in the South makes sense, his bid for the nomination still seems difficult. Cruz is "universally hated by his congressional colleagues" who see him as a "grandstander," he said, and while Cruz is the "natural inheritor of the very conservative, evangelical side of the party" his appeal beyond that may be limited.
"A lot of Cruz's strategy is based on Trump getting out of the race or falling in the polls and if that doesn't happen he's got nowhere to go," Swint said. "If Trump still stays there's a ceiling on Cruz's support."
—Sahil Kapur and Gigi Douban contributed to this report.