The Kayak of Tickets Thinks Bigger
After a snub, SeatGeek is trying to beat StubHub at its own game.
By and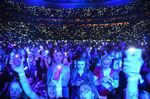 Six years ago, Dartmouth College graduates Jack Groetzinger and Russ D'Souza created an online marketplace to collect listings for concert and sports tickets the way Kayak does for flights. Their website, SeatGeek, now draws more than 8 million monthly visitors who can compare prices from ticket resellers, see a photo of the view from a given location, and get tips on the best time to buy. Like Kayak, SeatGeek built its business without its own inventory. Until last month, all its listings came from about 500 outside vendors who paid SeatGeek a cut of referred sales, usually around 10 percent.
Under pressure from industry heavyweight StubHub, SeatGeek has begun moving away from aggregation and into the resale market. Earlier this month, Groetzinger and D'Souza's company released a version of its mobile app that lets people freely send tickets to one another using their smartphones. Users can also list and sell tickets in exchange for giving SeatGeek a 15 percent cut, a function added to the company's desktop site in November.
On a beta version, mobile tickets can be listed with two taps on a phone and bought or transferred with a few more. A concertgoer who buys four seats to a show can almost instantly deliver three to friends and collect payment without added fees. Like all good apps, it needs no manual. The pages are accessed from buttons at the bottom of a menu screen, including "my tickets," where purchases appear automatically. Tickets can also be uploaded as PDFs (via the desktop site or e-mail) without entering information about the seat. From there, it's a matter of tapping "sell" or "transfer."

With more venues offering paperless entry, scanning bar codes off smartphone screens instead of printouts, tickets can live inside phones from the first purchase to the turnstile—and during every change of hands along the way. The co-founders say SeatGeek's mobile interface can handle all those transfers more smoothly than its rivals' systems. "Those ticketing platforms were built 10 years ago, or built around ideology of 10 years ago," D'Souza says.
Since the first version of SeatGeek's app went live in 2012, mobile traffic has grown to 75 percent of the service's 4,000 daily transactions, SeatGeek says. For North America's event ticket industry as a whole, mobile accounts for 44 percent of traffic, according to Juniper Research. StubHub and Ticketmaster lag, with 36 percent and 21 percent, respectively, so far this year.
SeatGeek began the shift toward reselling after StubHub—which controls almost half of the more than $5 billion U.S. resale market, according to Northcoast Research—pulled its inventory from the site last year. John Locke, a principal at SeatGeek investor Accel Partners, says StubHub deemed the aggregator a threat, "and frankly, it should." StubHub spokesman Glenn Lehrman says his company ended its partnerships with SeatGeek and other referral sites because they weren't delivering enough new customers to justify their fees.
To beef up its offerings, SeatGeek has made agreements to list primary inventory from Spectra Ticketing & Fan Engagement, a box office that specializes in college sports, and Telecharge, which handles Broadway plays. SeatGeek says its month-old resale marketplace is seeing tickets uploaded for sale at a rate of one per minute. Still, the great majority of the $1 million worth of tickets it helps sell each day are from other vendors' resale listings, the company says.
Moving into primary sales pits SeatGeek more directly against industry leader Ticketmaster, which moved 154 million tickets last year, bringing in almost $1.6 billion in revenue. Ticketmaster, owned by Live Nation Entertainment, has also entered the resale arena with TM+, a service that combines primary and secondary listings. "The difference between selling 500,000 tickets or a million tickets, and then selling 150 million tickets a year, is a big difference," says Richard Tullo, an analyst at brokerage Albert Fried & Co.
Still, Tullo says, "I wouldn't discount the power of an interface, because the consumer loves the path of least resistance." Ticketmaster's and StubHub's apps don't let users transfer tickets, for example. SeatGeek's founders are counting on this kind of sharing to spread their software beyond the current tally of 4 million-plus downloads while the bigger companies slug it out on PCs. "Ticketing is still a desktop thing for the most part, which is sort of strange given how naturally it lends itself to mobile," Groetzinger says. As for news reports that SeatGeek met last year with Live Nation to discuss a possible acquisition, he says, "We're not really thinking about that stuff."
The bottom line: SeatGeek is betting on a revamped mobile interface to siphon business from StubHub and Ticketmaster.
Before it's here, it's on the Bloomberg Terminal.
LEARN MORE