Singapore Blogger Ordered to Pay S$150,000 for Defaming Premier
by
High court judge says reputation is a "priceless asset"

Ngerng trying to get on with life, tough finding work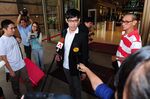 Blogger Roy Ngerng must pay S$150,000 ($106,000) to Singapore Prime Minister Lee Hsien Loong for defaming him and suggesting the premier criminally misappropriated the country's pension fund savings.
"Reputation is a priceless asset that takes years of effort to build," Singapore High Court Justice Lee Seiu Kin said in a ruling on Thursday. "The defamation of public leaders has thus been taken seriously by the courts."
Lee, 63, had rejected Ngerng's multiple apologies and two offers for damages of as much as S$10,000. The blogger's apologies weren't sincere and Ngerng continued aggravating the offense including casting doubt on the judiciary, Lee had testified in court earlier this year. The premier should get damages higher than the S$100,000 to S$400,000 range for defamation awards in previous cases involving senior government leaders, his lawyer Davinder Singh had said.
The blogger was paid S$3,356 a month before he was fired in June last year as a patient coordinator at a public hospital. He ran in a six-member team to contest in Lee's district during the Sept. 11 general elections.
"I'll discuss with my lawyer on the next step," Ngerng, 34, said in a phone interview. "I'm trying to get on with my life and it's been difficult looking for a job."
Singapore Democratic Party leader Chee Soon Juan was bankrupted in 2006 after failing to pay in full S$500,000 in damages for defaming former prime ministers Lee Kuan Yew and Goh Chok Tong. Chee had his bankruptcy annulled in 2012. The late opposition leader Joshua Benjamin Jeyaretnam was declared bankrupt over libel damages. He was later discharged from bankruptcy in 2007.
The case is Lee Hsien Loong v Roy Ngerng Yi Ling, S569/2014. Singapore High Court.
Before it's here, it's on the Bloomberg Terminal.
LEARN MORE