Millennials: Builders Are Desperate to Hire You
Facing a labor shortage and an aging workforce, companies across the industry are trying out new methods for recruiting younger employees.
By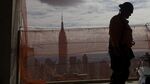 When the builder Frank L. Blum Construction, based in Winston-Salem, N.C., was getting started in the 1920s, the company's assets included an automobile, two concrete mixers, and a team of mules. One assumes the animals were paid in food.