Lockheed Says It's Suing Over Rejection of Combat Vehicle Bid
by
Army awarded $6.75 billion Humvee replacement job to Oshkosh

Lawsuit follows abandonment of protest lodged with GAO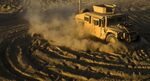 The No. 1 U.S. defense contractor, Lockheed Martin Corp., is going to court to fight a government decision awarding a $6.75 billion deal to replace the U.S. Army's Humvee combat vehicle to a company that ranked No. 99 last year.
The Army plans to buy about 55,000 of the multipurpose vehicles for its troops and the Marine Corps through 2040, spending an estimated $30 billion. Oshkosh Corp. in August was awarded the initial order for about 17,000 vehicles, which are more heavily armored than the Humvees they'll replace.
"After careful consideration of all options, Lockheed Martin decided to file a complaint with the Court of Federal Claims concerning our Joint Light Tactical Vehicle (JLTV) contract award process," that company said in an e-mailed statement announcing its lawsuit. "We look forward to working with all parties involved on the next steps."
Its complaint was filed under seal Wednesday, according to court records. Lockheed said in an accompanying filing that some proprietary information was inappropriate for public release. The court will ultimately decide how much of the complaint, and legal proceedings in the case, should remain confidential.
A hearing is scheduled for Friday before Judge Charles Lettow.
The government's answer is due by Feb. 16. Michael Clow, an Army spokesman, declined to comment on the complaint.
Oshkosh Vice President John Urias said in a statement that he had confidence in the Army's procurement process, which he said included "exhaustive testing and evaluation to ensure our troops get the best vehicle."
Urias also said he believed the federal court will uphold the Army's selection of the Oshkosh, Wisconsin-based company.
"We firmly believe we offered the most capable and affordable solution for the program," Lockheed said in September, when it lodged its original protest with the U.S. Government Accountability Office.
Absent Documents
Lockheed opted to abandon the GAO proceedings after learning that "a substantial number of documents directly related to the competition" weren't provided to it or to the agency until late in that process, it said in a Dec. 15 statement.
The agency declined to extend its 100-day deadline for ruling on the dispute and couldn't consider the new information, according to Lockheed. The GAO then rejected Lockheed's protest, citing the company's filing of a notice of intent to sue.
The case is Lockheed Martin Corp. v. USA, 15-cv-01536, U.S. Court of Federal Claims (Washington).
Related tickers:
LMT US (Lockheed Martin Corp.)
OSK US (Oshkosh Corp.)
Before it's here, it's on the Bloomberg Terminal.
LEARN MORE