Dressbarn's 50-Year Struggle With Its Own Name
There's a reason it's not simply rebranding.
By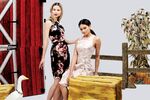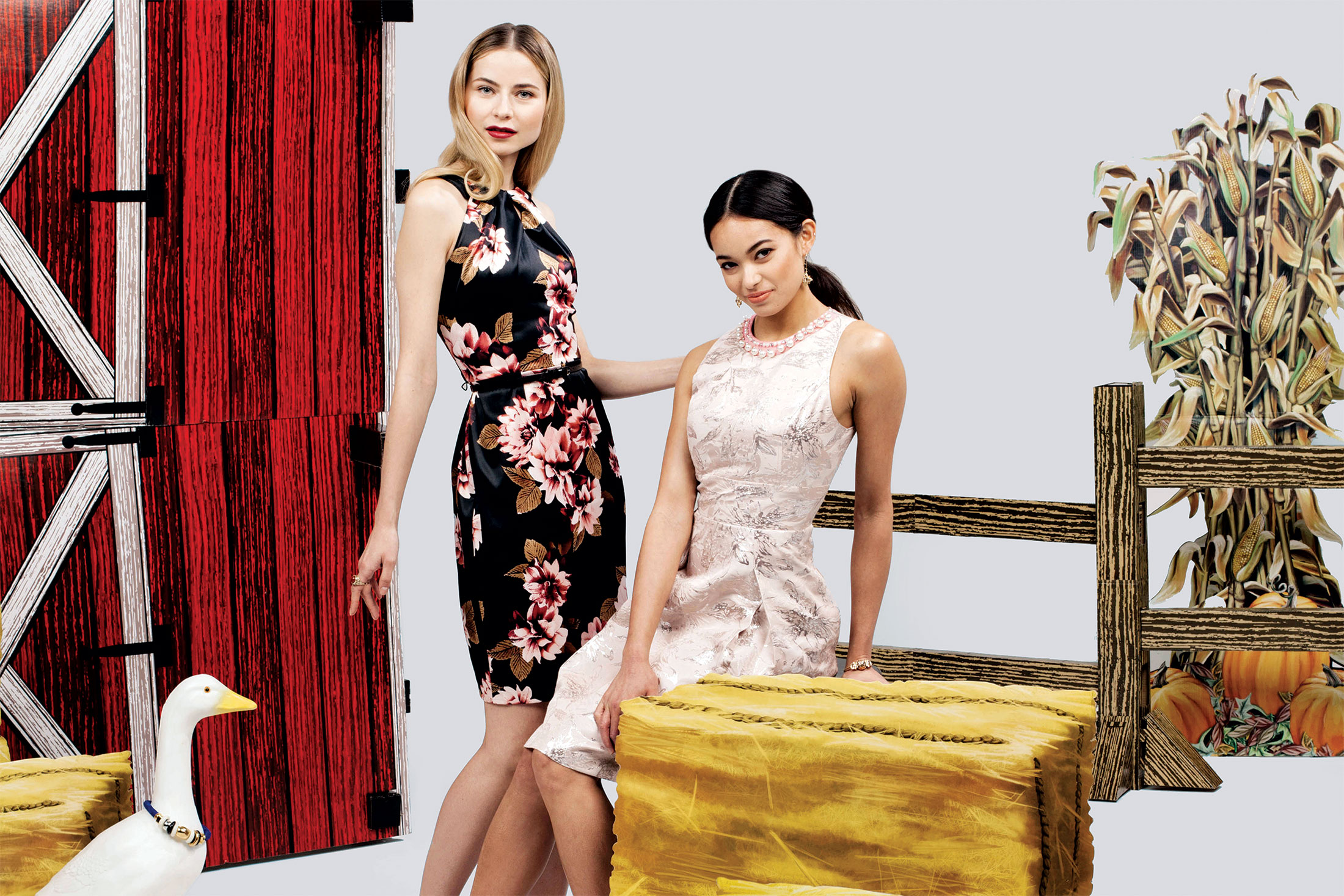 Last July a 2,400-pound bull named Count found himself in Manhattan's fashionable Chelsea neighborhood for a photo shoot. To get him to the second-floor studio, the bull's handler coaxed the massive animal into a freight elevator. Once upstairs, Count was given half an hour to relax before joining supermodel Hilary Rhoda under bright lights. Behind the camera was sought-after French fashion photographer Patrick Demarchelier.
The elaborate, star-studded shoot was for Dressbarn—an attempt by the aging discount women's clothing chain to find relevance. In addition to Count, it featured a sheep, a rooster, and an unruly pig. Even surrounded by barnyard animals, Rhoda looked runway-skinny and sophisticated in heels, dresses, and big earrings. The photos turned into a series of ads with cheeky slogans that began appearing in mid-September. "Think you know Dressbarn? Think again," one says. "It's our name. Deal with it," reads another.
Today the ads are on Times Square billboards, in publications like O, the Oprah Magazine, and on websites from Refinery29 to Facebook. The fashion world has taken notice: "Dressbarn is upping its fashion game, and managing to poke fun at itself at the same time," wrote Women's Wear Daily. "Dress Barn [sic] Might Soon Become Your New Favorite Store (Yes, Really)" gushed a Huffington Post headline.
The campaign was unexpected from a company with a name like Dressbarn. The retailer had developed a reputation for frumpy, house-brand dresses that were far less fashionable than the clothing sold at Topshop and Zara. For some observers, though, the company's problem was nine letters long. "That name is of a distant era," says Marlene Morris Towns, a marketing professor at Georgetown University. "It was totally appropriate in the '60s, '70s, and even the '80s, a terrible style decade when retailers had names like the Pants Corral." She adds, "The word 'barn' just implies cheap—it's like ending something with the word 'mart' or 'warehouse.' " Moreover, she says, it would have been easy and infinitely classier to rebrand as Dressbar, a name the company recently started using within stores and online. "They could have built the whole campaign around dropping the 'n'."
Dressbarn did briefly consider renaming itself. "About three years ago, we were ready to do it," says Lori Wagner, who joined Dressbarn as chief marketing officer in 2012 after stints at Kenneth Cole, J.Crew, and Cole Haan. But she and her team discovered their loyal customers would rather have newer, more stylish clothes than a new name. "Someone once said, 'A name is like tofu: It takes on the flavor you add to it,' " Wagner says. "I mean, what's in a name? The Gap is a space between your teeth. Yahoo! is an idiot, not a tech company."
Dressbarn also wanted to stay true to its 53-year heritage. Founded in Stamford, Conn., by Roslyn and Elliot "E.J." Jaffe, the first store occupied a tiny space inside a factory building that also housed a lamp manufacturer and a driving school. "It was a discount, scrubby thing. There was no dressing room," recalls Roslyn, now 86. "When the driving school was in session, we had to use the bathroom down the street."

On a Tuesday in November, Jaffe—whom employees affectionately refer to as "Mrs. J"—is making her weekly visit to Dressbarn's new headquarters, in Mahwah, N.J. The airy, modern building was designed by the Gensler architecture firm, which has also created buildings for Facebook, Airbnb, and Four Seasons hotels. It includes a cafe, outdoor terraces, and an employee gym that hosts Spinning and Zumba classes. Barely 5 feet tall, Jaffe is wearing a navy pinstriped pantsuit, gray blouse, and black flats. Her short-trimmed nails, painted white, match her quarter-size fake pearl earrings and short snow-white hair. Both Jaffes still work at Dressbarn, mostly as advisers, as do two of their three children.
Dressbarn's name, Jaffe admits, was chosen without much care. "E.J. walked in and said, 'We need a name, don't fuss around,' " she says. "Dressbarn just popped into my mind." Back then, the Jaffes' plan was to offer affordable clothing for the growing number of women joining the workforce. In those days, plenty of stores offered bargains on hard goods, such as toasters and radios, but discount clothing was a novelty. For the first year, Elliot kept his job as a merchandising manager at Macy's, while Roslyn ran Dressbarn. Soon, demand grew to the point where both Jaffes came onboard full time. In 1964, they'd opened a second store.
Five decades later, Dressbarn has 825 locations across the U.S., most in suburban strip malls. That's a lot of stores, even compared with better-known brands. Banana Republic, for example, has only 618 locations in North America. For a long time, Dressbarn enjoyed a captive audience with its target demographic, which tends to be older and larger than the typical Banana Republic shopper. "There aren't that many brands that focus on 50-plus-year-olds," says Bloomberg retail industry analyst Poonam Goyal.
Even so, with the rise of fast-fashion purveyors such as H&M and competition from insurgent retailers like Target and Kohl's, Dressbarn's sales eventually slowed. "In a world where everyone had 40 percent off every day, our point of distinction was losing ground," Wagner says. "Our customer was aging, and we were aging with her."

The company kept growing through smart acquisitions, snapping up retailers that focused on women in the suburbs and middle America. In 2011 it founded the Ascena Retail Group, an umbrella company that now owns tween brand Justice, low-price retailer Maurice's, and plus-size chains Catherine's and Lane Bryant (famous for its recent #ImNoAngel campaign). Earlier this year, Ascena purchased Ann Taylor, the quintessential image of mainstream working-woman chic, for $2.2 billion. The company is now America's fifth-largest apparel retailer, with annual sales of more than $7 billion.
To jump-start Dressbarn's growth, Wagner and Chief Executive Officer Jeff Gerstel set about repositioning the company. "In the end, we probably changed everything but the name," she says. They hired known fashion designers, including Heidi Weisel and Carmen Marc Valvo. They also launched Dressbar for people to shop online. Some things, however, haven't changed: Dressbarn plans to stick with suburban strip malls, Gerstel says, and while a few pilot locations have introduced dressing rooms with lighting that can be adjusted to simulate different times of day, most of the stores haven't been renovated. Next, the company plans to revamp its online platform—a badly needed move, given that only 4 percent of its sales happened online in 2014.
Name changes alone don't usually work. Several storied companies have attempted it and failed. J.C. Penney and Kentucky Fried Chicken tried to rebrand respectively as JCP and KFC, only to come back to their original monikers. RadioShack failed miserably in trying to rename itself the Shack. The number of successful rebrandings is vanishingly small, particularly in retail. Following the barnyard campaign, Dressbarn isn't even considering the option. "If you try and change the name of the brand today, you'd have murder on the streets," Wagner says. "It's been fun watching the press go from 'Dressbarn, really?' to 'Dressbarn, I know!' "

That said, sales were down 4.7 percent in the quarter that ended Oct. 24, and on a recent Thursday afternoon foot traffic at one of Manhattan's two Dressbarns is slow. A few women browse the racks and trade stories about their holiday plans with salesladies—they seem like regulars. A sign in the window reads "How to Holiday: Best Hostess Ever." The vibe is distinctly more Talbots than Hilary Rhoda high fashion—there's nothing luxe or sassy. Assistant manager Courtney Glorioso says the store has gotten somewhat busier since the ads went up. She sees maybe 10 more people a day than she used to. "A lot of them had previously heard the name Dressbarn and thought it was an old-lady store, or a plus-size store," she says. Many, she says, end up buying something.
But there's at least one problem. "When it comes to sizing, we only go down to a 4," Glorioso says. "We received some high-fashion customers who could really use a 0 or a 2, and we don't have that."
Before it's here, it's on the Bloomberg Terminal.
LEARN MORE