Mahindra Seeks Styling Cachet With Ferrari Designer Purchase
by
Pinifarina design to `greatly influence' Mahindra success

Indian vehicle maker's purchase part of global ambitions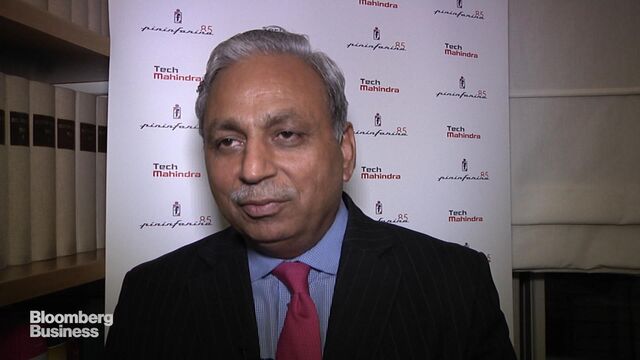 Mahindra & Mahindra Ltd.'s purchase of the Italian design house credited with shaping the history of Ferrari provides instant styling cachet to the Indian manufacturer's push to move beyond its roots in tractors and off-roaders.
With interests spanning airplanes, yachts, hotels and residential homes, India's biggest tractor and SUV producer is expanding beyond the subcontinent with the acquisition of Turin-based Pininfarina SpA, adding world-renowned flair to its growing portfolio overseas. Over the past five years, Mahindra has added South Korean carmaker Ssangyong, the motorcycle unit of France's PSA Peugeot Citroen and aircraft producer Gipps Aero.
"The legendary high-end design credentials of Pininfarina will significantly enhance the design capabilities of the entire Mahindra group," Chairman Anand Mahindra said in a statement. "Given the increasing design sensibilities of today's consumers, product design will greatly influence customer choice and experience, and hence our success."
The acquisition of Pininfarina in a deal valued at about 168 million euros ($185 million) also underscores how Indian companies are attempting to move away from cheap, utilitarian products to higher-end goods and services in line with the rising aspirations of their customers. The purchase, which was carried out with affiliate Tech Mahindra Ltd., helps Mahindra burnish its reputation as it seeks to be one of the top 50 brands worldwide.
'World-Class Styling'
"Italian design has flair, an element of style that makes these cars so desirable, just for their sheer design," said Vijay Govindarajan, a professor at Dartmouth University's Tuck School of Business. "Mahindra has an opportunity to succeed globally with frugal engineering with world-class styling. That could be a game changer."
The move could also help Mahindra fend off intensifying competition in the sport utility vehicle market in India. The company's share in the segment narrowed to 36 percent in the April-November period from 48 percent in the year ended March 2013.
The Indian automaker is now looking for its next big hit. One of its top sellers remains the $10,000 Bolero SUV, which was introduced back in 2000, and people were willing to wait months for delivery of the XUV500, which was rolled out in 2011. Subsequent introductions didn't draw the same response.
"This acquisition has potential across segments, and Mahindra is a federation of different companies," said Govindarajan. All of its businesses could benefit, he said.
Shares of Mahindra fell as much as 0.5 percent in Mumbai, while Tech Mahindra declined as much as 1 percent. The benchmark S&P BSE Sensex index slipped 0.2 percent as of 9:52 a.m.
Real-Estate Projects
Beyond autos, Mahindra's almost two-decade-old hospitality unit runs about 45 resorts. It also owns a real estate developer that builds commercial and residential properties. That dovetails with Pininfarina's expansion into architecture and interiors projects, including the design of a luxury residential tower in Miami, a condominium in Singapore and a hotel in San Diego.
Pininfarina, established in 1930, shut a floundering division that built cars for other manufacturers three years ago. Pincar Srl, the Pininfarina family's holding company, ceded control of its 76 percent stake in the design firm to banks as a guarantee for debt restructuring in 2012. Pincar will get 25.3 million euros for its stake, while Mahindra will provide a guarantee of 114.5 million euros for creditors as well as invest 20 million euros directly in the company, which will retain its Milan listing.
The two companies will face challenges including retaining talent at the Italian design house and finding synergies to exploit, according to Deepesh Rathore, director of Emerging Markets Automotive Advisors.
"The risks are huge," said Rathore. "It would be interesting to see if Pininfarina can work its magic on Mahindra vehicles or the creative gap is too formidable to fill."
Before it's here, it's on the Bloomberg Terminal.
LEARN MORE