Merkel Thwarts Revolt by Refugee Critics Before Speech to Party
by and
Chancellor seeks to `noticeably reduce' influx to Germany

Party delegates to hear Merkel keynote speech on Monday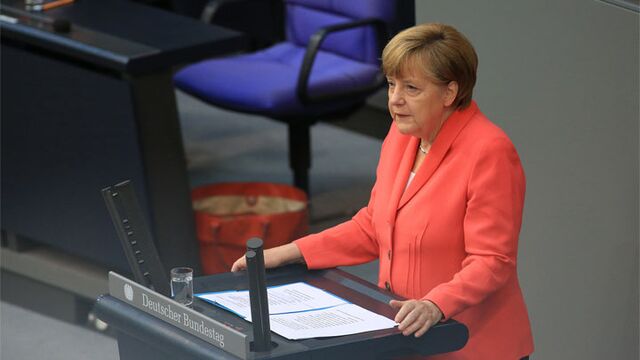 German Chancellor Angela Merkel faces critics of her refugee policy armed with a vote of confidence by senior members of her Christian Democratic Union, lessening the chances of an open revolt.
Heading into her party's annual convention, Merkel set the tone of her keynote speech scheduled Monday by saying Germany's economy is strong enough to handle more than 1 million people claiming asylum this year. With the 28-nation European Union divided in its response to the refugee crisis, Germany also has "a duty to work for European unity" and preserve the advantages of open internal borders, she said in an ARD television interview.
The CDU's executive board declined at a pre-convention meeting Sunday to put an upper limit on the number of refugees Germany will admit, Merkel said. Only international action, such as stronger enforcement of the EU's outer borders, will reduce the influx, she said.
"The message is: we want to reduce," Merkel said in the interview from Karlsruhe. "We want to noticeably reduce the number of people who come to us, but not through unilateral national measures alone, but by looking at why refugees have to leave their homes in the first place."
As CDU delegates converge on the southwestern city for the two-day party conference, the European refugee crisis that risks overwhelming towns and communities across Germany is the biggest topic on the agenda. The chancellor's speech is scheduled for 11:15 a.m. local time.
Merkel, while lauded internationally for her open-door policy, has yet to convince party critics that Germany can accommodate and integrate the refugees, many of whom are fleeing civil war in Syria. She faces calls to shift her stance from her party's youth organization, a caucus representing Germany's small and midsize Mittelstand companies and a lobby for local governments.
Poll Decline
After a decade in power, Merkel said the refugee crisis is the "most complex" political challenge she's faced. While public resistance to this year's record number of arrivals has eroded poll ratings for Merkel and her party since the summer, support has stabilized in recent weeks and 76 percent of respondents in a ZDF television poll last week said 2015 was a "good year" for them.
"Of course we have to take people's concerns seriously," Merkel said in a ZDF television interview late Sunday. The CDU is united in wanting to curb the number of asylum seekers arriving in Germany, but "precisely on the basis of the concept I've been advocating for months," she said.
Merkel touted European successes in curbing the numbers to date, and cited the reduction to near zero of migrants arriving in Germany from the Western Balkans. In the first half of the year, that group represented some 50 percent of all arrivals, she said.
"We are the largest economy in Europe, we fortunately have achieved good economic conditions to master such challenges," she said. "And therefore we also have the duty to work for the unity of Europe."
Before it's here, it's on the Bloomberg Terminal.
LEARN MORE