Fosun's Guo to Finish With Probe Soon, Company President Says
Bloomberg News
Says Group Chair Guo Guangchang will finish aiding probe soon

Company shares to resume trading Monday in Hong Kong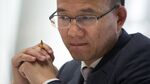 The president of Fosun International Ltd. said the company's chairman will finish assisting a judiciary investigation soon, and that he remains confident of the company's cash flow and future.
Fosun International shares were suspended Friday, a day after Chairman Guo Guangchang went missing. Guo is assisting an investigation into former Shanghai vice mayor Ai Baojun, people familiar with the situation said Friday, asking not to be identified because they weren't authorized to speak on the matter.
On a conference call Sunday, Fosun International President Wang Qunbin said the probe is most likely related to "personal matters."
Guo, 48, who describes himself as a student of Warren Buffett, has built a global empire spanning everything from insurance and holiday resorts to entertainment through dozens of deals over the past three years. Reports that Guo couldn't be reached reverberated through markets, halting shares of many companies linked to his conglomerate.
Trading Resumes
Shanghai Fosun Pharmaceutical (Group) Co., which is linked to Guo's conglomerate, said Friday in a filing to the Shanghai Stock Exchange that it plans to resume trading Monday. Guo can continue to participate in the company's major decisions "via appropriate means," according to the filing. The company is developing drugs, consolidating businesses in China and targeting acquisitions overseas.
Shares of Fosun International also will resume trading Monday in Hong Kong. The shares are up more than 30 percent this year, compared to a 9.1 percent decline in the Hang Seng Index. Wang said on the conference call that the company will consider a share repurchase.
Fosun's stock tumbled 16 percent to $1.30 in over-the-counter trading in New York on Friday, following a retreat of 11 percent on Thursday. About 166,000 shares traded hands, which is more than 22 times the daily average volume of the past three months, data compiled by Bloomberg show.
— With assistance by Helen Yuan, and Jing Yang
Before it's here, it's on the Bloomberg Terminal.
LEARN MORE