Race for Iowa
Trump Predicts Bad News From Upcoming Iowa Poll
In a play for his chief rival's voters, the real estate mogul attacks Ted Cruz for being anti-ethanol — then suggests he might give him a job.
By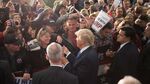 The normally confident Donald Trump is anticipating unwelcome headlines from a Bloomberg Politics/Des Moines Register Iowa Poll set for release Saturday evening.
At a rally in Des Moines Friday night, the Republican presidential front-runner warned the crowd he's being set up by a hostile media. "The Des Moines Register is the worst. The worst," he declared of the newspaper, which earlier this year editorialized that he should leave the race.  "Everytime I have a Des Moines Register Poll, I do poorly. I also do poorly with the Bloomberg polls. I don't know why."
Trump's comments came several hours after Bloomberg Politics tweeted that results of the latest poll, commissioned in partnership with the Register, will be published Saturday at 6 p.m. Eastern Time. 
The last Iowa Poll, taken in October, showed Ben Carson surpassing Trump, after the same poll over the summer had Trump in the lead. At his rally on the Iowa State Fairgrounds, the author of "The Art of the Deal" negotiated hard for Iowa votes.
"It's very important to me that I win Iowa," he said, "because, if we win Iowa, I think we run the table." Appealing to one of the state's most important constituencies, he said: "I'm an evangelical. I'm a Christian. I love Billy Graham." The last Iowa Poll indicated that evangelicals would comprise more than 40 percent of caucus voters.
Trump tried to both undercut and embrace Senator Ted Cruz of Texas, whom a series of recent polls have shown gaining on Trump in Iowa. Cruz also got a key endorsement this week from an influential Iowa evangelical leader. The billionaire businessman questioned the appeal of Cruz, given his opposition to subsidies for ethanol, an corn-based alternative fuel that has been a boom to Iowa's farm economy.  "He's very anti-ethanol," Trump said. "I don't know how he wins Iowa."
He accused Cruz of being in the pocket of one of his state's chief industries. "The oil companies give him a lot of money," Trump said. "He's got to be with oil. I'm with you." 
Later in the event, as Trump was taking questions from pre-assigned members of the audience, a man he called on said he was speaking on behalf of longtime conservative activist Phyllis Schlafly. The questioner said Schlafly wanted to know what job Trump is prepared to offer Cruz "when you win the nomination."
"Will you name him your vice president or to the United States Supreme Court?" Schlafly's representative asked.
Trump paused to consider the question. "I like Ted Cruz a lot," he said. "I would say we certainly have things in mind for Ted."