Third Avenue's Now-Frozen Fund Called Liquidity Fears a 'Myth'
by
Manager, in 2012, played up fund's small size and cash cushion

Fund liquidating amid troubles in high-yield debt market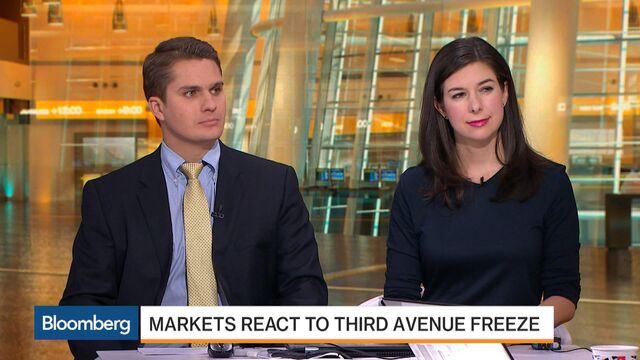 Third Avenue Management LLC rattled credit markets this week when it said that a lack of liquidity had forced it to halt redemptions in its junk-bond mutual fund. Not so long ago, the fund was telling investors that concerns about illiquidity in these markets were a "myth."
The firm's Third Avenue Focused Credit Fund, with investments in high-yield debt and bank loans, keeps excess cash on hand, lead manager Thomas Lapointe wrote in a 2012 investor commentary reviewed by Bloomberg News. The fund would also remain small enough -- with assets under $3 billion -- to stay nimble in building and liquidating positions, he wrote.
The fund had $3.5 billion in assets in the quarter ended June 2014, according to data compiled by Bloomberg, before falling back below $3 billion in assets by the end of that year.
Lapointe didn't immediately respond to requests for comment on the newsletter. Sard Verbinnen, a public relations company representing Third Avenue, didn't immediately respond to requests for comment.
Third Avenue, founded by value investor Martin Whitman, said on Dec. 9 that it was blocking clients in the Focused Credit Fund from pulling out its remaining $788 million in assets to avoid fire sales, so that the fund could be liquidated in an orderly fashion.  "Unfortunately, the present environment has harmed our ability to successfully implement our strategy," Third Avenue's chief executive officer David Barse wrote.
The move was unusual in the world of mutual funds, which are typically required to keep a portion of assets in highly liquid investments so they can meet redemption requests on a daily basis. The Focused Credit Fund, according to its prospectus, had the ability to "invest unlimited assets in below-investment grade credit instruments."
Lapointe, writing in an investor letter dated Oct. 31, 2012, addressed market liquidity fears in a note called "Myths in the High-Yield and Leveraged Loan Markets."
In "Myth #6: The High-Yield and Loan Markets Are Illiquid," he wrote that the shallowness of junk-bond markets could actually provide an edge to the relatively small fund.
"Low volumes can be really bad news for larger players in the market," he wrote. "However, as price-conscious buyers, we can use lower volumes to our advantage, by demanding better prices from sellers that need a bid."
In other publications, including a 2015 prospectus, Third Avenue cautioned investors about liquidity risk of the Focused Credit Fund. 
"The market for high-yield debt securities ("junk bonds") may be less liquid and therefore these securities may be harder to value or sell at an acceptable price, especially during times of market volatility or decline," it warned.
Before it's here, it's on the Bloomberg Terminal.
LEARN MORE