politics
Republicans Discuss Brokered Convention as Trump Leads
The scenario was discussed by more than 20 party stalwarts at a Washington, DC, dinner held by the Republican National Committee Chairman Reince Priebus.
By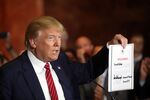 Republican party officials are now actively preparing for the prospect of a contested convention in Cleveland as front-runner Donald Trump continues to draw strong support from the GOP base.
The scenario was discussed by more than 20 party stalwarts Monday at a Washington, DC, dinner held by Republican National Committee Chairman Reince Priebus, the Washington Post reported. A person familiar with who attended the dinner confirmed to Bloomberg that it took place, and that Priebus, members of congress, establishment lobbyists and others have held similar discussions for weeks.
Should Trump continue to dominate the nomination race in the coming months and amass the required number of delegates to become the official Republican nominee, members of the establishment told the Post they would be forced to contest his nomination on the convention floor in Cleveland from July 18–21. 
The Republican establishment's participation in a bid to thwart Trump comes a little more than three months after the billionaire signed a loyalty pledge presented to him by Priebus.
A Shaky Alliance
"The RNC has been absolutely terrific over the last two-month period," Trump said on Sept. 3. "As you know, that's what I've wanted. I've wanted fairness. I don't have to be treated any differently than anybody else. I just wanted fairness from the Republican Party."
Since then, however, the relative detente has grown more tenuous. With a November report in the Wall Street Journal that Republican insiders having launched a "guerilla campaign" to defeat Trump, the resilient front-runner fired off a warning shot.  
One attendee at the meeting said that the issue was discussed "purely for logistical reasons." 
"It was about five minutes in a meeting that lasted more than an hour about a variety of topics," said the attendee, who spoke anonymously in order to talk more freely. "This is getting blown out of proportion. This was not a meeting on the convention. It was a group of us getting together as we do frequently as part of a larger discussion about a variety of different things."
Sean Spicer, spokesman for the RNC, stressed that the party is "neutral in this process and the rules are set until the convention begins next July. Our goal is to ensure a successful nomination and that requires us thinking through every scenario, including a contested convention."
A Fight for the Party
While the Republican presidential primary began with Jeb Bush in the lead, no establishment candidate has been able to consolidate enough support to compete with Trump in months.
Perhaps more worrisome for the GOP is what might happen should a brokered convention oust Trump as the nominee. A USA Today/Suffolk University poll released Tuesday showed that 68% of Trump's supporters would vote for him if he broke from the party and ran as an independent.  
Trump, who has stirred controversy and drawn support over controversial positions such as rounding up and deporting millions of undocumented workers and enacting a temporary ban on Muslims entering the U.S., is viewed by establishment figures as the surest way for the party to lose the 2016 presidential race, along with major losses in Congress.
"Donald Trump would be the dream opponent for the Democratic Party," former George W. Bush senior adviser and deputy chief of staff Karl Rove said Wednesday in a Wall Street Journal op-ed. "We'll see in the next four months whether that matters to Republicans."
Rove warned of the possibility of a brokered convention last month, writing in The Wall Street Journal that is "not necessarily a bad thing. After all, Republicans took three ballots in 1860 to pick a fellow named Lincoln."
—Kevin Cirilli and Mark Halperin contributed to this article. 
(
Adds background on GOP nomination race.
)
Before it's here, it's on the Bloomberg Terminal.
LEARN MORE