Hong Kong Property on the Brink as Developers Offer Stealthy Price Cuts
by and
Cheung Kong, Henderson Land among developers offering rebates

Developers making mortgages available with 10% deposits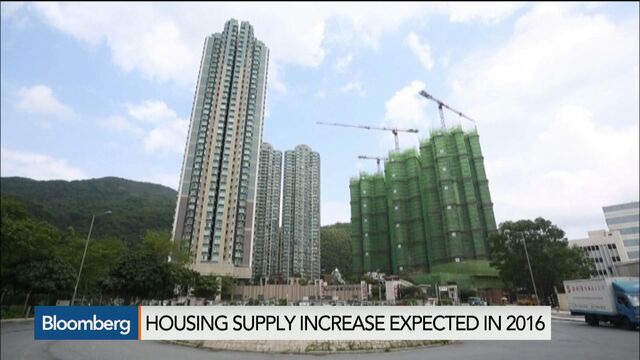 Kowloon Development Co.'s Upper East project in Hong Kong's Hung Hom area is offering a raft of rebates and hidden discounts that can reduce the cost to a buyer as much as 14 percent, and it will throw in a second mortgage too.
The enticements are paying off. Since its Sept. 5 launch, the company has sold 940 out of 1,008 units. One buyer even snapped up two apartments on the sixth and eighth floors, according to transaction data published on the company's website.
Kowloon Development is not alone. Cheung Kong Property Holdings Ltd. and Henderson Land Development Co. are among Hong Kong developers offering inducements including stamp-tax rebates, first and second mortgages to keep buyers coming. That's allowed them to avoid the outright price cuts they fear could spur a sharp reversal of gains that made the city the world's least affordable major housing market.
"After 12 years of a bull market, Hong Kong property is at an inflection point," said Spencer Leung, a Hong Kong strategist at UBS Group AG. "Property developers are trying hard not to paint a picture that things are going down."
Dire Predictions
Not everyone is convinced that they will succeed. Bocom International Holdings Co. sees house prices dropping as much as 20 percent in the next three to six months, while property adviser Colliers International Group Inc. predicts a 15 percent slide next year. Volumes at the 10 largest private-housing estates plunged to a nine-year low in November, the Hong Kong Economic Journal reported Dec. 1, citing data from Centaline Property Agency Ltd.
Developers are under pressure to move stock in the expectation of an increase in supply of housing next year and fears that the slowdown in the secondary market will spill over into new-home sales. Mainland buyers, who've been key to stoking demand, have also pulled back. Their share of property purchases in Hong Kong fell to 6 percent in the first six months of this year, down from 12 percent at their peak in 2011, according to data from Jones Lang LaSalle Inc.

The last time Hong Kong saw such generous enticements was in 2003, when home prices were at the bottom of a six-year plunge, according to Nicole Wong, Hong Kong-based head of property research at CLSA Ltd. The decline in property prices at the time forced developers to write down the value of their projects and sell homes at a loss.
This time it's different. Developers are avoiding price cuts that would signal a downturn has started, turning into a self-fulfilling prophecy. They're also stepping into the role of lenders: Chinachem Group, Henderson Land and Far East Consortium International Ltd. are among those offering financing of up to 90 percent through associated finance companies.
Buyer Incentives
"Developers are very keen to sell but don't want to cut prices, so they have progressively increased the buyer incentives," said Yu Kam-Hung, senior managing director for investment properties at CBRE Group Inc. in Hong Kong. "They feel there is uncertainty over the economy and government policies to increase supply and want to move properties before the overall market turns down."
In the case of Kowloon Development, the rebates on the Upper East development helped reduce the price the buyer paid for the two flats to HK$6.9 million ($890,000) from more than HK$8 million.
Across Victoria Harbor at the upscale Cadogan in the neighborhood of Kennedy Town on Hong Kong Island, similar sweeteners are on offer by Kowloon Development. In October, a 732-square-foot apartment on the 31st floor listed at HK$21 million ended up costing the buyer HK$18.5 million, including first and second mortgages covering up to 90 percent.
First Time Buyers
While such lures might appeal to first-time home buyers constrained by loan-to-value ratios of 60 percent on bank lending imposed by the Hong Kong Monetary Authority, purchasers in the luxury end of the market are less likely to need developer assistance, says Keith Chang, managing director of residential services at Savills Plc. The previous ceiling of 70 percent on properties costing less than HK$7 million was lowered in March to cool property prices.
A Dec. 10 research note from analysts led by Paul Louie at Barclays Plc, which used data from recent sales, said that on average 18 percent of primary home buyers availed themselves of developer financing packages, adding that the "take-up of these plans is not as common as one would think." One exception, which was excluded from the average, was Henderson Land's Eltanin Square Mile development. About 42 percent, or 118 out of 279 units sold at the development, were financed with mortgages offered by developer, according to the note.
Still, at some point, developers will have to bite the bullet as more housing comes on stream next year. Supply is expected to increase by 70,000 to 80,000 new units within the next three to four years, said Yu at CBRE.
"I do feel they are going to cut prices but they don't want to do it overly aggressively," said Leung at UBS. "Nobody wants to spoil the party."
Before it's here, it's on the Bloomberg Terminal.
LEARN MORE