A New Type of Terror Emerges in America
Plots outside the command and control of extremist groups are difficult to detect.
By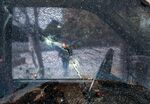 Since September 11, 2001, the death toll from extremist Islamic-inspired terrorism in the U.S. stands at 45, including the 14 people killed on Dec. 2 by the husband-and-wife shooters in San Bernardino, Calif. That's according to New America, a Washington research organization, which found about the same sad tally—48—for victims of terrorism linked to white supremacists and other right-wing ideologies.
"Lines are blurring between the extremist Islamist threat and the kind of mass shootings we're all too familiar with in America," says Daniel Benjamin, a scholar at Dartmouth College who served as coordinator for counterterrorism at the U.S. Department of State from 2009 through 2012. Regardless of their demented ideas, all of these killers operate outside the command and control of large terrorist groups or even small cells. Like the massacres at a Charleston (S.C.) black church last June and at an Oak Creek (Wis.) Sikh temple in August 2012, the bloodshed in San Bernardino lacked what Benjamin terms "terrorist follow-through": a claim of responsibility, issuance of demands, or effort to make any clear point.
"Talk about random. San Bernardino puts random into a new category," says Karen Greenberg, director of the Center on National Security at Fordham University School of Law in New York. As of this writing, it's still not clear why Syed Rizwan Farook, the American-born son of Pakistani immigrants, or his Pakistani-born, Saudi-raised wife, Tashfeen Malik, attacked a holiday party and training session at the social-services center where Farook worked as a health inspector.
San Bernardino represents the sort of threat emanating from the Islamic State movement in Syria and Iraq that the FBI has been warning about for the past year: Rather than just trying to persuade Muslims in Europe and the U.S. to join the fighting in the Middle East, Islamic State has shifted to calling on sympathizers to commit violence at home. Islamic State's veneer of success—gaining control of territory, obtaining worldwide media attention—may make it an even more potent inspiration than, for example, the Yemeni cleric Anwar al-Awlaki. Authorities have identified the American-born al-Awlaki as having helped from a distance to radicalize the Tsarnaev brothers, who carried out the April 2013 Boston Marathon bombing, and Nidal Hasan, who killed 13 people in a shooting at Fort Hood, Texas, in November 2009. American forces killed al-Awlaki in a drone strike in September 2011.
As its investigation has deepened, the FBI has said Farook and Malik were radicalized "quite some time" ago and discussed jihad and martyrdom online as early as 2013, before they married. Malik reportedly pledged allegiance to Islamic State on Facebook at roughly the time of the shooting. The FBI continues to note the absence of evidence connecting the killers in a more substantive way to a larger group.
"What we don't know yet is where the radicalization took place," says Benjamin, co-author of the book The Age of Sacred Terror. "Did someone drop the ball on intelligence? One of the most unsettling aspects is that the suspects reportedly weren't on the radar screen at all."
In his judicious Oval Office speech on Dec. 6, President Obama warned Americans to resist the impulse to "turn against one another by letting this fight be defined as a war between America and Islam." But he quickly added: "That does not mean denying that an extremist ideology has spread within some Muslim communities. This is a real problem that Muslims must confront without excuse."
That's a far more sensible assessment than the fulminations by several Republican presidential nominees about a "new world war," let alone Donald Trump's widely condemned call to bar all Muslims who aren't U.S. citizens from entering the country until the nation's leaders "figure out what's going on."
But Obama's suggestion that American Muslims must police themselves still rubs some the wrong way. "I don't see why loyal Americans who happen to believe in Islam need to feel guilty or responsible for San Bernardino," says Osama Siblani, a Muslim of Lebanese descent who is a community leader in Dearborn, Mich., and publishes the Arab American News. "Do all Christians," he adds, "have to feel guilty about Timothy McVeigh," the Oklahoma City bomber who killed 168 people in April 1995? "By talking about a war on 'Islamic extremism,' some American politicians are going to stir up Islamophobia and only radicalize more Muslims."
There's a difference, of course, between crudely ascribing guilt by association—which could indeed lead to greater Muslim alienation—and reasonably asking American Muslims to keep an eye out for troublemakers. In fact, Dearborn, a small city adjacent to Detroit that has a higher proportion of Arab-Americans and Muslims than any other place in the U.S., is already making such requests—and with some success.
Dearborn officials regularly convene meetings among federal and local law enforcement, social workers, activists, and residents of all religions. In addition, the city's police department sponsors an "intervention" program that invites teachers, parents, and young people to identify troubled individuals—Muslim or otherwise—who appear to be candidates for radicalization. "For any program or policy to be effective, we depend on the total engagement of our community," says Police Chief Ronald Haddad.
Without naming names, Haddad describes a pending case in which Muslim parents turned in their 17-year-old son after he grew a long beard and began talking about violence, Islamic State, and the evils of the U.S. The boy was forced into psychiatric treatment and now faces a competency hearing in court. Without evidence of imminent violence, Haddad says that's a better outcome than a criminal prosecution. "We're looking at ways to prevent a disaster before it happens," he explains.
In another recent case, classmates alerted the authorities to a high school student who posted Internet pictures of himself posing with his father's guns. The father eventually agreed to surrender his firearms to the police, and the boy is receiving psychiatric care, Haddad says.
Dearborn's approach doesn't ensure violence will never erupt, and it may raise tricky civil liberties issues. But the city's attempt to move proactively merits close study and possible emulation. Haddad has consulted on several occasions with the FBI, which is quietly evaluating whether it can divert certain nonviolent Islamic State sympathizers into counseling rather than arresting them.
That's not an easy call for hard-nosed law enforcement types. "A lot of people in the FBI view the intervention model skeptically, but it's worth exploring," says John Cohen, a Rutgers University criminal justice professor who until last year served as a deputy under secretary at the U.S. Department of Homeland Security.
To identify likely villains, whatever their motivations, in advance, social science has found common elements, according to Cohen. We'll see whether these characteristics came into play in San Bernardino, but in other cases, they've included family dysfunction, a feeling of being thwarted, and a hunger to leave a mark on history. For a tiny fraction of Muslims, the lens of radical religious ideology magnifies such frustrations and yearnings.
Spending more than $650 billion a year since Sept. 11 on homeland security, the U.S. has avoided another catastrophic World Trade Center-scale terrorist attack orchestrated from afar. American intelligence gathering and border protections are stronger than those in Europe, making it less likely the U.S. will suffer something like the coordinated violence in Paris that took 130 lives in mid-November. But San Bernardino illustrates a new threat. "Rather than sending operatives, as they did in Paris, [Islamic State] is inspiring disaffected Muslims in the U.S. via social media—a very difficult phenomenon to stop," says Cohen. "We're going to need to be creative in meeting the challenge."
Before it's here, it's on the Bloomberg Terminal.
LEARN MORE