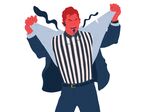 During the workweek, Hugh Campbell can be found in the Park Avenue offices of the Bank of New York Mellon, where he's a managing director. He focuses on high-net-worth families, with about 300 individual clients and four BNY Mellon offices under his watch. His work wardrobe consists of classic navy suits and crisp white shirts.
On the weekend, however, from September to January, Campbell wears the black-and-white stripes and whistle of a Division I collegiate football referee. He's been doing it for 15 years, first with the Big East, now with the Atlantic Coast Conference. His office in New York is filled with memorabilia including signed footballs and photographs of games refereed past. "My wife said I couldn't keep it at home any longer," he says.
One gray Saturday in late October, Campbell, 57, and seven of his fellow refs prepare at a hotel in Louisville for a meeting of the University of Louisville Cardinals and the Boston College Eagles. They spend the evening before and the morning of the game going over what plays to expect from each team, analyzing calls from the prior weekend, and commiserating about the grim weather. Almost all of them have full-time jobs outside the world of sports. In the stadium, as the teams warm up behind them, their conversation remains practical, designed to get them in sync with each other before they take the field. The job can be thankless and exhausting—and, in Louisville, soggy. Campbell loves it. "You know, like a trading floor—you banter," he says, adjusting his black baseball cap. "That's like what we do. We banter before the game. We're ready for anything."
The similarities might not be obvious at first, but those who do both would tell you that trading and officiating have a lot in common. Both are high-energy and testosterone-charged and reward technical obsession and quick thinking. You'll find finance guys (they're almost all guys) officiating on the sidelines of most Division I sports in the NCAA and just about every professional sport. Not that you'd be able to pick them out as desk-chained office dwellers—these guys are fit. A soccer official might run as many as 7 miles a game, 30 to 40 games a year. And as more of the trader's work becomes automated, the side gig offers a visceral escape from an increasingly screen-heavy day job.
The godfather of Wall Streeter refs is Dick Bavetta. He ran the hardwood for 2,635 consecutive NBA games before hanging up his whistle last year. Bavetta was working at Salomon Brothers in the 1960s and playing basketball with the Wall Street employees' league when he got interested in officiating. He began volunteering to referee games for Catholic high schools in his native Brooklyn, and in the fall of 1966, he attended an eight-week course on officiating for $25. ("Best return on investment of my life," he says.) By 1990 he'd left business to ref full time. "On Wall Street, you had to learn people skills," Bavetta says. "And as a referee, you need to handle people every night. How you do that is observed by millions of people. It can be an adversarial environment. Refs are solitary figures."
Thick skin is a must. Conflicts with coaches and players are to be expected, to say nothing of the chorus of booing from a disagreeable crowd. Threats and name calling, too. "When you're managing a project, you're herding the cattle," says Fotis Bazakos, a professional soccer referee who's also a corporate consultant for Aon, a multinational risk management conglomerate. "Refereeing is very similar. You have 22 guys out there who are being paid a lot of money and are just as passionate about soccer as you are. It becomes clear if you can do it, if people believe you. Conflict management is a huge part of both jobs."
Although the work is seasonal, referees are paid, and in some cases, they're represented by their own union, just like the players. NFL officials can earn $25,000 to $70,000 a season, collegiate referees less than that. MLB umpires can crack six figures—though baseball's longer season typically means forfeiting outside work. Leagues often cover hotel expenses and offer a per diem for food. They're hardly finance perks, but money isn't really the point. For refs who are former athletes, it's a way to stay connected to a sport they love. For those who are fans, it's a way to watch the game from one of the best vantage points in the house. For Campbell: "I wanted the challenge of it."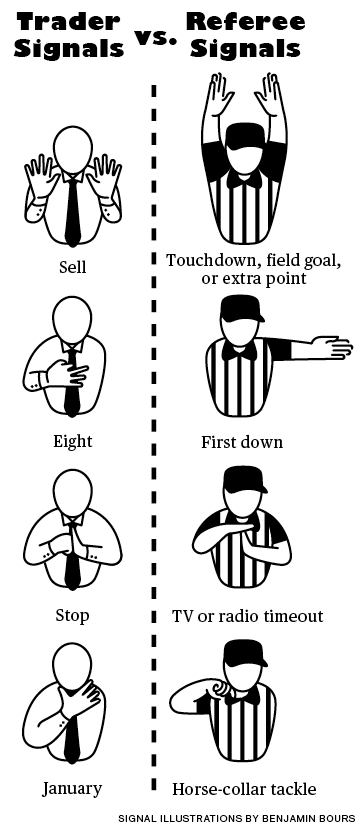 He started officiating high school and Pop Warner football games in 1981, just for fun. Like an athlete would, he began working his way up through the sport, taking courses and going through certification training. "Clients get a kick out of it," Campbell says, though he occasionally gets "some good-natured critiques on things that happened during the game." Turnover is low, but Campbell has to reapply for his officiating job every year. ACC officials grade his calls for accuracy, and each game becomes part of his performance evaluation. Assignments for bowl games are based on a season's performance, much like a bonus at a firm. Many refs say they have nightmares about blown calls.
As the rain begins to come down in Louisville, Campbell stands stern-faced on the Cardinals' sideline, his eyes never leaving the ball. There are typically eight officials on a football field, each with a specific duty, including a referee, an umpire, a center judge, and a field judge. Campbell is a line judge, looking for things such as offsides, where a defensive player crosses the line of scrimmage before the ball is put into play; the precise point when a player runs out of bounds; and other penalties and rules of play. He gets a few boos over the course of the game, but in each case the anger is short-lived, quickly turning back into drunken, rapturous cheering.
On any given call, an official typically gets jeers from one side and cheers from the other, but in general the elegance of his work is in not being noticed. Refs engage in a quiet ballet on the field, communicating across the yardage with hand signals and whistle blasts, darting out of the way of coaches and players. Despite showers that come and go, the game play in Louisville is relatively clean, making Campbell's job much easier. Louisville's defense is a bit ragged, but they lead 7-0 at the end of the first quarter. "I watch so much football and love the game," Campbell says. "But I couldn't care less who wins." (Louisville did, 17-14.)
Campbell and his fellow referees will spend hours after a game debriefing, either at a nearby hotel or in a designated spot near the stadium, depending on the facility. They'll go over everything play-by-play, debating what went wrong, what went right, and what they could improve. This routine is required by many leagues, but it's also a good way to blow off steam. The refs don't spend any time lingering on the outcome in public and leave the stadium discreetly. By the time the victorious Louisville players have rushed the field and the fans are trickling into the parking lot, Campbell and his colleagues have been escorted by police back to their hotel. (The police took them to the field that morning, as well.)
The escape is quick by design. "When we leave, we're not always the most popular guys," Campbell says.
From the hotel, he catches a flight back to New York. He needs to get back to the city for Monday's market opening.
Before it's here, it's on the Bloomberg Terminal.
LEARN MORE