Biden Calls Trump's Comments on Muslims a 'Dangerous Brew'
By
Vice president says Clinton sure winner if Trump GOP Nominee

Biden won't endorse in Democratic race before primaries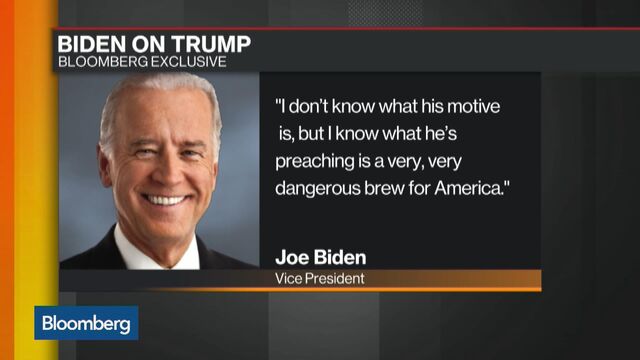 Vice President Joe Biden said Donald Trump is treading dangerous ground with his call to stop Muslims from coming to the U.S. and predicted that if the billionaire businessman wins the Republican nomination for president, Democrat Hillary Clinton "wins in a walk."
"I don't know what his motive is, but I know what he's preaching is a very, very dangerous brew for America," Biden said of the Republican frontrunner during an interview Tuesday on Air Force Two on the flight home from a two-day visit to the Ukraine.

"Is this just a guy doing 'Celebrity Apprentice' for himself?" Biden said of the former reality-show star. "Is this just a guy who's an entertainer? It may have started there, but, I now think, now, he wants to be president. But I don't think there's much chance of that."
Biden questioned whether many of Trump's pronouncements, including building a wall on the U.S.-Mexico border, are sincere.
"I believe he's smart enough to know half of what he's saying makes no sense: Build a wall? He's got to build a wall that's the best wall and the highest wall?" Biden said. "A lot of this is showmanship."
Unsustainable Path
Trump is appealing to prejudice and fears, drawing support from "some people who are really frightened and scared," Biden said. "I don't think it's sustainable."
Biden, who turned 73 last month, decided in October that he wouldn't make a third run for the Democratic presidential nomination. His announcement that he wouldn't challenge Clinton in 2016 followed months of deliberation and a long grieving process for him and his family after the death of his son Beau in May of brain cancer.
He said he doesn't plan to endorse Clinton, the former secretary of state and leading contender for the Democratic nomination, or her challengers, Vermont Senator Bernie Sanders or former Maryland Governor Martin O'Malley, before the primary contests. He said he told the Democratic candidates that "I'd let the party decide; I would not weigh in."
'Complete Shutdown'
Trump stirred an uproar in both parties with a statement Monday calling for "a total and complete shutdown of Muslims entering the United States until our country's representatives can figure out what is going on." He issued the statement days after a mass shooting in California that authorities say was an act of terrorism by a radicalized Muslim couple.
Secretary of State John Kerry said the remarks make it harder to carry out effective diplomacy.
"There are courageous Muslims around the world, in the Middle East and elsewhere, standing up" to Islamic State militants, Kerry said Wednesday at the International New York Times' Energy for Tomorrow conference in Paris. "What Mr. Trump has said runs contrary to all that, and makes our job of reaching out to people and sharing the real America that much more complicated and that much more difficult."
Trump's comments left Republican leaders caught between not wanting to alienate his supporters and a desire to expand the party's voter appeal to capture the White House.
'What's Right'
Trump has stood by his comments. Asked during an interview with ABC News whether he regretted making the proposal about Muslims, he said: "Not at all."
"Somebody in this country has to say what's right," he said Tuesday.
For the White House, the controversy has been a welcome respite from debate over the president's handling of the Islamic State, as well as a political opportunity to divide Republicans.
White House press secretary Josh Earnest delivered an uncharacteristically harsh denouncement of Trump, deriding him as a "carnival barker" who had disqualified himself as serving as president.
"The question now is about the rest of the Republican Party and whether or not they're going to be dragged into the dust-bin of history with him," Earnest said, adding that candidates too afraid to denounce their party's front-runner had "no business serving as president either."
Trump's Rhetoric
Clinton also linked Trump's rhetoric to other members of his party. "But the truth is, many GOP candidates have also said extreme things about Muslims," she said in a statement posted online. "Their language may be more veiled than Mr. Trump's, but their ideas aren't so different."
Other administration officials suggested Trump's comments posed a security threat to the United States. Homeland Security Secretary Jeh Johnson told MSNBC the comment's "will actually hurt our efforts at homeland security and national security."
House Speaker Paul Ryan, a Wisconsin Republican in the midst of high-stakes negotiations with Democrats over budget legislation to keep the government from shutting down on Dec. 11, denounced Trump's comments.
"This is not conservatism," Ryan told reporters, taking the rare step of rebuking a Republican presidential candidate. "What was proposed yesterday is not what this party stands for, and more importantly it's not what this country stands for."
Trump, in what may be an effort to preempt fellow Republicans from breaking their pledge to back his nomination, tweeted a poll indicating some 68 percent of his supporters would follow him if he ran as an independent.