Embattled Malaysia Premier Seeks Unity Among Party Elites
by
Five-day gathering of party chiefs a test of support for Najib

Former deputy among those trying to oust him from office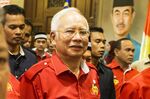 Malaysian Prime Minister Najib Razak appealed for unity in the ruling party as thousands of members met in the capital amid tensions over a funding scandal that have festered for months.

The political temperature is much higher than past United Malays National Organisation meetings, Najib -- who is party president -- said on Facebook before delivering a closed-door speech late Tuesday to the annual gathering. UMNO's women's group met Wednesday with its leader echoing calls to stay united.
"We want the image that we project of the party to be of a party that is in charge, that we are a responsible party that can safeguard our interests," Najib said. 
The real picture is murkier as Najib fights to stay in power after revelations in July that 2.6 billion ringgit ($615 million) appeared in his private accounts before the 2013 general election. He's faced accusations of wrongdoing by the opposition and some UMNO members and calls to quit. The turmoil has periodically dented the ringgit.
The gathering of officials from UMNO, a party that has its power base rooted in the ethnic Malay majority, is being closely watched for whether divisional chiefs continue to support Najib. The powerful nearly-200 strong grouping has generally backed him, though that endorsement may be eroded if Najib is seen as a political liability heading into the next general election, which must be held by 2018.
Against Tide
UMNO, in office since independence in 1957, won the 2013 ballot with its smallest margin yet, losing the popular vote for the first time. The congress should be a platform for UMNO to bolster its commitment to staying relevant, Najib said.
The head of the women's faction led female delegates Wednesday in an oath expressing support for the premier, though youth wing chief Khairy Jamaluddin said party members need to occasionally "go against the tide."
Khairy, who is youth and sports minister, said UMNO members shouldn't stay silent or avoid asking for explanations when there are "big allegations like corruption, fraud and abuse of powers."
"If there are allegations, they should be answered quickly and comprehensively," he said. "Prove that we are transparent and practice good governance. Show everyone that there is nothing we want to hide."
Ousted Deputy
Among those seeking to oust Najib are UMNO deputy president Muhyiddin Yassin and former Prime Minister Mahathir Mohamad. Najib dumped Muhyiddin as deputy premier in July. The UMNO deputy typically officiates the opening of the women's and youth wings at the meeting, but Muhyiddin didn't do that on Wednesday.
Najib arrived at the UMNO congress Tuesday night to the beating of traditional drums and accompanied by Deputy Prime Minister Zahid Hamidi, a party vice president. Zahid on Wednesday recited a Malay poem saying a raft needs a strong rope to hold it together and keep it buoyant, and even if some bindings snap off it must remain afloat.
Term Limits
Muhyiddin on Monday called for term limits for the presidency of UMNO, saying "absolute power corrupts." There are no such restrictions now. Najib should step aside as prime minister until investigations of the funding scandal are complete, Muhyiddin added. Mahathir, who was the country's longest-serving leader, said Monday he wants to topple Najib but not the government.
Najib has said the funds in accounts that have since been closed were donations from the Middle East and not public money, and were used for the party and community.
"The amount donated to my personal account was the wish of the donor," Najib wrote on Facebook. "But don't misunderstand. Just because the account was in my name, it doesn't mean the money was for my personal use."
State Company
The donor gave the funds without expecting anything in return and didn't see it as a bribe, he said.
During his address Tuesday, Najib talked about the country's economic challenges, troubled state investment company 1Malaysia Development Bhd. and the donations he received, Zahid told reporters after the speech. Delegates clapped at the end, he said. The remarks were well-accepted by the crowd, said Defense Minister Hishammuddin Hussein, another UMNO vice president.
The government has sped up efforts to pare down debt at 1MDB, whose existence has been dogged by controversy and led to criticism of Najib, who chairs its advisory board.
Investors have periodically dumped Malaysia's stocks, bonds and currency this year.
"If UMNO cannot provide leadership and set the example of a clean and honest leadership, especially over Najib's twin mega scandals, then UMNO should be replaced" at the next election, opposition Democratic Action Party leader Lim Kit Siang said Monday.
Before it's here, it's on the Bloomberg Terminal.
LEARN MORE