business
How Germany's Right-Wing Tabloid Learned to Love Refugees
Shocking many, Bild Zeitung has discouraged hostility to the current wave of asylum seekers.
By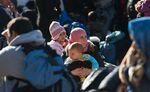 Every year, the newshounds of Germany guiltily anticipate the Sommerloch, or "summer hole." The country goes on holiday, the news cycle begins to moss over, and the conservative national tabloid Bild Zeitung can be counted on to seek strange stories to fill its pages: a bloodthirsty snapping turtle, a man who slashes the linings of above-ground swimming pools, a student who floods his town with sewage. Such items garner enormous headlines alongside the typical Bild fodder of car crashes, celebrity gossip, and photographs of naked women. In May, when Bild asked "Are These Eva Braun's Underpants?" in a headline, one German reader tweeted with relish: "The Sommerloch has begun."
Real news soon crashed in. First, Greece threatened to leave the European Union, risking a continent-wide economic crisis. Then hundreds of thousands of desperate refugees from the Middle East and Africa started showing up at Germany's border. The influx quickly escalated into Western Europe's biggest humanitarian crisis since the collapse of the Soviet Union. The emergency fueled nationalist fervor across the continent and strained the bonds of European unity. Germany, however, has had no influential nationalist party since World War II. It has had Bild Zeitung.
Bild, owned by Axel Springer, has been the bête noire of German liberals since the 1960s, when it demonized student protesters in West Germany. The tabloid stayed true to form during the Greek crisis, portraying the country as a deadbeat threat to hardworking Germans and urging Chancellor Angela Merkel to reject a bailout by photoshopping a spiked Bismarck helmet onto her head. Such unabashed nationalism is generally taboo in mainstream German politics, but it resonates with a huge segment of the German public. With 12 million daily readers, the print edition of Bild is the most-read newspaper in all Europe.

When the refugee crisis began, Bild's tendency toward simplistic binaries didn't seem to bode well for the thousands of impoverished Muslims arriving daily. Germany was more welcoming of refugees than just about any other European nation, but there was a strain of right-wing resentment that many media observers expected Bild to tap. The paper's critics braced for the worst.
Bild surprised them. On Aug. 29, two days after Austrian authorities discovered 71 dead refugees in the back of a truck, the tabloid printed a photo of a Syrian girl huddling on the ground behind a boy with a scabbed knee. She pressed her cheek against his ear, and they gazed into his cupped hand, as though he kindled a memento of the lives they left behind. "Wir Helfen," Bild declared in big letters above the picture. "We Help."
Bild's statement resonated around the world, especially in countries such as the U.K., whose tabloids were busy stoking anti-refugee resentment. Just as the world seemed surprised by Germany's open arms for refugees, so were many Germans surprised at Bild's newfound compassion for foreigners. Its shift from the us-vs.-them frame of the debate over Greece struck many as hypocritical. It also captured an ambivalence at the heart of German political culture: Is it better for Germany to lead Europe by force or by example? Bild may be sensationalistic and tawdry, but its daily reckoning with the migrant crisis has become a useful proxy for understanding today's Germany.
"How do people feel about what is going on? This is what we try to express," said Kai Diekmann, Bild's editor and publisher. Diekmann sports thick Woody Allen-style glasses and a wrist tattoo, looking more like a graphic designer than chief provocateur at Germany's most inflammatory newspaper. "We are deeply convinced that the emotional way is the right approach," he said, "because most things happen because of emotions, because of irrational things." That style will sound familiar to readers of the bellicose New York Post or London's shrieking Daily Mail, but it has always been a strange fit in cool-headed Germany, where the mainstream press prides itself on sobriety.
During Germany's last refugee crisis, when asylum seekers from the former Soviet Union flocked to the country in 1991, Bild's emotions were uniformly ugly. "It knows no end: asylum seekers, asylum seekers, asylum seekers," began one article, which went on to suggest refugees could soon outnumber German citizens in some cities. Another piece matched different ethnic groups with what Bild called their "specialized" crime: "Romanians: burglary and theft," "Yugoslavs: pimping," "Turks: drug dealing," and so forth.
Diekmann took over in 2001 and jettisoned such traditions as printing photographs of naked women on Bild's front page. (He tucks them in the interior pages.) But the German chauvinism remained. His paper ran headlines such as "The Bitter Truth About Foreigners and Welfare" and "Study Proves: Young Foreigners Are More Violent Than Young Germans." In 2011, the prestigious magazine Der Spiegel commented: "Everything that insinuates that migrants constitute a problem in Germany is taken up by Diekmann's people with relish."
Bild's 2015 embrace of refugees was as though Fox News had suddenly endorsed President Obama on climate change. Throughout September, Bild stayed upbeat, dramatizing the journeys of Syrians across the continent, rallying behind Merkel, and shaming European leaders such as David Cameron and Viktor Orbán, who closed their borders. If there were a common thread in Bild's anti-Greece coverage and its pro-refugee coverage, it was a chest-beating confidence in Germany's superiority to its European neighbors. Bild was one of the first German newspapers to print a photo of Alan Kurdi, the Syrian boy who drowned on Sept. 2; when some readers criticized the choice, Bild stood its ground, running a subsequent issue without any photos whatsoever. At the same time, Bild developed "Wir Helfen" into a national campaign. It publicized the volunteer efforts of its readers; teamed with German soccer clubs to promote aid for refugees; and published in Arabic a free welcome guide for refugees in Berlin. "In the past, it was not so often that Germany gave a great example to the world," Diekmann said. "This is a historic situation, and if we don't take up this challenge, who else will be able to do so?"
Few media critics have accepted Bild's change of heart at face value. "They are really eager to be positive," said Mats Schönauer, editor of BildBlog, Germany's main media criticism outlet, which started in 2004 as a site devoted solely to pointing out Bild's errors. "The question is first, how long does it last? And second, how honest is it?" To Schönauer, Bild's refugee coverage reeks of hypocrisy. "For years, they created this fire, and now they're playing the role of fireman," he said. Others attribute the coverage to opportunism. "Bild will never put itself against the mood on the ground of the population," said Wolfgang Storz, former editor of the Frankfurter Rundschau. "If the mood in Germany swings against refugees, then Bild will undoubtedly campaign against refugees."
Diekmann does not dispute that Bild has largely tracked public opinion rather than shaped it. "No medium is strong enough to create a culture that is not actually there," he said. "From the beginning, it was clear that this atmosphere would not be there all the time." In early October, as public support for Merkel dipped, Bild's tone began to waver. On Oct. 8, Bild published a poll asking readers whether they supported Merkel or Horst Seehofer, the Bavarian politician who has emerged as the biggest critic of her refugee policy. Ninety percent of Bild readers supported Seehofer. A few days later, the tabloid ran a story about a meeting in Sumte, a town of 100 people that was due to house 1,000 refugees in an empty office complex. It quoted one citizen who worried that refugees would rape women on Sumte's poorly lit streets. "The question that lurks behind every question that is asked this evening: Is one allowed to say that one has fears about the large number of refugees? Or does that make one a Nazi?" the paper asked.
The sum of Bild's articles is not "balance" in the traditional journalistic sense but something more like an unstable person's mood swings: huge shifts from day to day and from article to article, friendly one moment and fearful the next. Now such headlines as "568 Asylum Seekers Are Multiple Offenders!" and "'We Are Afraid for Our Children'" appear in Bild alongside sympathetic profiles of individual refugees. At the same time, Bild has launched a campaign against "refugee hate" and publicly shamed people who post disparaging statements about refugees on Facebook. The latter story was especially provocative in Germany, where media rarely print private citizen's full names or social media postings.
"It is now very difficult as a newspaper with such big headlines, with such an emotional approach," Diekmann said. "We are not a violin, we are a trombone." In his office, which he has decorated with modern Bild-themed art, Diekmann insisted that Germany must find shelter for every Syrian refugee while removing the incentives he claimed are drawing them to Germany. He retrieved a recent edition in which Bild printed the public benefits every European nation gives to refugees. The presentation was neutral, but Diekmann made clear its ideological bent.
"If you take, as a refugee, that big risk to leave your home and go that risky route to Europe, then of course you ask: 'Where do I get the best return on investment?' And this is actually, right now, Germany," Diekmann said. "This is something we have to change in order to get the stability in the situation." (The German legislature restricted refugee benefits that very week.)
After our interview, a photo editor stopped Diekmann in a hallway and handed him a photograph of a young girl who had drowned in an orange life vest while trying to cross the Mediterranean Sea with her family. "What to do?" Diekmann mused. The next day, Bild printed a photo of the girl being lifted out of the ocean by a Greek diver on page 3. On the front page, Bild listed several bullet points: "Again 9,000 refugees across the German border!" "Again a crisis peak!" "Again the Chancellor must defend herself!" "Again Seehofer attacks!" "Again people drown in the Mediterranean!" The headline was even bigger: "An Entirely Normal Refugee Day!"
Before it's here, it's on the Bloomberg Terminal.
LEARN MORE