How Germany's Right-Wing Tabloid Learned to Love Refugees
Shocking many, Bild Zeitung has discouraged hostility to the current wave of asylum seekers.
By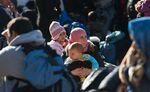 Every year, the newshounds of Germany guiltily anticipate the Sommerloch, or "summer hole." The country goes on holiday, the news cycle begins to moss over, and the conservative national tabloid Bild Zeitung can be counted on to seek strange stories to fill its pages: a bloodthirsty snapping turtle, a man who slashes the linings of above-ground swimming pools, a student who floods his town with sewage. Such items garner enormous headlines alongside the typical Bild fodder of car crashes, celebrity gossip, and photographs of naked women. In May, when Bild asked "Are These Eva Braun's Underpants?" in a headline, one German reader tweeted with relish: "The Sommerloch has begun."