JAB's Billionaire Backers Want to Create a Global Coffee Empire
by
$13.9 billion bid for Keurig Green Mountain challenges Nestle

BDT Capital's Byron Trott part of JAB's well-connected network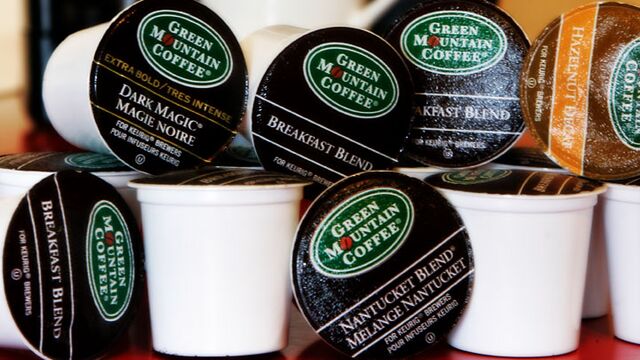 JAB Holding Co. wants to rule the coffee world. The closely held investment firm that manages the fortune of Austria's billionaire Reimann family took another step toward that goal Monday by acquiring Keurig Green Mountain Inc. for almost $14 billion in the industry's biggest-ever deal.
The Luxembourg-based group, known as JAB, has spent more than $30 billion in the past four years acquiring coffee companies in the U.S. and Europe to challenge global leader Nestle SA. Run by a trio of well-connected executives with decades of experience in food and beverage, JAB has bought assets including D.E Master Blenders 1753 NV, Mondelez International Inc.'s coffee unit and high-end chain Peet's Coffee & Tea.
"This is part of a much, much bigger strategy. JAB wants to be the Budweiser of the coffee space," Pablo Zuanic, a Susquehanna Financial Group analyst, said, referring to Anheuser-Busch InBev NV, the world's biggest brewer. "Just as you've seen Bud consolidate beer, they want to consolidate coffee."
Alongside coffee, the three men -- Peter Harf, Bart Becht and Olivier Goudet -- invest the $16 billion Reimann fortune in a variety of consumer-goods companies such as fragrance maker Coty Inc. and Durex condom maker Reckitt Benckiser Group Plc. The trio is also involved in some of the year's biggest deals, from Coty's $12.5 billion acquisition of some Procter & Gamble Co. beauty brands to AB InBev's $110 billion takeover of SABMiller Plc.
While the JAB trio control well-known brands including Peet's, Jimmy Choo shoes and Douwe Egberts java, they're not household names. The four billionaire Reimann siblings who entrust JAB with their fortunes are even less visible. Renate Reimann-Haas, 64; Wolfgang Reimann, 63; Stefan Reimann-Andersen, 52; and Matthias Reimann-Andersen, 50, have individual net worths of $4.1 billion, according to the Bloomberg Billionaires Index.
Seeking a favorable tax environment for the Reimanns, Harf moved their family offices to Vienna from Ludwigshafen, Germany, in 2006. The family traded their German passports for Austrian ones.
Transformed Company
Harf, a 69-year-old German, led JAB for almost a quarter century, during which he transformed a sleepy chemical company into a consumer-goods investor with stakes in Reckitt Benckiser, Coty and Jimmy Choo Plc. He brought in Dutchman Becht, 59, who ran Reckitt Benckiser before joining JAB as chairman in 2011.
Goudet, 50, a Frenchman who's now JAB's CEO, was chief financial officer of candy maker Mars Inc. Harf met Goudet on the board of beermaker AB InBev, of which Goudet is chairman. Goudet developed JAB's coffee strategy, Harf has told Bloomberg News.
Coffee Gains
Price wars and health concerns have dented sales of grocery items from soda to soup. The coffee market, meanwhile, is expanding at about 5 percent a year, according to data tracker Euromonitor. Sales of single-serve capsules, delivered by machines made by Keurig and Nestle's Nespresso unit, are rising at more than twice that rate. Becht was an early investor in Keurig, which went public in 1993 under the name Green Mountain Coffee Roasters. He later sold those shares.
JAB's coffee play has some deep-pocketed backers. Byron Trott, chairman of investment and advisory firm BDT Capital Partners, has enlisted BDT's billionaire clients -- including Colombian beer billionaire Alejandro Santo Domingo -- to invest in JAB's coffee deals. Harf, the former chairman of AB InBev, tapped two of the brewer's founding families.
Challenging Nestle
JAB's challenge to Switzerland's Nestle began in June 2012, when it bought a stake in Amsterdam-based D.E Master Blenders 1753, which makes Douwe Egberts. It bought the whole company a year later for $10.4 billion, then followed with a $5 billion cash deal for Mondelez's coffee unit.
This year JAB combined the Mondelez business -- the world's second-largest coffee maker -- and No. 3 Master Blenders into a new company called Jacobs Douwe Egberts. JAB also runs a number of coffee-shop chains in the U.S., including Peet's, Caribou Coffee Inc., and Einstein Noah Restaurant Group Inc. What it lacked, and has now in Keurig, is a strong position in the single-serve coffee market, the industry's fastest-growing segment.
"Overall, JAB is clearly aiming to build a global powerhouse in coffee and is now adding more extensive single-serve expertise," said Jon Cox, an analyst at Kepler Cheuvreux. Zuanic, the Susquehanna analyst, said JAB likely has more deals up its sleeve, and its next move might be to acquire Dunkin' Brands Group Inc., owner of Dunkin' Donuts.
Becht, speaking in an interview in November 2014, said: "Nothing is excluded, ever."
Before it's here, it's on the Bloomberg Terminal.
LEARN MORE