Business
Carney Backs Effort for Standard Company Climate Disclosure
By and
Carney Backs Effort for Standard Company Climate Disclosure
By and
FSB's proposals would end piecemeal reports on pollution

Issue has ensnared Exxon, Peabody in probe by New York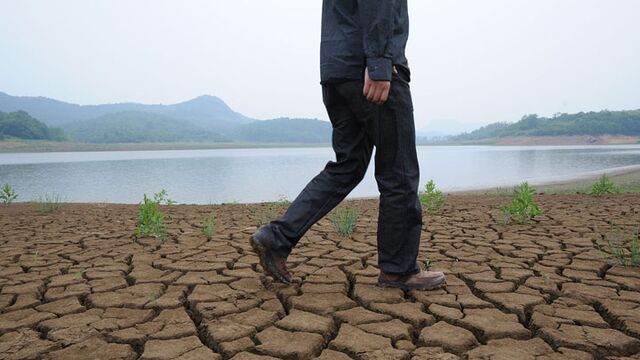 Bank of England Governor Mark Carney backed a global effort to bring greater transparency to the way companies disclose the risks they face from climate change, wading into a debate that has ensnared some of the biggest fossil-fuel producers.
Carney, who leads the Financial Stability Board advising the Group of 20 nations on threats to the economy, named former New York Mayor Michael Bloomberg to lead a panel that will draw up voluntary reporting standards on environmental issues. The two will discuss the issue at a briefing at the United Nations climate talks in Paris on Friday, according to a statement released by the FSB.
The move may bring consistency to the piecemeal corporate reporting of everything from water use to carbon-dioxide emissions -- metrics investors find helpful in assessing the risks industries face from environmental regulations. Peabody Energy Corp. and Exxon Mobil Corp., the largest U.S. coal and oil producers, have been caught up in probes by New York state into their climate-related reports.
"This is an absolutely crucial move," said Saker Nusseibeh, chief executive officer of Hermes Investment Management Ltd., which oversees $44.4 billion in assets. "This task force is now going to morally pressure companies to quantify environmental risk financially and to accept that it is a source of risk. This brings it into the mainstream. Once you present numbers to boards, they start to think about them."
Carney said his ambition is to provide data for investors to assess whether
companies they back are properly assessing the risks stemming from climate
change. Central banks, he said, didn't want to impose new regulations through
the back door or impose political views about the issue on executives.
Carney's View
"Once you have information to make judgments about companies and sectors, and their exposures to climate change, and their strategies, then markets can move more quickly," Carney said. "This is going to be the one stop shop for the right principles around climate. There is a wide range of views."
Bloomberg is the founder and majority owner of Bloomberg LP, the parent company of Bloomberg News. The company distributes data to financial markets, including figures gleaned from sustainability reports filed by thousands of companies. At the moment, there are no common guidelines for what companies should report or how they should make their assessments, making data difficult to compare.
"If you can't measure it, you can't manage," Bloomberg said. Providing information that's reliable and comparable may raise awareness about the issue because once there's transparency "the market is merciless, and they expect companies to address risk," he added.
'Boilerplate' Practice
Greg Elders, an analyst at Bloomberg Intelligence, said reporting needs to be more than just what is often "boilerplate" disclosure "at best."
Concentrating attention on the risk of regulation marginalizing fossil fuels may accelerate a shift of assets away from the industry and toward renewables such as wind and solar, said Stephanie Pfeifer, chief executive officer of the Institutional Investors Group on Climate Change, which represents fund managers with $13 trillion of assets.
"A key challenge the task force faces will be to identify and agree reliable, independent information on 'carbon bubble' and 'stranded assets' risks, to help market participants manage their transition to a low carbon economy," said Mark Campanale, founder of Carbon Tracker, a research group assessing company disclosures on emissions.
Investors Welcome
For investors, the task force is a "hugely welcome step" to get "the material information they need to manage climate change risks," said Mindy Lubber, president of the non-profit group Ceres and director of the $13 trillion Investor Network on Climate Risk, which has been advocating strong climate disclosure for the past decade. "Without precise data from companies on their carbon emissions, both present and future, investors cannot evaluate which businesses are well positioned - or are poorly positioned - to compete in the future low-carbon global economy."
As climate issues rise on the political agenda, regulators are taking a closer look at the reports companies are making. New York Attorney General Eric Schneiderman has suggested Exxon and Peabody have misled investors with incomplete information.
Peabody Settlement
Last month, Peabody agreed to expand its disclosures to end a two-year investigation by New York state into the coal company's assertion that it's "not possible" to "reasonably predict" the impact that climate regulations will have on its finances.
Schneiderman's most aggressive action is against Exxon. He issued a subpoena in November seeking a lengthy list of documents, including communications with trade associations and industry group dating from the 1970s to the present.
The investigation is seeking information on whether the world's biggest oil explorer lied to investors and the public for almost 40 years about the impact of climate change on profits.
FSB's Work
The FSB was created in 2009 by G-20 leaders to address vulnerabilities in financial markets. Carney spoke out in September about the need for investors to wake up to the potential for huge losses from a sudden shift in regulations designed to curb the use of fossil fuels.
Bloomberg will lead a group of 10 people drawn from companies and regulatory agencies to determine the scope and overall goals of the work. They intend to come up with recommendations by the end of March. The full task force will number about 30 and complete its work by the end of 2016.
"The task force will consider the physical, liability and transition risks associated with climate change and what constitutes effective financial disclosures in this area," the FSB said in the statement.
— With assistance by Alex Morales, and Patrick Henry
(
Updates with comments from panel discussion.
)