Obama Will Address the Nation on California Attack, Terrorism
by
One attacker said to pledge loyalty to Islamic State leader

U.S. inquiry focusing on couple's phone, online activities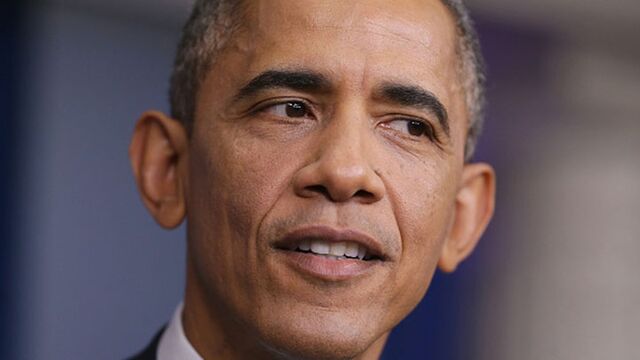 President Barack Obama will give a nationally televised address Sunday on the shooting rampage that killed 14 people in California, as U.S. authorities pursue evidence that the attack was an act of terrorism that may have been inspired by Islamic State.
In remarks from the Oval Office at 8 p.m. in Washington on Sunday, Obama will talk "about the steps our government is taking to fulfill his highest priority: keeping the American people safe" as well as the "ongoing investigation into the tragic attack in San Bernardino," and "the broader threat of terrorism," White House press secretary Josh Earnest said Saturday in an e-mailed statement.

Obama will use his address to counter Republicans who have said he hasn't done enough to defeat Islamic State terrorists in Iraq and Syria. The Republicans have called for more stringent steps in the U.S., including barring refugees from the war in Syria, while opposing Obama's calls to consider new gun controls.
The president "will reiterate his firm conviction that ISIL will be destroyed and that the United States must draw upon our values –- our unwavering commitment to justice, equality and freedom –- to prevail over terrorist groups that use violence to advance a destructive ideology," Earnest said in the statement, using an acronym for Islamic State.
Obama will also call on Congress "to review measures and take action," said U.S. Attorney General Loretta Lynch, appearing Sunday on NBC's "Meet the Press." She didn't specify what actions those will be or if they would include gun-control measures.
Federal investigators have been scouring mobile phones, computers and thumb drives seized at or near the residence of the attackers, Tashfeen Malik and Syed Rizwan Farook, in Redlands, California. Some of the devices had been damaged in an attempt to cover their tracks.
No Network
"This is now a federal terrorism investigation," the FBI director, James Comey, said at a briefing in Washington Friday. There is no indication that the attackers are "part of a cell or network" of terrorists, Comey said.
Lynch echoed that on NBC, saying, "At this point we do not have any evidence that they were part of a larger group or cell, or were planning anything else."
"This is an FBI investigation now because of the indications we have that this is a radicalization," she said. But she also cautioned people not to define either of the two individuals right now. "We can't say what led right now to these two people to picking up guns and becoming killers."
"We are looking at everything we can find out about these two killers' lives," Lynch said. "How they grew up. Where they grew up. Where they met. All of those things will provide us guidance."
Among evidence that led investigators to treat Wednesday's attack as terrorism was a Facebook post made by Malik under an alias about the same time the shootings took place that swore allegiance to the head of Islamic State, according to law enforcement officials.
Investigators have also found that Malik's husband, Farook, who waged the Dec. 2 attack with her, had adopted radical Islamic views and was in touch with a number of people in California who were subjects of federal terrorism probes, according to one law enforcement official, who described the matter on condition of anonymity.
In a radio broadcast Saturday, Islamic State referred to the attackers as "supporters" and said it considers them "martyrs," according to the SITE Intelligence Group, which studies militant movements.
Obama Updated
Obama received an update Saturday morning from Comey and other top law enforcement and intelligence advisers.
"The president's team highlighted several pieces of information that point to the perpetrators being radicalized to violence to commit these heinous attacks," according to a White House statement, while also confirming "that they had as of yet uncovered no indication the killers were part of an organized group or formed part of a broader terrorist cell."
Comey said Friday that there is "indication of radicalization" by the couple and "potential inspiration by foreign terrorist organizations" in the attack. Farook and Malik -- who were armed with two rifles and two handguns and were dressed in black tactical gear -- fled the scene in San Bernardino and died in a gun battle with police in a nearby residential neighborhood.
The shooting, following the deadly strikes in Paris, has intensified fears that terrorists are preparing to wage more attacks on American soil. After the shootings, authorities found a dozen pipe bomb devices in the couple's home along with thousands of rounds of ammunition. 
David Bowdich, assistant FBI director in Los Angeles, said Farook and Malik may have been planning to strike again. He added that federal authorities "are not aware of any other threats in the U.S. at this time."
Swearing Allegiance
In a Facebook posting using an alias Malik swore allegiance to the head of Islamic State, Abu Bakr al-Baghdadi, who is being pursued by the U.S.-led coalition targeting the extremist group's strongholds in Syria and Iraq, a law enforcement official said. Malik also posted images of herself and the couple's six-month-old daughter, though some information was deleted in the days leading up to the shooting, the official said.
A Facebook Inc. representative said the post went up near the time that the shootings were reported to have begun. The company removed the profile from the site and is cooperating with law enforcement, the representative said.
Bowdich said it wasn't yet clear whether the attacks were inspired by or directed by Islamic State.
Before it's here, it's on the Bloomberg Terminal.
LEARN MORE