A Broken City Looks for Clean Water in Unfolding Indian Tragedy
by and
Chennai disaster exposes India's poor infrastructure

Prices of essentials skyrocket due to rail, road disruptions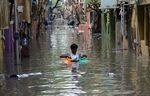 In a slum near Chennai's bustling shopping district popularly known as T. Nagar, Rajam Balaraman is picking up the pieces three days after unprecedented rains and flooding forced her out of her asbestos shack she shares with three family members. Her ordeal isn't over just yet.
She paid $1 for a 20-liter (5.2 gallons) can of water, a luxury for a family of meager resources, after sewage made the municipal tap water unusable. Vegetable and milk prices have more than doubled, caused by disruption in rail and road transport. "There isn't much stock available in the local store," said Balaraman, 50.
The southern Indian city's failure to cope with a threefold increase in seasonal rainfall brought back memories of similar flooding in Mumbai that followed a cloudburst in 2005. The disaster also exposed India's poor infrastructure, with some experts partly blaming unplanned urban growth for the deluge. The metropolis of 9 million is facing spiraling costs of essential items, lack of clean water and the risk of water-borne diseases as overwhelmed authorities struggle with rescue and relief operations.
Population Surge
"The quality of our infrastructure and relief response should've been better but a natural calamity of such magnitude will test any city," said Dipen Sheth, head of institutional research at HDFC Securities Ltd. in Mumbai. "India's urban infrastructure is reeling with the ever-increasing population and the Chennai floods won't improve India's image globally."
India's population has surged 49 percent in the past 25 years to 1.25 billion, compared with China's 19 percent, with migration to metro cities such as Mumbai, Bengaluru, Chennai and New Delhi straining the already creaky public facilities. The quality of India's infrastructure is ranked below those of Kazakhstan and Namibia.
The death toll from the rains in the state of Tamil Nadu, whose capital is Chennai, during November through Thursday stood at 269, as torrential rains in November and December prompted authorities to release water from many overflowing reservoirs and lakes. The showers were brought by the northeast monsoon, which typically sets between October and December over India's east coast. 
ICU Deaths
Images on television and those circulating on social media including Twitter showed brown water rising up to the first floor of residential buildings in many neighborhoods, causing damage to property such as automobiles. Cars drifted and 34 passenger planes were stuck at the local airport, which is expected to be shut until Dec. 6.
As many as 14 patients in the intensive care unit of a city hospital near the Adyar river died because of a power outage and non-availability of oxygen cylinders, CNN-IBN television channel reported. Activists, film stars and volunteers retweeted and responded to pleas for items ranging from cooking gas, milk, groceries to sanitary napkins, while Twitter started as many as three hashtags to connect the stranded and rescuers.
The Indian Air Force, Army, Navy and the National Disaster Response Force deployed several teams to evacuate people to safety. Relief efforts were proving to be challenging as some roads have been washed away and several telephone networks were down, Home Minister Rajnath Singh told lawmakers on Thursday.
Loss to Businesses
The local government issued an advisory to manufacturers to shut operations until Dec. 7. The city is an auto hub, and is home to factories operated by companies from Hyundai Motor Co., Ford Motor Co. to BMW AG.
Insurers and re-insurers will soon take stock of the situation as the true magnitude of the disaster unravels. A trade body said losses to businesses from the record downpour could reach more than 150 billion rupees ($2.2 billion). The Associated Chambers of Commerce and Industry of India termed the situation "total chaos" in a statement on its website.
More rains can wreak further havoc on a city already pushed to its limits. The Indian Meteorological Department forecasts cloudy sky with possibility of rain and thunderstorms in some parts of the city until Dec. 10.
In an article dated Dec. 2, Quartz said the floods weren't a natural disaster but created by greedy town planners and dumb engineers who allowed construction of business corridors, residential neighborhoods and an urban mass transit rail network on marshlands, important drainage courses and catchments. The new airport was built on the floodplains of the Adyar river, according to Quartz.
"The infrastructure of Indian cities are stretched because of over building as they are created ignoring rules of urban planning," said Debjani Ghosh, an analyst at New Delhi-based National Institute of Urban Affairs. "The warning is clear. It is about time we implemented a plan that can match the capacity of the land available."
Before it's here, it's on the Bloomberg Terminal.
LEARN MORE