U.S. Said to Probe Whether California Gunman Had Terrorism Links
By and
Authorities haven't yet identified a motive in mass shootings

14 Killed, 21 Wounded in attack on building in San Bernardino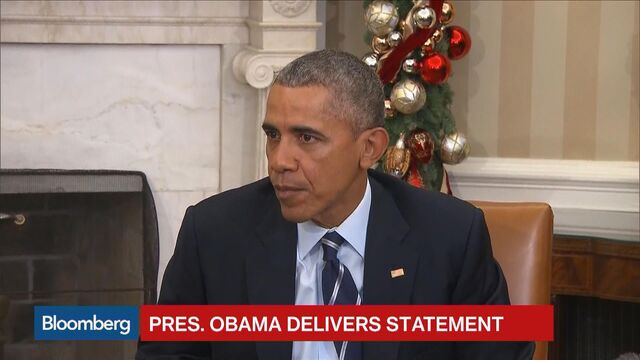 Federal agents have discovered preliminary evidence that suspected San Bernardino gunman Syed Rizwan Farook was in contact with at least one person who had been the subject of a terrorism probe by the FBI, according to two U.S. law enforcement officials.
With the FBI taking the lead, investigators are scrutinizing Farook's online communications and phone records as they try to determine a motive for the attack at a social services center in the California city, according to the officials, who declined to provide specifics and requested anonymity to discuss an open criminal matter. 
The shooting on Wednesday left 14 dead and 21 wounded, and prompted a massive police mobilization in San Bernardino. Authorities identified Farook, 28, and his wife, Tashfeen Malik, 27, as the heavily armed couple who carried it out. They fled the scene and died in a gun battle with police in a nearby residential neighborhood.
The second mass killing in a week in the U.S. sparked anew the debate over gun control and intensified fears that terrorists are preparing to wage a Paris-style attack on American soil. After the shootings, authorities found a dozen pipe bomb devices in the couple's home along with thousands of rounds of ammunition, San Bernardino police chief Jarrod Burguan said. The two semi-automatic rifles and two handguns they were armed with had been legally purchased, authorities said.
Motive Undetermined
A third U.S. official, who also requested anonymity, said Farook had traveled to Saudi Arabia about a month ago for unknown reasons. Mark Toner, a State Department spokesman, told reporters in Washington Thursday that Malik came to the U.S. on a K-1, or "fiance," visa that she obtained in Pakistan. The date of her arrival wasn't immediately available.
Even so, investigators haven't yet identified a motive and are trying to determine whether the couple committed an act of terrorism or workplace violence. The two law enforcement officials said they thought the incident could be a mix of both and that it was too soon to say with any certainty what sparked the rampage.
 
During an Oval Office appearance earlier Thursday, President Barack Obama raised the possibility that the shootings were related to terrorism, though he emphasized that authorities still don't know a motive. 
 
"At this stage we do not yet know why this terrible event occurred," Obama said. "It is possible that this was terrorist-related but we don't know. It is also possible that this was workplace-related."
Gun Control 
In Washington, the incident fueled calls for restricting access to firearms. Senate Democrats tried to amend Republican legislation repealing most of Obamacare and replace it with new controls on weapons in private hands. Republicans, who hold majorities in both the Senate and House, have repeatedly blocked such legislation. 
The first of the amendments to come up for a vote, a measure to prevent individuals on terrorist watch lists from purchasing firearms, was defeated 45 to 54. A second one that would have expanded background checks of gun buyers for purchases made over the Internet or at gun shows also was defeated, but on a closer vote, 47-50.
Tipping Point
"Congress is complicit in these mass murders when it fails to act," Democratic Senator Richard Blumenthal of Connecticut said. "There has to be a tipping point, what will it take? 30,000 deaths a year ought to be enough."
Farook had been employed by San Bernardino County for five years, most recently as an environmental specialist, and had worked with some of the victims, who were attending a holiday party at the center. He and Malik used rapid-fire, semi-automatic rifles and were dressed in "assault-style clothing," Burguan said.
"Clearly they were equipped," Burguan said, and "could have done another attack."
Farhan Khan, Farook's brother-in-law, told reporters he didn't know what may have driven the couple to attack.
"I am shocked myself," he said at a news conference after the shooting organized by the Greater Los Angeles Area office of the Council on American-Islamic Relations and the Islamic Shura Council of Southern California.
Heightened Alert
The U.S. and other nations have been on heightened alert following the Nov. 13 attacks in Paris by extremists linked to Islamic State. The shootings and bombings killed 130 people and prompted France, Germany and the U.K. to step up the offensive against Islamic State in Syria and Iraq. In a statement from the White House on the day before Thanksgiving, Obama said the government had seen no credible intelligence suggesting plots against the U.S.
The president's comments Thursday were the second time he's had to address a mass shooting in the past week. During a news conference Tuesday in Paris, Obama said he hoped a Nov. 27 shooting at a Colorado Planned Parenthood clinic that left at least three dead and nine wounded would spur "conversation and action" on gun control.
He addressed the subject again on Thursday, saying every American has a part to play in trying to prevent this kind of violence, including making weapons more difficult to obtain.
It's import for "all of us, including our legislatures, to see what we can do to make sure that when individuals decide that they want to do somebody harm, we'll make it a little harder for them to do it because right now, it's just too easy," he said.
Obama, who has called for stricter gun-control laws, has spoken at least 15 times in the wake of a mass shooting in the U.S. and visited the sites of incidents at least nine times. The last time Obama addressed a mass shooting from the Oval Office was in July, when a gunman named Mohammad Youssef Abdulazeez killed four Marines and a Navy petty officer at a Chattanooga, Tennessee recruiting facility.