JPMorgan's Pinto Is Hiring Dozens of Top Bankers Amid M&A Boom
by , , and
Corporate and investment bank head Pinto focusing on M&A hires

Pinto positive on long-term prospects of Brazil, Argentina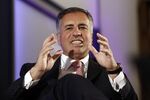 JPMorgan Chase & Co.'s Daniel Pinto, who runs the securities unit, said he's hiring dozens of top investment bankers as deal-making soars to a record.
"We have been executing a very aggressive plan to hire senior bankers in select areas," Pinto said in an interview in London.
A historic boom in mergers, fueled by low interest rates and led by deals worth tens of billions of dollars, has been a boon to securities firms, which have seen trading revenue decline. JPMorgan advised on about one-third of the world's record $3.5 trillion of mergers this year, placing it second among advisers, up one notch from last year, data compiled by Bloomberg show.
"Our investment-banking franchise is well balanced," said Pinto. "M&A activity is driving the current market, but our leading positions in the debt and equity capital markets enable us to capture share" as stock and bond offerings increase.
M&A Bankers
Pinto, 52, said the hires will focus on areas including M&A, while declining to elaborate on the specific industry coverage he's seeking to reinforce with new staff. Over the past year, JPMorgan has added top bankers to cover healthcare, chemicals and technology clients, among others, he said.
The bank rehired Charles Harman as a vice chairman in its European investment banking unit in London, according to a memo this month. Harman previously spent a decade with JPMorgan Cazenove in roles including as head of U.K. investment banking.
Revenue at JPMorgan fell 6.4 percent in the three months ended Sept. 30, driven in part by a slump in trading. Revenue from advising on deals jumped 22 percent to $503 million, the firm's financial statements show.
While competitors including Barclays Plc and Deutsche Bank AG have been pulling back from some trading businesses in a bid to revive profit, they're retaining advisory bankers amid a revival in deals. Credit Suisse Group AG, which is exiting primary dealing for government bonds in Europe, is expanding in investment banking as it increases coverage of corporate clients.
Pricing Pressure
JPMorgan's revenue from fixed-income trading tumbled 11 percent from a year earlier, excluding the impact of selling businesses. While the lender has gained in trading government bonds and derivatives whose value is tied to benchmark interest rates, trading in corporate debt and other types of credit hasn't been as strong, Pinto said.
"Rates is one of the best-performing businesses this year," said Pinto. "Credit
did well in the past, but is having a relatively challenging year."
Competitors' retreat in some trading activities hasn't led to an increase in prices in those areas, he said.
"We continue to believe that being global and being complete will best serve our clients over the long-run," he said. "Some products will be less profitable than others, but the right mix will maximize service to them and reasonable returns for us."
Pinto, a native of Argentina, said his home country's new government has the opportunity to "transform" the nation for the long-run. He remains positive about the future of Brazil, he said, even amid a corruption scandal that's engulfed some of the country's top bankers and politicians, and an economy that Goldman Sachs Group Inc. has warned is slipping into depression.
Before it's here, it's on the Bloomberg Terminal.
LEARN MORE