Early Days
House Republican Conservatives on Paul Ryan: Meh
The conservatives who engineered the ouster of Speaker John Boehner aren't exactly erupting with cheers for his successor.
By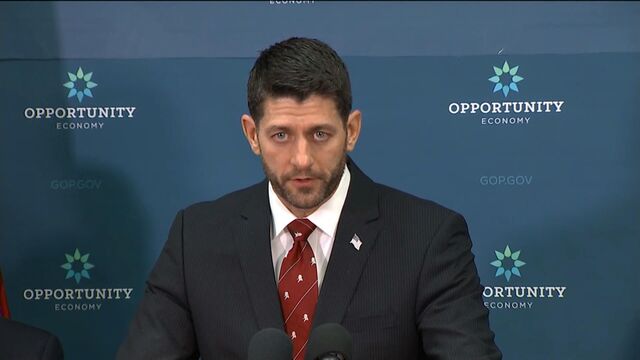 Some rebellious U.S. House conservatives who helped push former Speaker John Boehner out of Congress aren't sold yet on his successor.
After remaining uncharacteristically quiet for the first month after the election of Speaker Paul Ryan, a Wisconsin Republican who had to be persuaded to take the job, some members of the House Freedom Caucus offered a less-than glowing assessment Wednesday.
"Some things are good. Some things are not great," Representative Raul Labrador of Idaho said Wednesday. He described the legislative processes and direction of the House under Ryan as "better than before. But just slightly." But like a number of other Republicans at a "Conversations with Conservatives" event, Labrador told reporters that "it's too early to tell" whether the new speaker will be able to satisfy his party's right wing. A number said they are willing to cut the new speaker, in office since Oct. 29, some slack.
"You can't hold Paul Ryan accountable for everything that's in the works" right now, said Representative Thomas Massie of Kentucky. Representative Paul Gosar of Arizona praised Ryan for opening up membership of a the party panel that divvies up plum House committee assignments. It "goes an awful long way" in gaining members' faith, Gosar said.
Still, the willingness of some lawmakers to give voice to discontent suggests that the ouster of Boehner hasn't satisfied the insurgent conservatives who are upending the Republican Party establishment from the corridors of the Capitol to the presidential campaign trail. 
Representative Dave Brat of Virginia, who famously defeated former House Majority Leader Eric Cantor in a Republican primary last year, said he'll be looking to see if Ryan follows through next year on a promise to look for savings in popular entitlement programs such as Medicare and Social Security.
Labrador said he was "a little disappointed" in the handling of two House-Senate conference committees this month on a multi-year highway bill and an education measure. The House plans final votes on both plans by the end of this week.
"It still looks like the conference reports are pre-baked. If we want to have to have more openness, you need to allow the conferees to actually bring ideas. Not have something that is pre-baked between the House and the Senate," said Labrador.
In any case, "it's not just about Paul Ryan," Labrador said. "You have a lot of Republicans in Washington who simply don't want to change the way Washington works. And it's up to them to decide that it is time for them to stop business as usual."
Meanwhile, Republican Representative Louie Gohmert gave an initial verdict on Ryan while attending a Nov. 29 presidential campaign event in Van Horne, Iowa, with Republican contender Senator Ted Cruz, a fellow Texan. One man attending the event asked Gohmert about Ryan.
"He's a supporter of amnesty, but he's an honest guy," Gohmert said. The Texas congressman was echoing many Republicans' misgivings about Ryan's past support for immigration legislation that would include a pathway to legal status for people living in the U.S. illegally. But Gohmert assured his questioner that Ryan is "an honest speaker."
In an e-mailed statement to Bloomberg, Ryan spokeswoman AshLee Strong indicated that the speaker has no plans to switch up his current approach. "Speaker Ryan believes our conference is strongest when it's united, and he is committed to creating an inclusive speakership," Strong said. "He's encouraged to hear members across the conference express confidence in this approach."
(Contributing: Sahil Kapur)