MH370 Hunters Narrow Down Most Likely Site of Wreckage
by
Search is now focused on the southern end of a refined zone

New analysis indicates aircraft's engines flamed out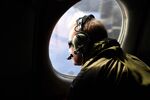 Australian authorities hunting for Malaysia Airlines Flight 370 said they've narrowed down the search area for the missing plane as they seek to solve one of the biggest mysteries in modern aviation history.
New analysis of the aircraft's flight path and satellite communications has generated a "hotspot" where the wreckage is most likely to lie, Australian Deputy Prime Minister Warren Truss said Thursday in Canberra. Investigators are now focusing on the southern end of a refined 100,000-square-kilometer (39,000-square-mile) search area, Truss said.
Almost two years into the hunt, the new analysis gives the team its best hope of finding the plane, and once the refined area has been searched there's little point looking anywhere else, Truss said. Investigators say they've turned to research by 18th-century English statistician Thomas Bayes to help map out the probable fate of the aircraft, which disappeared in March 2014 with 239 people on board.

"If you get to the end of what all the search modeling has suggested and you still haven't found it, then that's probably the end game," Geoffrey Dell, a professor at Central Queensland University who focuses on air accident investigations, said by phone Thursday. "That would be really sad for all the people, families who have been looking for some closure."
French Precedent
There's a precedent for using Bayes' research in air-crash investigations: His pioneering work on probability helped locate Air France Flight 447 almost two years after it plunged into the Atlantic Ocean in 2009. 
"I am very confident in the Bayesian analysis," said Martin Dolan, chief commissioner of the Australian Transport Safety Bureau. Data on the aircraft's flight recorders are still likely to be in good condition despite the amount of time since the incident, he said, citing investigators' experience from AF447.
Flamed Out
Based on the final satellite link, MH370's engines probably flamed out, the bureau said in a report published Thursday. That's not consistent with a controlled ditching in the ocean, it said. A diagram in the report shows a boxed-in search area with a red zone near the southern tip indicating the most probable location of the wreckage.
About 44,000 square kilometers of ocean still needs to be scoured and the search is expected to be completed by next June, the bureau said. The total cost is estimated at A$180 million ($132 million), including A$20 million from the Chinese government, according to Truss.

Malaysia Airlines said in a statement it welcomes "any reports that will give clarity on the tragic incident."
At the heart of Bayesian analysis is the quantification of a set of uncertainties. These calculations are continually updated as new information comes in, so even unsuccessful patrols in the hunt for the missing plane can be helpful. The U.S. Coast Guard's search and rescue teams rely on similar methodology. The theory has even been used to measure the probability of God's existence. 
"Bayes theory can give you a hotspot based on geography," said Azizur Rahman, a lecturer in mathematics and statistics at Charles Sturt University in New South Wales who has studied Bayes for about 15 years. "With some prior knowledge, using current data you can produce a new probability. The good thing is that it's always updating."
Grieving Families
Thursday's announcement did little to mollify the bereaved families.
"I'm not optimistic. We've always demanded that all bases of calculation for the search be disclosed publicly for family members' right to information," Jiang Hui, a Beijing resident whose mother was on the flight, said by text message. "Now China is also spending money and we hope it can 'buy' some information for family members."

Flight 370 was en route to Beijing from Kuala Lumpur when it disappeared. Investigators have concluded that someone on board intentionally disabled the aircraft's tracking devices.
The only solid evidence so far from the missing Boeing Co. 777 is a wing component that washed up in July on Reunion Island -- 3,800 kilometers from the search zone.
The search has been littered with dead ends and false hopes. The initial search area stretched east over the South China Sea and west toward India's coastline. A multinational task force of military aircraft and naval vessels from China, Australia and the U.S. scanned millions of kilometers of empty ocean.
Investigators later concluded that the jet turned back over the Indian Ocean and probably plunged into the sea off Australia's western coast.
"Regardless of whether you expand or narrow the search area, it's useless," Wen Wancheng, 63, a resident of China's Shandong province whose son was on board MH370, said by telephone. "Whether it's guesswork or statistical data, investigators don't have any evidence" of the fate of the flight.
Before it's here, it's on the Bloomberg Terminal.
LEARN MORE