Motive Unclear After 14 Shot Dead in California
by and
Police say they can't yet rule out terrorism as motive

Two suspects, one man and one woman, killed by police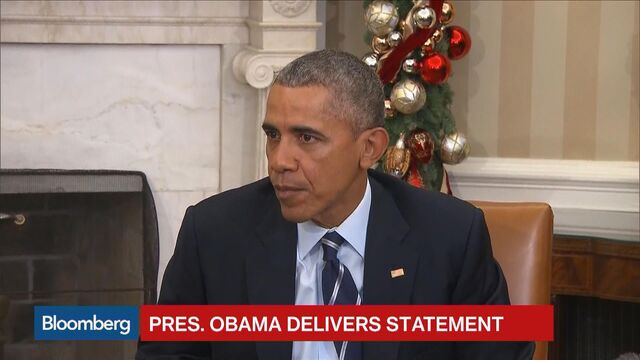 Police said they can't yet rule out terrorism in a mass shooting that left 14 people dead and 17 wounded at a social services center Wednesday in San Bernardino, California.
Police Chief Jarrod Burguan in a late-night press conference identified the suspects as Syed Rizwan Farook, a 28-year-old U.S.-born county employee, and Tashteen Malik, 27, believed to be his wife or girlfriend. Both fled the scene in a dark SUV and were later killed by police in a daytime gun battle with as many as 21 officers in a residential neighborhood nearby.
The rampage, the deadliest since a 2013 massacre at Sandy Hook Elementary School in Connecticut claimed 26 lives, unfolded about 11 a.m. local time in the Inland Regional Center, which serves people with developmental disabilities. Government buildings, schools and nearby businesses were locked down for hours as police searched for the suspects.
Farook, who had been employed by San Bernardino County for five years, most recently as a environmental specialist, worked with some of the victims who were attending a meeting, possibly a holiday party, in the auditorium where the shooting occurred. The room is often rented out for events. The pair opened fire using rapid-fire rifles and were dressed in "assault-style clothing," possibly after Farook left the meeting early in an angry state, Burguan said.
"Based on what we have seen, based on how they were equipped, there had to have been some sort of planning," he said. "I don't think they ran home, put on this kind of tactical clothes and came back on the spur of the moment."
Motive Unknown

Farhan Khan, Farook's brother in law, spoke earlier at a press conference hosted by the Greater Los Angeles Area office of the Council on American-Islamic Relations and the Islamic Shura Council of Southern California. "Why would he do something like this?" he said. "I have absolutely no idea. I am shocked myself."
The FBI and Bureau of Alcohol, Tobacco, Firearms and Explosives were assisting in the investigation into the incident in the city, which is about 60 miles (97 kilometers) east of Los Angeles. Burguan said police were "reasonably confident" that there were just two shooters -- not three as reported earlier -- but that there was a third person in custody who may be related to the incident.
"We don't have a motive at this point," Burguan said. "We have not ruled out terrorism."
Officers secured the center after detonating what they believed to be three explosive devices inside, Burguan said. Officials said they didn't know if Farook had a criminal record or whether he was the subject of any workplace disciplinary action.
'Pray for Us'
Terry Petit's daughter works at the center, and she texted him that she was hiding in the building after hearing gunshots, the Associated Press reported. Petit choked back tears as he read the texts for reporters outside the center: "People shot. In the office waiting for cops. Pray for us."

Marcos Aguilera's wife was in the building when the gunfire erupted, the wire service reported. He said a shooter entered the building next to his wife's office and opened fire.
"They locked themselves in her office. They saw bodies on the floor," Aguilera told KABC-TV, adding that his wife escaped unharmed.
The Inland Regional Center employs 670 people who provide services to more than 30,000 people, according to its Facebook page. Just Tuesday, the center posted on Twitter a video of their holiday party, which shows workers dancing with the disabled, many of them in wheelchairs, to Kool & The Gang's "Celebration."
The shooting in San Bernardino was the second mass attack in less than a week and came as authorities continue to probe the motivations of Robert Dear, the 57-year-old who is in custody after the Nov. 27 shooting of three and wounding of nine in a clinic run by the Planned Parenthood women's health group in Colorado Springs, Colorado.
"We should never think that this is something that just happens in the ordinary course of events, because it doesn't happen with the same frequency in other countries," President Barack Obama told CBS on Wednesday.
Obama has spoken at least 15 times following mass shootings in the U.S.
"We should come together in a bipartisan basis at every level of government to make these rare as opposed to normal," he told CBS.
San Bernardino, a city of about 215,000 people, is a former factory town set at the foot of the San Bernardino Mountains that's fallen on hard times. It serves as a warehousing and logistics center for goods shipped to the ports of Los Angeles and Long Beach.
It has long been one of the most dangerous communities of its size. Things have gotten only worse after the city in August 2012 declared bankruptcy. By February, the police force had shrunk to 230 officers from more than 350. Homicides surged to 46 in 2013 from 32 in 2009.
Before it's here, it's on the Bloomberg Terminal.
LEARN MORE