Yuan IMF Win Awakens Sleepy Panda Bond Market as Pipeline Builds
Bloomberg News
Issuance in 2015 set to exceed that of previous 10 years

Overseas issuers will help improve market, CSOP Asset says
After 10 sales in 11 years, China's panda bond market is awakening with a pipeline of nine offerings and demand revived by the yuan entering the International Monetary Fund's reserves basket.
Canada's British Columbia is registered to sell 6 billion yuan ($938 million) of debt in the onshore market, South Korea plans to meet investors this week to become the first sovereign issuer and Indonesia and Russia may follow in 2016. Among the corporate issuers lined up are Standard Chartered Bank Hong Kong Ltd., Export-Import Bank of Korea and Russia's Vnesheconombank.
Managers of the world's $11.3 trillion of reserves will be seeking wider investment options after the IMF nod and issuers are keen to tap into a market made cheaper by six interest-rate cuts in 12 months. Issuance of the so-called Panda bonds will reach at least 6.5 billion yuan this year, according to plans announced so far. While that would be more than the 6 billion yuan of sales of the past 10 years, it's still only a fraction of the 271 billion yuan offshore Dim Sum debt market.
"The panda bond market has tremendous potential," said Herman van den Wall Bake, head of fixed income capital markets, Asia ex-Japan, at Deutsche Bank AG in Singapore. "If onshore financing is made available to offshore borrowers, it will give them access to a very deep pool of liquidity that up until now they didn't have access to."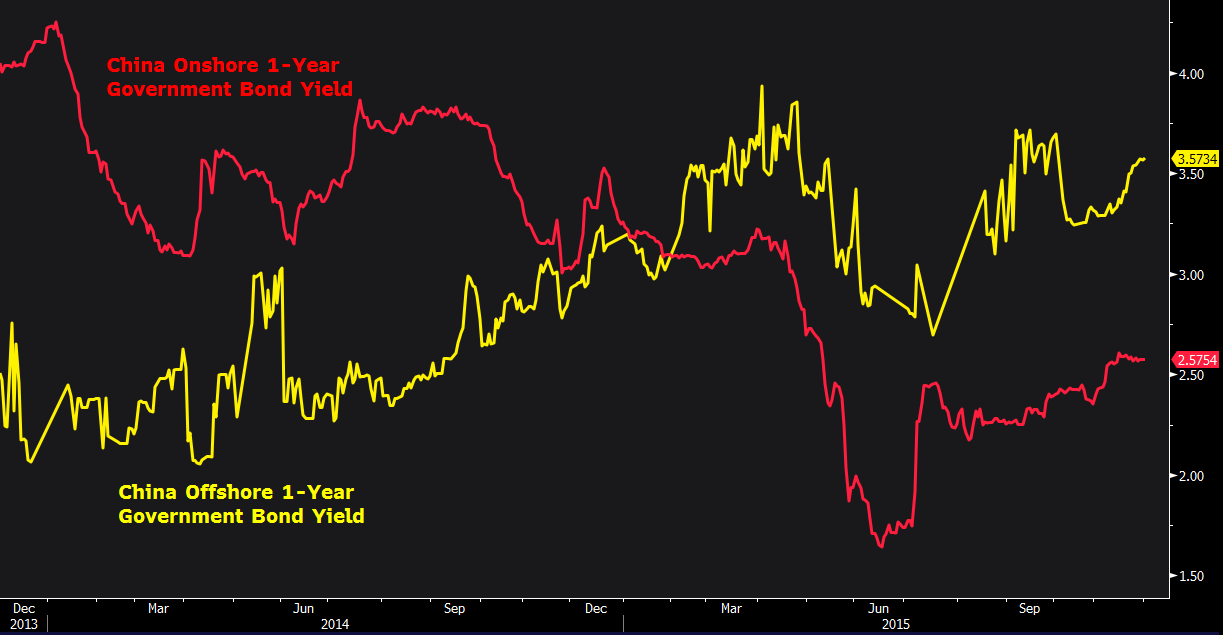 The People's Bank of China boosted efforts to open up its markets this year as it tried to persuade the IMF to grant the yuan reserve status. These included allowing foreign central banks, sovereign wealth funds and supranational organizations to invest in the interbank market without seeking pre-approval. The authorities will now expedite reforms and allow more panda bond sales, Ivan Chung, head of Greater China credit research and analysis at Moody's Investors Service, wrote in a report on Tuesday.
The IMF's executive board on Monday decided the yuan meets the standard of being "freely usable" and will join the dollar, euro, pound and yen in the Special Drawing Rights. The addition will take effect on Oct. 1, 2016, with the yuan having a 10.92 percent weighting. The yuan, which was little changed in Shanghai at 6.3988 a dollar on Wednesday, has fallen 3 percent this year, the least among emerging Asian currencies.
The outstanding amount of panda bonds may rise to $25 billion in three years, according to Commerzbank AG. The market could exceed $50 billion in the next five years as China welcomes issuers who can become regular participants in the onshore market, Hua Jingdong, vice president and treasurer at the World Bank's International Finance Corp., said in an Oct. 9 interview.
Growth Room
"The panda market will continue to grow next year," said Avinash Thakur, Hong Kong-based managing director of debt capital markets at Barclays Plc. "Compared to the size of the Chinese economy, the market still has room to grow further."
The lure of the mainland market increased this year as borrowing costs slipped below that of debt issued offshore. The yield on one-year Chinese sovereign debt was 2.58 percent in Shanghai on Monday, 98 basis points lower than the 3.56 percent on Dim Sum debt in Hong Kong. This compares with a premium of nine basis points a year earlier.
Huw McKay, head of Asian economics research at Westpac Banking Corp. in Sydney, said that while panda bonds may become more popular, supranationals have fewer projects to raise money for in China than in the past. The cost to swap proceeds back home from China is also relatively expensive, he said.
Easing Policy
"As China's central bank is expected to continue with an easing stance, and onshore borrowing costs are likely to remain below those offshore in the near term, the panda bond market will expand further next year," said Steve Wang, Hong Kong-based head of fixed-income research at BOCI Securities Ltd.
The onshore bond market had 43.8 trillion yuan of outstanding notes at the end of September, of which overseas investors held only 1.7 percent. Global central banks may reallocate 1 percent of their reserve investments into yuan assets annually, and inflows from them will reach $85 billion-$125 billion in 2016, Standard Chartered Plc strategists led by Robert Minikin wrote in a Nov. 30 note.
"Introducing overseas issuers into the market will help pricing, improve the investment rationale and attract foreign investors to onshore yuan bonds," said Melody He, head of capital markets at CSOP Asset Management Ltd., which holds the biggest quota for investing offshore yuan back into the mainland. "Having overseas issuers in China's onshore market will help create a more balanced ecological system, as the market is dominated by local names."
— With assistance by Helen Sun
Before it's here, it's on the Bloomberg Terminal.
LEARN MORE