Oil States Need Price Jump to Balance Budget: OPEC Reality Check
By
Only Qatar can break even with oil at estimated $57.50 in 2016

Libya needs crude to reach $269 as conflict fuels instability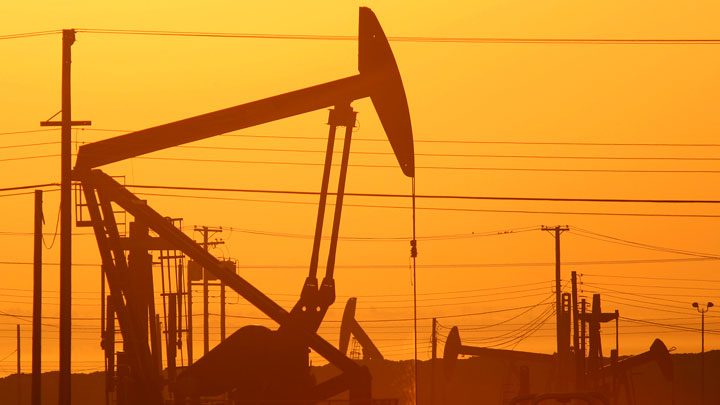 If the Organization of Petroleum Exporting Countries keeps its policy of favoring market share over prices when it meets Dec. 4, most members will probably find themselves unable to balance their budgets.
Oil futures have tumbled more than 25 percent since OPEC's last meeting in June, yet the group will keep pumping to batter rival producers, according to 30 analysts and traders surveyed by Bloomberg. With Brent crude forecast to average about $57.50 a barrel next year, only Qatar would be able to keep its finances in check.
Following are the latest comments from OPEC members and analysts. The respective shares of supply are based on October levels. The estimates for the price that each member needs to balance its budget are from the International Monetary Fund unless stated otherwise.
ALGERIA
Price needed: $96
Share of OPEC production: 3.4 percent
ANGOLA
Price needed: $90 (ING Bank data)
Share of OPEC production: 5.6 percent
Angola's oil exports are heavily dependent on China. The African nation became China's second-biggest crude supplier in October, according to customs data. Any slowdown in the Chinese economy could make the outlook for Angola's exports more uncertain.


ECUADOR
Price needed: $120 (ING)
Share of OPEC production: 1.7 percent
President Rafael Correa has suggested that cutting OPEC's annual output by 1.6 percent would be enough to boost prices "significantly." Ecuador became the first OPEC member to admit it was pumping at a loss in August. The country will send new Oil Minister Carlos Pareja, who previously worked at state-owned EP Petroecuador, to the Vienna meeting.


IRAN
Price needed: $87
Share of OPEC production: 8.4 percent
Iran, OPEC's second-biggest producer before sanctions were tightened in 2012, plans to raise output by 1 million barrels a day within six months of the curbs being lifted. The country, which now ranks as the fifth-largest producer, has said OPEC should make room for that increase within its ceiling of 30 million barrels a day.


IRAQ
Price needed: $81
Share of OPEC production: 13 percent
Iraq pumped a record 4.4 million barrels a day in June and its daily production has surpassed 4 million barrels for the past five months. Together with the U.S., it's responsible for most of the global surplus this year. That's unlikely to persist in 2016, according to industry forecasters: Iraq is struggling with prices below $50 and is embroiled in a "costly battle" with Islamic State militants, the International Energy Agency said this month. Even its oil minister expects production growth to slow next year.


KUWAIT
Price needed: $67
Share of OPEC production: 8.7 percent
Kuwait is in the strongest position to weather a prolonged period of low oil prices thanks to its current-account surplus, according to Capital Economics Ltd. The country, along with other Persian Gulf members of OPEC, opposed Venezuela's proposal for an oil-price summit with non-OPEC producers, the Wall Street Journal reported.

LIBYA
Price needed: $269
Share of OPEC production: 1.3 percent
OPEC's smallest producer, Libya has been unable to restore output to the 1.6 million barrel-a-day level it reached before the Arab Spring in 2011. Production has swung between 250,000 and 850,000 barrels a day in the past year amid an escalating conflict between the divided country's rival governments. Libya is one of OPEC's "Fragile Five" nations that face greater risk of significant instability and output disruptions in the current oil market, according to RBC Capital Markets Ltd.


NIGERIA
Price needed: $120 (ING)
Share of OPEC production: 6.3 percent
Nigeria's Minister of State for Petroleum Resources Emmanuel Ibe Kachikwu has said oil at $40 isn't acceptable and OPEC needs to do more to enforce production quotas. The country would consider $60 a barrel more "tolerable," he said Nov. 21.


QATAR
Price needed: $55.50
Share of OPEC production: 2 percent
Among OPEC, Qatar boasts the lowest fiscal break-even oil price to balance its budget. That's still about $10 above current prices. Energy Minister Mohammed Al Sada has said there are signs of a market recovery next year as non-OPEC supply growth is set to slow.


SAUDI ARABIA
Price needed: $106
Share of OPEC production: 32 percent
Saudi Arabia has boosted output in eight of the past 10 months as OPEC's biggest producer keeps its strategy of defending market share. The nation pumped a record 10.6 million barrels a day in July. Yet it's not immune to the slump in prices. Despite having a war chest of $647 billion of foreign-exchange reserves, its credit rating was cut by Standard & Poor's last month on concern the country's reliance on energy exports for 80 percent of revenue will drive up the budget deficit.


UNITED ARAB EMIRATES
Price needed: $73
Share of OPEC production: 9.2 percent
The U.A.E.'s oil minister, Suhail Al Mazrouei, said Nov. 18 that OPEC shouldn't be considered a swing producer but rather a steady, low-cost supplier. Mazrouei also said this month he expects a "gradual correction" in prices next year.


VENEZUELA
Price needed: $125 (ING)
Share of OPEC production: 7.8 percent
Venezuelan Oil Minister Eulogio del Pino has urged OPEC to adopt an "equilibrium price" of $88 a barrel that covers the cost of new investment in production capacity, or risk prices dropping to the mid-$20s. Venezuela depends on crude for 95 percent of its export revenue, which is why its bond traders keep a close eye on oil prices.