Currency Calm Frays as Fed Threatens Another Storm of Volatility
by
Traders fret over central bank meetings as liquidity fades

Disquiet shows up in volatility spreads, basis swaps data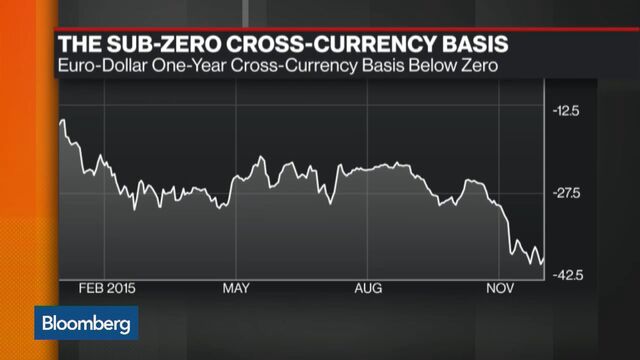 As the Federal Reserve prepares to raise interest rates that have been near zero for almost seven years, a sense that the currency market is becoming trickier to navigate is spreading.
Traders are more wary of a jump in price swings than at any point in the past two years, measures of foreign-exchange volatility show. And demand for the dollar is so strong that the cost of converting euro, sterling and yen payments into the world's reserve currency via funding markets is close to the highest since at least 2012.

With the Fed's next meeting sandwiched between a European Central Bank policy decision on Dec. 3 and a year-end reduction in market liquidity, investors face the risk of another bout of turmoil to add to this year's disruptions. Australian central bank official Guy Debelle is among those warning of higher volatility if the Fed experiments with new policy tools at a time of year when dealers' balance sheets are constrained.
"Volatility will be rising going forward," said Mark Farrington, the London-based managing partner at Macro Currency Group, which oversees more than $7.7 billion. "Currencies will contribute to greater volatility as they will witness sharp moves following the Fed liftoff and beginning of official rate divergence" between major economies, he wrote in an e-mailed response to questions.
Widest Spread
One-month implied volatility across Group-of-10 currencies is on average 2.84 percentage points higher than actual price swings seen over the past month. It reached 2.86 on Monday, the widest gap since June 2012, options data compiled by Bloomberg show.
The measure for expected price swings is higher than the historic rate for all the G-10 currencies, ranging from a 6.5 percentage point gap on the Swiss franc to 0.6 for the pound. Over the course of 2013 and 2014, the difference across major developed currencies averaged minus 0.05 percentage point.
The relative increase in implied volatility is a sign traders are still bearing the scars from exaggerated price swings earlier in the year. The Swiss National Bank got 2015 off to a turbulent start when its January decision to end a cap on the franc's strength triggered the currency's biggest gain on record.
China's surprise yuan devaluation in August roiled global markets and later the same month offers to buy the New Zealand dollar evaporated, generating the kiwi's biggest intraday drop in 30 years.
Excess Reserves
Now, investors are anxious over both the market reaction to what the Fed announces on Dec. 16, and also over the mechanisms policy makers would use to implement any interest-rate increases.
"Learning by doing generally entails a bit of volatility," RBA Assistant Governor Debelle said Nov. 18. If you overlay year-end balance sheet constraints "on top of an environment where the Fed is trying out some new tools then Dec. 31 in particular could be interesting."
The banking system is awash with excess reserves and the central bank's balance sheet is five times larger than it was when policy was tightened in 2006. To ensure they can control the Fed funds rate, policy makers are introducing new tools, including the overnight reverse repurchase agreement facility.
"The decision itself will end up being less important than the mechanics of how they actually guide and control the short end of the market," said Sean Keane, an Auckland-based analyst at Triple T Consulting and the former head of Asia-Pacific rates trading at Credit Suisse Group AG. "It's quite possible that it will prove to be harder than they think."
Dollar Gains
Demand for greenbacks has already driven the Bloomberg Dollar Spot Index up by more than 9 percent this year to a level of 1,235.52 as of 6:45 a.m. New York time, and is spreading to money markets.
The one-year cross-currency basis swap rate between euros and dollars reached minus 40 basis points in November, the largest effective premium for dollar borrowing since August 2012, according to data compiled by Bloomberg. The comparable rate for a yen to dollar switch dropped to a four-year low of minus 73 basis points on Nov. 9.
As if the Fed move wasn't enough for markets to contend with, there's also this week's ECB decision -- which all economists surveyed by Bloomberg say will result in some kind of additional stimulus. Anticipation of the event has sent the euro to its weakest level since April.
'Absolute Mother'
Large speculators' bets on the euro falling versus the dollar climbed by a net 112,918 contracts in the five weeks through Nov. 24, figures from the Commodity Futures Trading Commission show, the biggest bearish shift in sentiment in data going back to 2006.
"There is this real risk that we are going to see the absolute mother of all buy-the-rumor-sell-the-fact playing out," said Chris Weston, chief market strategist in Melbourne at IG Ltd., with reference to the ECB meeting. "There's so much speculative money parked into these trades."
It's gotten traders jumpy, regardless of whether they're monitoring the euro or smaller peers such as the kiwi or the Australian dollar.

"As we go into lift-off in December, we believe that we're going to get these vol spikes," said Susan Buckley, the Brisbane-based managing direction for global fixed interest at QIC Ltd., which oversees the equivalent of more than $50 billion.
"The debate will go from the timing to the extent of tightening -- what does the cycle look like and how does that play out in emerging markets, how does that play out in credit, equity markets and, particularly with currencies, we do think that volatility is on the rise."
Before it's here, it's on the Bloomberg Terminal.
LEARN MORE