A New Delivery Service Gives Beer Geeks Their Monthly Fix
By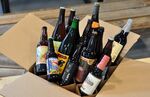 Old-school beer-of-the-month clubs bring a selection of craft brews to your door, but they typically don't let you handpick your orders and may not offer enough variety to satisfy adventurous aficionados. With the $20 billion U.S. craft beer market growing at 22 percent a year, compared with flat sales for the beer business overall, Seattle startup Tavour is targeting the kind of drinker who lines up every Black Friday at Goose Island's brewery for a taste of its Bourbon County stout.
Once customers sign up for Tavour's e-mail service, they get a daily (sometimes twice-daily) offer for a particular highly rated craft beer in limited quantities of 3 to 12 cans or bottles. Options include a wide range of domestic brews—Saison Premiere from De Garde Brewing in Oregon, the Bomb! from Prairie Artisan Ales in Oklahoma—and a decent number of imports, such as Belgium's Brouwerij Van Steenberge Gulden Draak Brewmasters Edition. More unusual offerings include peanut butter porters and single-hop sours.

"People have very distinctive tastes, and the Internet is allowing them to explore those tastes," says Tavour Chief Executive Officer Sethu Kalavakur. "The grocery stores and existing setup just can't cater to that."
Customers reply to the daily e-mails if they want the beers on offer, and Tavour stockpiles the orders for a monthly delivery. Recent prices range from $2.50 to $20 a beer. Regardless of how many it's sending you, the company charges $15 shipping to any of the seven states it covers so far: Arizona, California, Colorado, New Mexico, Ohio, Oregon, and Washington.
Kalavakur met co-founders Philip Vaughn and Rafik Robeal about a decade ago while working at Microsoft, and the three started Tavour in 2013. (Robeal has since left.) Sixteen-employee Tavour raised $700,000 from angel investors to start and is trying to raise an additional $400,000 to add staff and expand in its markets. Kalavakur says it's profitable, but he wouldn't disclose revenue.
Before formally incorporating Tavour, the co-founders did research for six months. "We tried a lot of beer," Kalavakur says. Mostly, though, they talked to consumers, he says, trying to figure out how to appeal to craft brew newbies as well as people picky enough to frequent beer-trading forums at websites such as Reddit and Beer Advocate.
To brewers, Tavour pitches itself as a new distribution channel that can keep beer from sitting on shelves far from the geeks who'd appreciate it. "The industry isn't set up in a way where a craft brewer who wants to experiment is ever going to get the distribution that's right for them," Kalavakur says. The difficulties of beer distribution can push craft breweries to sell out to bigger companies, says Tim Ramey, an analyst at Pivotal Research Group.
With consumers, Tavour banks heavily on street cred. "As craft beer fans, we want to support small, local operations that remain true to their roots," reads a typical Tavour e-mail pitch, this one for Epic Brewing's Fermentation Without Representation imperial pumpkin porter. The e-mail suggests Epic's pumpkin beer as an alternative to Elysian Brewing, bought by Anheuser-Busch InBev earlier this year. "When they took the Anheuser-Busch route, we were left in the lurch," co-founder Vaughn wrote of Elysian.
"For a certain number of hard-core beer geeks, it's definitely seen as us vs. them," says Kendall Jones, a Washington beer blogger. Craft brewers such as Elysian or Ballast Point, bought by Corona distributor Constellation Brands on Nov. 16, "have sided with them, so they are no longer us," Jones says. Kalavakur says that after AB InBev announced a deal to acquire 10 Barrel Brewing in Oregon last year, a flurry of angry e-mails persuaded him to stop hawking 10 Barrel and other InBev holdings. That means no Bourbon County stout, either: InBev bought Goose Island in 2011.
Not that Tavour was guaranteed any of the stout. Online startups rank low on brewers' lists of deliveries for "the uber-rare beers that everybody gets all jazzed about," says Jones. Kalavakur promises some "hot beers" are on the way but says he's more interested in turning customers on to underappreciated gems than scoring a rare case of Pliny the Younger triple India pale ale. Says Kalavakur: "We want to bring people the next Pliny."
The bottom line: Two-year-old Tavour is turning a profit on its craft beer shipments, pitching daily to devotees and collectors.
Before it's here, it's on the Bloomberg Terminal.
LEARN MORE