It's Open Season on China's Securities Firms as Probes Intensify
Bloomberg News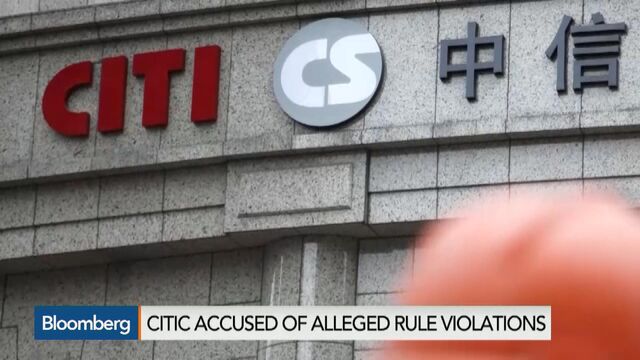 China's biggest clampdown on malpractices in its securities industry kicked into higher gear this week with news that three of the nation's largest brokerages are being investigated for alleged rule violations.
Citic Securities Co. and Guosen Securities Co. late Thursday announced probes by the securities regulator and Haitong Securities Co. confirmed Friday it was under investigation. Brokerage shares slumped and the Shanghai Composite Index fell 5.5 percent, the most since the depths of a summer stock rout.
The crackdown since the sell-off has ensnared executives and regulators, with restrictions imposed on short selling and the regulator on Friday confirming a ban on brokerages offering derivatives financing for stock trading. Adding to signs of upheaval, a Hong Kong-listed unit of a Chinese brokerage said this week that it had lost contact with its chief executive officer.
An initial hunt for culprits for China's market slump appears to have evolved into a broader clean-up, said Paul Gillis, a professor at the Guanghua School of Management at Peking University. "It's an important step in reforming capital markets to make sure that powerful insiders don't have their fingers on the scale," Gillis said from Beijing on Friday. "The markets need to be fair in order to operate efficiently."
Biggest Decline
The Bloomberg Intelligence China H-Share Institutional Brokerage index, which tracks seven Chinese brokerages listed in Hong Kong, slumped 4.9 percent on Friday after the latest announcements of probes, the biggest decline in three months.
"People are concerned about whether more brokerages will be investigated," said Wong Chi Man, an analyst at China Galaxy Securities Co. in Hong Kong. "There's room for improvement in terms of the regulator's communication and the level of transparency," said Wong, adding that it wasn't clear what Citic Securities, Guosen and Haitong were supposed to have done wrong.
An interview earlier this year with a Communist Party anti-graft official about President Xi Jinping's broader campaign against corruption may give clues as to what the government is trying to achieve within the securities industry.
The first goal is to instill fear, according to Fu Kui, then the director of international cooperation for the Central Commission for Discipline Inspection. The next goals are to improve the legal framework and to drive a shift in culture, Fu said in May. He's now the head of the party's disciplinary office in Hunan province.
Citic Executives
It was August when the first of a string of senior Citic Securities executives were detained and accused of insider trading. In September, Cheng Boming, the firm's president, was held for alleged insider trading and leaking information, the state-run Xinhua News Agency said. At least seven senior staff members have been ensnared in probes, according to Xinhua reports.
In another setback for China's biggest brokerage, the firm was this week revealed to have wrongly reported 1 trillion yuan ($157 billion) of swaps, an error that it blamed on a "system upgrade."
None of the executives and regulators under investigation for a range of alleged offences have commented on their cases. No court proceedings or convictions have been reported.
Missing CEO
Brokerage Guotai Junan International Holdings Ltd., a unit of Guotai Junan Securities Co., plunged 12 percent on Monday after the firm said that it hasn't been in contact with Chairman and Chief Executive Officer Yim Fung since Nov. 18. No allegations have been made against Yim. On Friday, a spokeswoman for Guotai Junan International declined to comment further.
The Shanghai Composite Index more than doubled in a year to its June peak in a boom partly triggered by a surge in leveraged bets on stocks.
Targets of investigations have ranged from a journalist whose report was alleged to have caused market panic -- his confession was televised -- to Yao Gang, one of four vice chairmen at the securities regulator. Yao is under investigation for "alleged serious disciplinary violations," the Communist Party's discipline committee said in a Nov. 13 statement, employing language that often refers to corruption probes.
While the authorities aim to root out malpractice, a desire to find "scapegoats to blame" for the market crash is also playing a role, Barry Naughton, a professor of Chinese economy at the University of California in San Diego, said this month.
Seizing Phones
The securities regulator carried out unannounced inspections of several Chinese investment firms including Harvest Fund Management earlier this month, taking away hard drives and mobile phones, according to people familiar with the seizures.
Police in Shanghai also confiscated computers and froze $1 billion of shares in listed companies connected to Xu Xiang, the manager of Zexi Investment known as "hedge fund brother No. 1," who was arrested Nov. 1 on a highway between Shanghai and Ningbo. Efforts to contact Xu have been unsuccessful.
"The government never really cracked down on the brokers before," said Hu Xingdou, an economics professor at the Beijing Institute of Technology. "This is still only the beginning."