Foxtons Founder to Build Mega-Basement After Court Case Win
by
Home on `Billionaire's Row is next door to the French Embassy

Hunt's subterranean plans include a pool, vintage car museum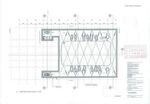 Foxtons Group Plc founder Jonathan Hunt can go ahead with plans to build one of London's largest residential basements -- complete with a swimming pool and car museum -- after the French government lost a bid to block the massive project next to its embassy.

The ruling by a London court today paves the way for Hunt to complete construction at his home on Kensington Palace Gardens, a street known as "Billionaires Row." The French government had sued the Royal Borough of Kensington and Chelsea, before the terrorist attacks in Paris, claiming the proposals compromised the security of the embassy.
The ruling comes amid a crack-down on large basement projects, also known as "iceberg homes," favored by London's wealthy. The council won backing from the U.K. government to limit the size of the extensions last year after a boom in construction projects sparked complaints.
Excavation has already begun at the Hunt site, which will include a swimming pool and a vintage car museum. The building has been empty since the Russian embassy relocated 15 years ago.
Yesterday, a three-story Georgian townhouse in west London collapsed during the excavation of a basement, the London Fire Brigade said. The house had formerly been owned by the pop singer Duffy, according to the BBC.
Before it's here, it's on the Bloomberg Terminal.
LEARN MORE