Russia's Range of Options in Response to Jet Attack Is Wide
by , , and
Russia's Lavrov urges Russians to consider vacations elsewhere

Turkey imports more than half of its natural gas from Russia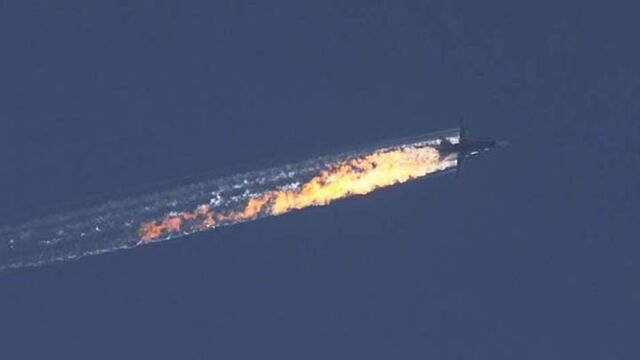 As President Vladimir Putin weighs Russia's response to the downing of its warplane, here are some of the key levers he can pull and the ties that might bind his hands.
Tourism
Foreign Minister Sergei Lavrov's warning that Russians shouldn't go to Turkey is more than just a travel safety notice. Turkey received about 3.3 million Russian visitors in the first nine months of this year and nearly 4.5 million in 2014, according to Turkish government data.
Right now, about 10,000 Russians are on vacation in Turkey. The destination will likely soon be "closed," Irina Turina, press spokeswoman for the Russian Tourist Union, said by phone. Russia's Federal Tourism Agency has urged tour companies to halt sales of vacations to Turkey.
Turkish Airlines became the biggest foreign carrier serving Russia in September and expects to carry more than 1 million passengers on Russian routes this year, according to a Bloomberg Intelligence analysis. The company has increased flights to Russia by more than 16 percent in 2015.
Energy
Turkey depends on Russia for more than half of its natural gas imports, some 27 billion cubic meters in 2014 according to Gazprom, with most delivered through a Black Sea pipeline, known as Blue Stream, and the rest through Ukraine and the Balkans.
While Russian Deputy Energy Minister Anatoly Yanovsky said by phone that contracted supplies will continue, he declined to comment on prospects for stalled talks over Turkish Stream, a proposed Black Sea pipeline project that would see Turkey becoming an export route for Russian gas to the European Union.
Russia is also building Turkey's first nuclear power plant, with a planned capacity of 4,800 MW, in Mersin province on the Mediterranean coast.
Military
Putin didn't threaten a military response against Turkey, though he could strike at Turkish interests indirectly. Russia has ties to Kurdish groups in Syria and Iraq and could funnel arms to them. It could also tilt the balance against Turkey's ally Azerbaijan and in favor of Armenia in the dispute over the Nagorno-Karabakh region. Tensions may flare too along Turkey's closed border with Armenia, where Russian troops keep guard on the Armenian side.
Russia stepped up bombing raids Wednesday in the area where the jet crashed, according to the U.K.-based Syrian Observatory for Human Rights, despite appeals from Turkish Prime Minister Ahmet Davutoglu to stop bombing rebel "Syrian Turkmen brothers" there. Russia's presence in Syria is also being reinforced with an S-400 air-defense system.
Still, a direct confrontation with Turkey would be "absurd and unacceptable," Frants Klintsevich, deputy head of the defense committee in the upper house of Russia's parliament, said. That would risk NATO entering the fray in support of Turkey, a member state, and neither side wants an "eyeball-to-eyeball confrontation," Tony Brenton, former U.K. ambassador to Russia, said.
Investments
Russia was Turkey's second-largest trade partner after Germany last year and the biggest source of Turkish imports at about $25 billion, according to IMF data compiled by Bloomberg.
Russian direct investment into Turkey is $755 million so far this year, according to Charlie Robertson, Global Chief Economist at Renaissance Capital. Turkish investment into Russia is "minimal" at $55 million in the first nine months of 2015.
Both countries "have a lot to lose by further escalation," particularly on trade, Tim Ash, head of credit strategy for Europe, the Middle East and Africa at Nomura International Plc, said by e-mail. "But emotions are running high and someone will need to back down."
Chickens could be early victims in the confrontation with Turkey. Russian officials said imports of poultry from a Turkish supplier will be banned from Dec. 1 on health grounds.


Before it's here, it's on the Bloomberg Terminal.
LEARN MORE