Orator-in-Chief
Obama Gives His Plan to Fight Islamic State an Emotional Makeover
But the commander-in-chief sticks to his guns on substance.
By and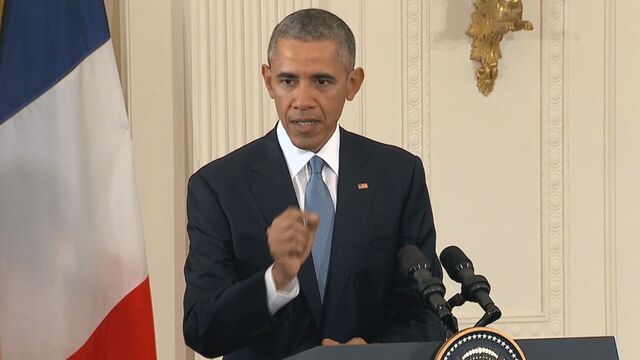 He used words like "barbaric" and "destroy." He invoked 9/11. President Barack Obama even invited America inside his White House bedroom when he described a romantic bedside photo in which he and his wife are kissing in France's fabled Luxembourg Gardens.
For all those who have accused him of not reacting emotionally enough to the Nov. 13 terrorist attacks on Paris, Obama seemed determined to provide a strongly phrased rebuttal at his joint press conference Tuesday with French President François Hollande.  
"We love the French," Obama said. "Sometimes, we Americans are too shy to say so, but we're not feeling shy today."
The president's uncharacteristically emotional language suggested he has heard the drumbeat of accusations from Republicans that he didn't take the Islamic State seriously enough, and the hand-wringing from Democrats that he hasn't spoken with enough feeling or force to acknowledge or assuage Americans' fears of another attack.
Obama's remarks, after a private meeting with Hollande at the White House, reflect an effort to adjust his adjust his tone without changing the substance of his position: Obama still doesn't want to send U.S. ground troops, impose a no-fly zone, abandon a Syrian refugee program in the U.S., or drop his insistence that Syrian President Bashar al-Assad must leave power.
He made it clear he won't give in to Russian President Vladimir Putin's efforts to get the West to stop insisting Assad must go. "We've got a global coalition organized," Obama said. "Russia is the outlier."
Even so, the Obama who once described the Islamic State as a junior-varsity squad of terrorists used different words on Tuesday. He called Paris's attackers a "barbaric terrorist group" with a "murderous ideology" and said it "poses a serious threat."
"It cannot be tolerated. It must be destroyed. And we must do it together," he said. "This was not only a strike against one of the world's great cities, it was an attack against the world itself."
And Obama spoke emotionally of the historic connections between the U.S. and France since the days of American independence and through the 2001 attacks in the U.S. "We've never forgotten how the French people stood with us after 9/11 and today we stand with you," Obama said. He invoked his own intimate ties to Paris. "By my bed in the residence is a picture of me and Michelle in Luxembourg Gardens, kissing," Obama said as he spoke of Americans' love, and his own, for the City of Light, the Eiffel Tower, and walks along the Seine.
Geoff Nunberg, a linguist at the University of California Berkeley School of Information, said while Obama's rhetoric reflects a more emotional approach than in some of his past remarks, it may not be enough to satisfy his critics. "When he expresses anger, it's in a tamped-down tone that doesn't satisfy the desire for Sonny Corleone-style bravado, or bluster as the case may be," Nunberg said in an e-mail following the press conference. "Even when he uses words like 'barbaric,' 'murderous,' and 'scourge,' you have no sense of anger brimming up inside of him."
While calmness often translates to a greater command of power, it's "less cathartic for the public" than more heated rhetoric from politicians such as Republican presidential candidate and Texas Senator Ted Cruz, Nunberg added.
Indeed, Obama took pains to try to diminish fears in the wake of the Islamic State's latest attacks, noting that the U.S. has faced "greater threats" before from fascism and communism. 
"I understand that people worry that something similar could happen here," Obama said. "I want you to know that we will continue to do everything in our power to defend our nation." He said Americans "cannot and we will not succumb to fear nor can we allow fear to divide us, for that's how terrorists win."
"Americans will not be terrorized," he said.
He quoted the inscription on the Statue of Liberty, a gift from the French, with its promise of a refuge for "huddled masses yearning to be free." In addition to honoring his guest, that also helped make the case for Obama's plan to resettle 10,000 Syrians fleeing their war-torn country, which the Islamic State is now using as a base of operations. 
That refugee program has become a political flashpoint in the wake of the Paris attacks, which left 130 dead. There are indications that at least one of the terrorists may have entered Europe posing as a Syrian refugee. Some Republican presidential candidates, including Donald Trump, have called for an end to the refugee program. More than two dozen governors have said they don't want refugees resettled in their state. And last week, 47 Democrats joined in an overwhelming U.S. House of Representatives vote in favor of a bill that would require top Obama administration officials to certify the legitimacy of each refugee admitted from Syria and Iraq. 
Obama, who has vowed to veto the legislation, said Tuesday that refugees coming to the U.S. went through intense security checks, and noted that France had agreed to accept 30,000 additional Syrian refugees over the next two years. He said the nation's humanitarian and security missions went hand in hand.
"That's the spirit that makes us Americans. That's the spirit that binds us to France," he said. "That's the spirit we need today."