This Could Be the Last Decent Shot at Making 680% on China IPOs
Bloomberg News
Successful bid rate seen falling after next set of 28 deals

No upfront payments in new IPO system to cause surge in orders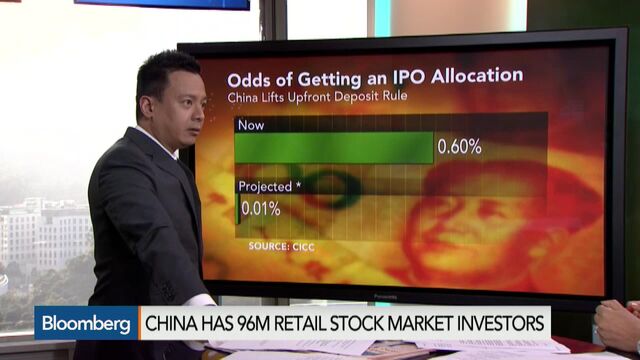 What once looked like long odds of securing shares in Chinese initial public offerings now look too good to pass up.
The final 28 IPOs under China's existing online lottery system will start taking orders as soon as this month. While chances of getting an allocation have never been stellar at about 0.6 percent, a requirement for prospective investors to pre-fund their bids kept a cap on competition. After this batch of deals is completed, authorities will scrap the upfront payment rule, prompting a surge in investor participation that China International Capital Corp. says will slash the odds of a winning bid to about 0.01 percent.
Getting out in front of that flood of new orders is one reason why Pan Weiting, a 31-year-old accountant in Shanghai, is stockpiling as much as 400,000 yuan ($62,651) to bid on the final batch of 28.
"I sold some shares to get ready," Pan said. "IPOs are still the best bet, guaranteeing you pretty high returns."
Thanks in large part to a regulatory ceiling on valuations, the average Chinese IPO tracked by CICC in the 18 months through June surged 681 percent from its offering price. The prospect of that kind of return -- with no upfront cost -- is expected to lure millions of new bidders at a time when slowing economic growth, falling interest rates and a volatile property market dampen the appeal of other investments.

China is switching to a new IPO system in part because the pre-funding requirement has been wreaking havoc on liquidity conditions in the nation's financial system. Nearly every time a new batch of companies took orders over the past year, money-market rates climbed and the Shanghai Composite Index slumped as investors hoarded cash for their bids. The last batch of 28 will probably tie up 3.4 trillion yuan, according to the median of six analyst estimates compiled by Bloomberg.
The new rules will also provide a more level playing field for China's 96 million individual investors, who are less likely to have money at hand for every round of bidding. Under the existing system, institutional funds that invested in a mix of IPOs and short-term debt have been able to generate annualized returns of about 10 percent, according to Hua Chuang Securities Co. The Shanghai Composite Index fell 0.6 percent at the close on Monday.
Valuation Confusion
"The new rules will turn China's IPO subscriptions into a mega lottery," said Zhang Gang, a strategist at Central China Securities in Shanghai. "It shows the government's intention to share IPO gains with more people.''
The upcoming 28 offerings will be completed under the existing system because they were approved before authorities put a freeze on IPOs in the midst of China's stock-market crash in July. Unlike counterparts in the U.S. and Europe, Chinese regulators can control both the timing and pricing of deals.
While most analysts predict the odds of winning an allocation will tumble under the new rules, there's less consensus on what will happen to post-IPO returns. A lot will depend on prevailing investor sentiment when the deals price, but another big factor is whether authorities will keep enforcing a valuation ceiling of 23 times earnings.
Regulators, who never explicitly acknowledged the valuation cap, have given mixed signals on whether it will remain. While the new rules suggest companies selling fewer than 20 million shares will be allowed to "directly'' set their offering prices, a spokesman for the China Securities Regulatory Commission said this month that firms should stick to a "low valuation" pricing principle.
Registration System
Post-IPO gains are likely to shrink to an average 300 percent, CICC analysts wrote in a Nov. 12 report, in what they called a "conservative'' estimate. The investment bank cited the valuation cap as one of the key details regulators still need to clarify for investors.
"Pricing has been the part that the market is most concerned about,'' the CICC analysts wrote. "Considering regulators' emphasis on the protection of small and medium-sized investors, we think that the pricing will not be completely liberalized.''
Chinese authorities have pledged to eventually adopt a "registration'' system for IPOs like that of the U.S., where regulators focus primarily on enforcing disclosure requirements, without meddling in the timing or valuation of deals. While that leaves investors more vulnerable to buying overpriced offerings, it also helps companies fund growth more efficiently by maximizing their proceeds from share sales.
In the meantime, Chinese IPOs are likely to retain their status as can't-lose bets, said Kay Van-Petersen, a strategist at Saxo Capital Markets in Singapore.
"If you know the price is artificially pressed down, of course you'd buy,'' Van-Petersen said. "You don't even have to know the company.''
— With assistance by Shidong Zhang, Jeanny Yu, and Kana Nishizawa
Before it's here, it's on the Bloomberg Terminal.
LEARN MORE