Princeton Students Divided Over Racism Protests
The Ivy League school faced a bomb threat that referenced recent demonstrations centered on removing Woodrow Wilson's name from campus buildings
by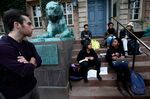 On Wednesday, a group of Princeton University students launched an anti-racism protest on campus. At a sit-in inside the office of University President Christopher Eisgruber, the students, part of a group called the Black Justice League, demanded, among other things, that former President Woodrow Wilson's name be removed from multiple campus buildings because of his racist views. On Thursday evening, Eisgruber agreed to work towards most of the students' demands, saying he would write to the Board of Trustees to ask about removing Wilson's name, look into instituting a "cultural competency training" for students, and designate rooms on campus for cultural groups to use.
The same night, a "bomb and firearm threat" that referenced the Justice League's protest was emailed to a university administrator, University Spokesman Martin Mbugua said in an email to Bloomberg. He added that the threat was deemed not credible by the Public Safety department.
The threat was only the latest sign of the tension brewing at Princeton's campus. As arguments flare up on social media about whether the protests represent a just criticism of a president with a troubled history or the latest example of college students taking political correctness too far, the protesters have faced perhaps the most skepticism from their fellow students.
Many of Princeton's largely white student body seem to disagree with the Black Justice League's fixation on Wilson, and take issue with the broader goal of improving diversity training at the school. By Friday, a petition opposing the group on Change.org had 368 signatures. The petition called Wilson "a significant historical figure who, despite his flaws, made great contributions to this University," and said that any move to remove his name from the campus "will be cited by future students who seek to purge the past of those who fail to live up to modern standards of morality."
Wilson supported the segregation of the federal government, where, in some offices "screens were set up to separate white and black workers," according to William Keylor, a Boston University historian. The petition also recommended that, if the university required students to learn about ethnic minorities, it should also add a "a required course in Western or American civilization."
More than 500 students answered a poll gauging campus sentiment about the controversy created by a classmate, Daniel Wilson, and distributed "via residential college listservs," according to the Princetonian. The paper reported that undergraduates at the school were generally negative about the group's mission. When asked to rate the efficiency of the demonstrations on a scale of 0-10, with 0 being the lowest, the students gave an average rating of 3.8,  They gave the idea of removing Wilson's name a 2.5 rating, and a 5.4 rating to the effort to provide a space specifically for black students. One graduate student complained to the Princetonian about people "using racist language to put [the protesters] down." 

The debate raged on Yik Yak, an app that allows users to post thoughts anonymously. Several students posted messages in support of Eisgruber, calling the protesters "small and petty" and "disrespectful." 
"#EisgruberMatters," wrote one user, a reference to the #BlackLivesMatter movement on social media.
"If this is how it's going and your [sic] about equality then give us 'White Affinity Housing', do you seriously not see how this is bat shit crazy BJL? This is why nobody on campus agrees with you," another wrote. The protesters had convinced Eisgruber to discuss setting up "black affinity housing."
Another person called the protesters "Mizzou wannabes," referring to the students who successfully pushed for the the University of Missouri president to step down earlier this month for not addressing campus concerns about racism.
Cornel West, a Princeton professor and prominent academic, signaled his support for the protest in a message on their Change.org petition. "I stand in solidarity with our brothers and sisters of all colors—so disproportionately chocolate in their struggle against the vicious legacy of white supremacy at Princeton," West wrote.
The protests and the reaction they've elicited reveal the sometimes uneasy relationship between people of color and white students at Princeton. The University has been striving to make its campus more diverse, and makes generous financial aid packages available to encourage socioeconomic diversity: low and middle-income students pay just $5,400 to attend the school, after scholarships. In 2013, the University released a report pushing for a stronger focus on diversity. The report noted that only 8 percent of the undergraduate population on campus was black. 
But supporting the inclusion of different types of students on campus does not always translate into mutual understanding. Early reports from The Tab, a website for college reporters that has been covering the events, suggested that Eisgruber told students that he needed to be "convinced on racism." However, Princeton spokesman Mbugua said the university president unequivocally did not say that, and a blog post from a reporter that was there made no mention of those comments. He also reportedly told students that Wilson was a racist, but that "in some people, you have good in great measure and evil in great measure."
The protesters were not moved by that argument. Seeing Wilson–the namesake of the university's public policy school and a residential college–hailed on campus can be deeply unsettling, they said. In Wilcox dining hall, there is a mural of the former president. 
"I don't want to sit there in Wilcox hall and enjoy my meal and look at Woodrow Wilson who would not have wanted me here," one student said. On Thursday, Eisgruber said he would request to have the mural removed.

Update, Nov. 21: Adds further comment from Princeton spokesperson to clarify university president's comments on racism. 
Before it's here, it's on the Bloomberg Terminal.
LEARN MORE