John Zuccotti, Brookfield's Operations Chairman, Dies at 78
David M. Levitt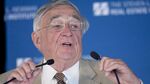 John Zuccotti, a former New York City deputy mayor and chairman of global operations for Brookfield Asset Management Inc. who oversaw landmark Manhattan properties including the World Financial Center, has died. He was 78.
He died Nov. 19, according to Ashley Baldev, a spokeswoman at Weil, Gotshal & Manges, where Zuccotti was of counsel in the New York-based law firm's real-estate department. No other details were provided. He lived in Brooklyn, New York.
In a career spanning more than five decades, Zuccotti held key leadership positions in commercial real estate and New York City government, according to a biography provided by Baldev. He oversaw the World Financial Center development in lower Manhattan from 1990 to 1997 as chief executive officer of the U.S. unit of Toronto-based Olympia & York.
Zuccotti also served as first deputy mayor under Mayor Abraham Beame from 1975 through 1977. After serving on the city planning commission for two years, Mayor John V. Lindsay appointed him chairman of the panel in 1973.
"No one has rushed to more municipal fires in this time of crisis than John Zuccotti," the New York Times said in a June 1977 editorial. "As first deputy mayor, he was virtually New York's indispensable man."
Three years later, Zuccotti was described in a Times article as "a formidable behind-the-scenes figure in the world of the city's power elite."
Protest Site
A public square owned by Brookfield Property Partners LP, a division of Toronto-based Brookfield, across from the unit's 1 Liberty Plaza tower in lower Manhattan, was named for Zuccotti. The park was the site of the Occupy Wall Street encampment for eight weeks in late 2011. Brookfield is Canada's largest alternative investment company.
"John left an indelible mark on our city," William C. Rudin, CEO of Rudin Management Co., a family-owned New York property company, said in an e-mailed statement. "He will be remembered as one of New York City's greats."
The U.S. arm of Olympia & York emerged from bankruptcy in 1996 as World Financial Properties Inc., controlled by Brookfield Properties Corp. of Toronto, today's Brookfield Property Partners. Brookfield renamed the World Financial Center as Brookfield Place.
John Eugene Zuccotti was born June 23, 1937, in Manhattan to Angelo and Gemma Zuccotti. He graduated from Princeton University in New Jersey in 1959 and received his law degree from Yale University in New Haven, Connecticut, in 1963. He served as an officer in the U.S. Army.
Zuccotti and his wife, the former Susan Sessions, had three children and eight grandchildren.
(Updates with quote from William C. Rudin in the eighth paragraph.)
Related ticker: BAM/A CN (Brookfield Asset Management Inc.)
Before it's here, it's on the Bloomberg Terminal.
LEARN MORE