Brazil's Latest Quagmire
The waste from an iron ore mine breached a dam, destroying a town and shocking the nation.
By and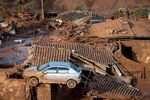 The mines gouged out of the nearby hills never sullied the bucolic feel of Bento Rodrigues. The tiny town by a gurgling river in central Brazil benefited from the mines, first when the Portuguese dug for gold and now when the Chinese buy iron ore for their steel mills. The open pits and the sea of sludge, held back by massive earthen dams, were out of sight of the town's colonial-era homes and church.
All that changed at about 4:20 p.m. on Nov. 5. Jose do Nascimento de Jesus was home making guava juice when he heard what sounded like a hailstorm. A neighbor shouted, "Run! The dam broke!" A tsunami of sludge was barreling down the valley. De Jesus and other townspeople screamed for Darci dos Santos to flee with her 7-year-old grandson, Tiago, but the two couldn't be roused from their nap. As mud swallowed a nearby house, De Jesus headed to high ground. The town was gone in minutes. A helicopter pulled Dos Santos out of the mud. Rescuers found Tiago's body six days later, more than 60 miles downstream. Ten others died; a dozen are missing; five of every six townspeople are homeless.
In town meetings with Samarco, the mine's operator, De Jesus, the president of Bento Rodrigues's residents association, says he and others repeatedly voiced concern that a dam might burst. "We asked them," he says, "and they always said, 'No, if only your life were as safe as this dam.' " State inspectors deemed the dams sound and used a Samarco-financed annual audit to classify them as "guaranteed stable," reports from the mining regulator's office show. Samarco is co-owned by Vale and BHP Billiton.
For years, the mine dumped water mixed with sand and other waste behind a huge earthen dam, a practice used safely in mines everywhere. When the dam collapsed, 50 million cubic meters of sludge poured out, according to Brazil's environmental ministry, enough to fill the Great Pyramid of Giza 20 times. It was the biggest failure of a mining waste dam in history, says the Center for Science in Public Participation, a Bozeman (Mont.) nonprofit that studies mining dams. The mudflow surged down rivers for hundreds of miles toward the Atlantic, interrupting the drinking water supply for more than 260,000 people and threatening coral reefs and turtle nesting areas. On Nov. 17, Samarco said that two nearby dams were at risk and were being shored up.
Brazilian officials are calling for accountability. "I think the punishment will serve as an example to avoid other accidents as serious as this," says Sandra Cureau, the federal prosecutor leading the task force formed to investigate the breach. Carlos Eduardo Pinto, a prosecutor in the state of Minas Gerais, says, "This is a case of severe negligence all around." He says there was no reliable warning system. "The only communication we had was the mud arriving," De Jesus says. Samarco says it had a government-approved emergency plan that it activated after the dam broke. The company didn't comment on whether it failed to alert residents before the mudflow.
Two years ago, Pinto investigated Samarco's request to expand the dam as part of the licensing process. He commissioned a study by the Instituto Prístino, an environmental research organization, which flagged the risk of the dam bursting. Pinto says he opposed expansion until Samarco agreed to monitor the dam's structural integrity more closely and frequently. The company pledged to make changes, and the project was approved, he says. "It's clear they failed, or this tragedy wouldn't have happened."
The Minas Gerais State Environmental and Water Resources System, which licensed the expansion, used the Samarco-funded audits to declare the dam safe in July, as required by law, a spokeswoman says. Inspectors planned a visit in December. The federal mining safety agency, which had to slash spending this year, last inspected the failed dam in 2012, a spokesman says.
There are signs the dam's reservoir was getting overloaded with waste from nearby Vale-owned mines, possibly without proper permits, Pinto says. "These are all serious allegations," he says. Vale says it has a contract to pay Samarco for the right to dump some of its waste behind the Samarco dams, but only 4.5 percent of it came from Vale's mines last year. Samarco declined to comment except to say the dams weren't operating at capacity.
A mining union executive director, Sergio Alvarenga, says that since 2013 Samarco has been rapidly increasing production to offset lower iron ore prices. This year, Samarco raised its 2015 production goal to 30 million tons, an increase from 27 million estimated at the beginning of the year, says Alvarenga, who's worked for Samarco for 31 years. "This pressure started exactly when there was the fall in ore prices and the need to produce more."
Brazil's regulators are promising a clampdown, possibly creating longer delays for licensing new projects, says Danilo Miranda, a lawyer who represents mining companies. Cleanup costs could top $1 billion, according to Deutsche Bank. Regulators might shut Samarco's mine for years or even permanently. Samarco faces hundreds of millions of dollars in fines and compensation. On Nov. 16, Samarco signed an agreement with prosecutors to pay $265 million in damages and cleanup costs. A $2.5 billion lawsuit has been filed by a community group.
As rescuers searched for bodies, President Dilma Rousseff was hosting Japan's Princess Akishino in Brasilia, visiting a subway project in Rio de Janeiro, and inaugurating low-income housing. Seven days after the breach, she toured the disaster area by helicopter. "The government really failed—it should have given an immediate response to Brazilian society," says Cureau, the federal prosecutor.
The chief executive officers of BHP and Vale promise to help Samarco assist victims, repair the damage, and reopen the mine. "We are deeply sorry to everyone who has and who will suffer from this terrible tragedy," BHP boss Andrew Mackenzie said in a Nov. 16 conference call with investors.
At Bento Rodrigues, the surviving homes are mud-covered shells, and two stray dogs roam the wreckage where the church once stood. De Jesus says the best people can hope for is that Samarco will build a town for them elsewhere. "They can give us everything, but we'll never have the dignity we had living in that place," he says. "And there is no money that can ever pay for that."
—With Yasmine Batista and Anna Edgerton
The bottom line: A pond of iron ore tailings burst its dam in central Brazil, sending 50 million cubic meters of sludge through the countryside.
Before it's here, it's on the Bloomberg Terminal.
LEARN MORE